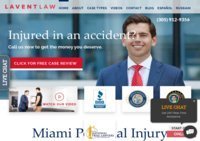 Boris Lavent is a Miami personal injury attorney with a proven track record of fighting for his client to make sure they get the money the deserve after an accident. Call Boris today if you've been injured due to someone else's negligence. We offer a free consultation. Call (305) 440-0450 today! https://www.laventlaw.com Lavent Law 17295 NE 19th Ave North Miami Beach, FL 33162
---
Mirman, Markovits & Landau, PC is a top New York City personal injury firm with over 200 years of experience. Our attorneys have recovered over $1 billion in awards and settlements for their clients. We only practice personal injury and have experience with all sorts of personal injuries. Some cases that we handle include car accidents, construction accidents, pedestrian accidents, train accidents, slip and fall injuries, and more. We are conveniently located in Tribeca, but handle cases in all five boroughs and Nassau, Suffolk, and Westchester counties. Contact us today for a free consultation.
---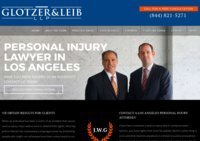 Glotzer&Leib, LLP has experienced personal injury lawyers based in Los Angeles. They provide legal representation in cases such as auto and truck accidents, wrongful death, slip and fall accidents, negligence, abuse, and premises liabilities. They are committed to improving the justice system by protecting their clients' rights and ensuring that they receive the necessary and fair closure to their cases. Joshua Glotzer, the law firm owner, has over 20 years of experience and has successfully handled numerous cases with seven-figure results. His firm is available to accept clients residing in various cities in California such as Anaheim, Burbank, Downey, El Monte, Lancaster, Ontario, Pasadena, West Covina, and Los Angeles. If you have been a victim of someone's negligence, resulting in life-changing injuries , you can get a free consultation from Attorney Joshua Glotzer by calling (844) 821-5271 or visit the website today for their 24/7 chat support.
---
LA Jewish Lawyer is a network of top Attorneys in Los Angeles California. As you well know, sometimes life has its unpleasant moments, and in many cases the drama and tragedy could have been prevented, but for the negligent or even intentional acts of another person. LA Jewish Lawyer offers you access to the Best Lawyers in Los Angeles, to ensure that your rights are being exercised and to get you compensation when it is deserved. You need to be well-represented, and our lawyers are tenacious and aggressive when it comes to using the law to help you.For access to that knowledge, experience and the best lawyer service, simply call (855) 977-1212 for a FREE Consultation Lawyer and one of our network's LA Jewish Attorneys in Los Angeles will tell you right away whether you have a good legal case. But that's not all, our lawyers also work with a wide variety of litigation matters, so if you think you have a case, and need skill and experience on your side, just call us. LA Jewish Lawyer is here to help you. Our network directory of lawyers is ready for your calls and emails. Pick up the phone and or send us an email and we will do our best to "kosher" things out. Accident Injury Attorney Los Angeles Personal Injury Lawyer Los Angeles Slip and Fall Lawyers Los Angeles Employment Lawyer in Los Angeles Workers Compensation Lawyer Criminal Defense Attorney in Los Angeles Family Law Attorney Los Angeles DUI Attorney in Los Angeles Collections Lawyer in Los Angeles Enforcement of Judgments Attorney Child Custody Lawyer Los Angeles Tax Attorney in Los Angeles
---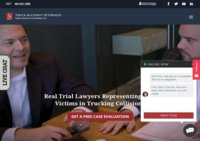 Fried Rogers Goldberg, LLC has over 75 years of combined experience handling truck accidents. Although their lawyers are based in Atlanta, they have partnered with several law firms across the country. This ensures they can extend their expertise to people in need, no matter where they are in the US. Fried Rogers Goldberg, LLC is the law firm behind the book entitled Understanding Motor Carrier Claims, Fifth Edition, a legal treatise on truck accident law. Apart from truck accidents, they also handle cases under DUI, workplace accident, wrongful death and burn injuries. Seek legal assistance by visiting their website and contacting them through their 24/7 chat support or call them at (404) 591-1800.
---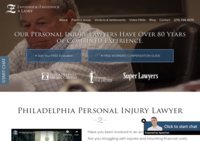 Zavodnick, Zavodnick & Lasky, LLC is a top-rated personal injury law firm serving Philadelphia, PA, and the surrounding areas. They handle all personal injury cases including car accidents, dog bites, pedestrian accidents, motorcycle accidents, wrongful death claims, workers' comp cases, and more. Call for a free consultation.
---
Miami personal injury attorney providing the latest in personal injury litigation through educational, resourceful and informational content.
---
At The Dixon Firm, P.C., we understand this impact and have made it our life's work to tilt the scale back in favor of those wrongly injured by others. We are steadfast in our commitment to results, and that commitment does not end if your case does not settle. At our hearts, we are trial lawyers. So if the negligent party does not do right by our clients, we have the ability to present the case to a jury and let the citizens bring justice.
---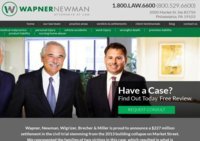 Medical bills and repair fees could pile up after an injury. Apart from these, you might also be losing income. If you have been involved in an accident due to someone else's negligence, having a trusted lawyer to fight for your rights should be your number one priority. Seek legal advice and assistance from WapnerNewman. This law firm has 40 years of exemplary experience. In fact, they have successfully acquired a $227 million settlement from the 2013 building collapse on Market Street – the largest personal injury settlement in the history of Pennsylvania. Their areas of practice include medical malpractice resulting in birth injury and misdiagnosis, sexual abuse, nursing home abuse and negligence, and vehicular accidents. If you have been involved in an accident near in or near Pennsylvania, call WapnerNewman at (800) 529-6600 or speak to their representative via their website chat.
---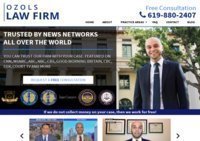 We are a law firm from San Diego California focussing on all types of personal injury claims. We specialize in car accidents, wrongful death, dog bits, slip and falls and situations like that.
---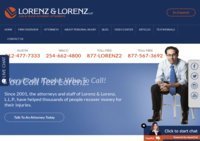 Lorenz & Lorenz, LLP is leading Texas personal injury law firm with offices throughout the state. We handle all personal injury matters including car accidents, dog bites, motorcycle accidents, bicycle accidents, wrongful death claims, and more. We have collected millions of dollars for our clients. If you have been injured in an accident, call us today for a free consultation. We are available 24/7 to take your call.
---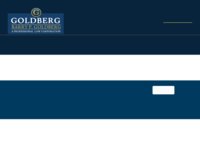 Barry P. Goldberg grew up in the Woodland Hills/Tarzana area and attended the University of California at Los Angeles, obtaining the degree of Bachelor of Arts, with a major in Political Science. He received his Juris Doctor degree from Loyola Law School Los Angeles in 1984 and was licensed to practice in California that same year. Mr. Goldberg was admitted to practice in all the courts in California, including all federal district courts and the Ninth Circuit Court of Appeals. Mr. Goldberg has successfully handled numerous trials, hundreds of arbitrations and mediations, and argued matters before the California Court of Appeal and the Ninth Circuit Court of Appeals.Mr. Goldberg gets regular calls from other practicing attorneys on areas of his particular expertise—Uninsured Motorist Arbitrations and Underinsured Motorist Arbitrations. Mr. Goldberg is a recognized authority on Uninsured Motorist and Underinsured Motorist Law in California. He is considered the Los Angeles Uninsured Motorist Law Attorney expert. After 30 years of consistent practice, Mr. Goldberg has garnered many awards, including a SuperLawyer designation, AVVO 10 rated Superb, AVVO Client's Choice Award, AVVO Top Contributor, a 10 Best Award, and nomination as a "Trusted Advisor Award" by the San Fernando Valley Business Journal. Additionally, Mr. Goldberg was elected to serve as on the Board of Trustees of the San Fernando Valley Bar Association. Barry is now the Executive Secretary of the San Fernando Valley Bar Association.
---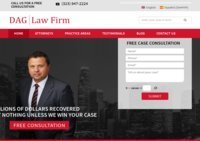 The Law Office of Daniel A. Gibalevich is known for their compassionate service and aggressive representation for victims of vehicular accidents, premises liabilities, injury claims and compensation. The law firm was founded in 2001 and has successfully won millions of dollars in claims for their clients. The law firm works on a contingency basis which means that you will have no obligation to pay them unless you have received your settlement. They also offer free second opinion evaluations in case you are unsure of your current lawyer's performance. They will also help you get the best access to the best medical care so you can focus on recovering. Call DAG law firm today at (323) 947-2224 or you can fill out their online form on their website today. You can also visit their office at 6300 Wilshire Blvd., Suite 1440, Los Angeles CA 90048.
---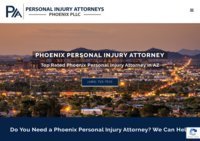 Personal Injury Attorneys PLLC represents victims of injuries in the Phoenix, Scottsdale, Mesa and Glendale, Arizona areas. If you have been involved in an accident caused by someone else's fault, learn to protect your rights and recover immediately by receiving a settlement. This law firm offers legal representation for victims of vehicle accidents, wrongful death, slip and fall, dog bites, brain and spinal cord injuries, and more. They ensure that each case is personally handled and the victim and family are well-informed about the progress of their case. Take advantage of Personal Injury Attorneys PLLC's free consultation by visiting their website and filling out the form, or you can call them at (480) 725-7510.
---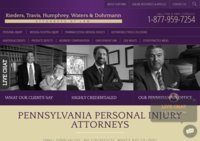 Rieders, Travis, Humphrey, Waters & Dohrmann is a full-service law firm based in Williamsport, Pennsylvania. We offer effective legal representation in areas that include medical malpractice, personal injury, workers' compensation, employment law, criminal defense, and Marcellus Shale gas rights.
---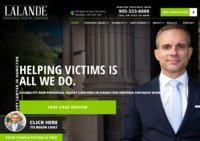 Lalande Personal Injury Lawyers is dedicated exclusively to representing victims of injuries and accidents and have secured millions of dollars by way of settlement, jury verdict, bench trials and arbitration awards for their clients. We have been representing injured victims in the Hamilton areas for the past 15 years.
---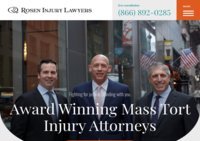 Rosen Injury Lawyers is devoted to helping victims who have been injured through no fault of their own. Whether you or your loved one has been harmed due to a dangerous pharmaceutical or defective medical device, we are ready to get you the justice you deserve.
---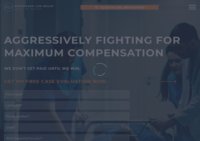 Rosengard Law Group is 100% focused on the aggressive pursuit of justice and serving the injured and their families. We will pound every avenue to get you the compensation you deserve, and you'll never have to pay out of pocket for our help. New Jersey locations we serve
---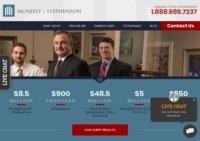 McNeely | Stephenson is a personal injury law firm that provides legal services in Indianapolis. You can trust them to help you with the preparation of all legal documents, correspond with all the involved parties and do everything possible involved in the legal claim. These Indiana attorneys have a wide range of experience helping victims of truck accidents, vehicle accidents, brain and spinal injuries, wrongful death, and other catastrophic injuries. The founder, Attorney Mike Stephenson, is a Super Lawyer, which is the highest honor a lawyer can achieve, and a member of The Litigation Counsel of America's Honorary Society. With his credentials, you are guaranteed that your case will be handled professionally. This law firm does not charge clients unless they have won the case. If you are having financial difficulties after an accident caused by someone else's negligence, seek legal advice by visiting their website for 24/7 chat support or you can call them at (888) 988-4970.
---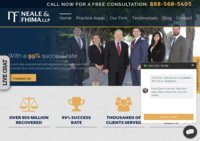 Neal & Fhima, LLP is proud of their 99% success rate in winning personal injury cases with the help of their knowledgeable and experienced team of lawyers. Their aggressive legal representation has resulted in over $50 million in settlements. They have 40 years of combined experience and have handled thousands of cases in California. This law firm handles numerous personal injury cases which include lemon law, wrongful death, spinal cord injury and vehicular accidents. Their offices are located in different cities in California – Dana Point, San Diego, Los Angeles, and San Francisco. If you need help standing up for your legal rights, you can call them at (888) 995-0283 or schedule a meeting with one of their lawyers today. Don't worry; they won't charge you unless you win. Additionally. their senior partners, Matt Neale and Aaron Fhima, will be personally involved in reviewing your case.
---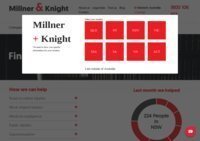 Australian Accident Helpline specialises in all types of personal injury compensation, we believe that people who have been injured in an accident should have free, and easy access to legal advice Our service is 100% No Win, No Fee, so anyone who makes a claim with us will never be left out of pocket when using our services. We'll let you know straight away whether you're able to make a claim with us. Our guarantee means that if for any reason your case is lost, you won't have to pay a penny.
---
The Fernandez Firm is a leading personal injury law firm with over $90 million in jury verdicts and negotiated settlements in Florida.
---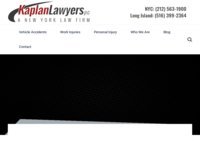 Kaplan Lawyers PC is a trusted law firm located in New York, with offices in New York City, Nassau County, Brooklyn, Suffolk County, and Queens. They help clients in several areas of the law including vehicle accidents, workplace injuries, medical malpractice, social security disability, nursing home negligence, and wrongful death. They also deal with other injuries such as dog bites, slip and fall accidents, playground injuries, and more. Clients can attest to their capabilities in professionally handling cases. In fact, they always ensure that they will prepare you as soon as possible to increase your chances of winning. They offer a contingency fee so you have nothing to worry about when it comes to paying them until you have received your settlement or once you have won your case. Get a free consultation from Kaplan Lawyers PC by calling (516) 399-2364 or (212) 563-1900. You can also fill out their online form on their website.
---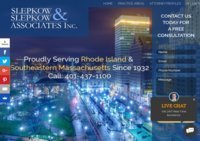 Slepkow, Slepkow & Associates, Inc., established in 1932, is among the most respected law firms in Rhode Island. Their competent and experienced lawyers provide legal representation for personal injury cases which include premises liability, wrongful death, slip and fall, workplace accidents and vehicle collisions. If you have been a victim of someone else's negligence, trust that Slepkow, Slepkow & Associates, Inc. can successfully help you get your well-deserved settlement. They will look at all aspects of your case, including your pain and suffering, lost income, permanency of the injury, disfigurement, and more. Call (401) 437-1100 or visit their website to take advantage of their 24/7 chat support.
---
The Embry Law Firm is an experienced firm handling Personal Injury, Adoptions, Artificial Reproductive Technology and Mediations throughout the state of Georgia. We provide dedication and close attention to our client's matters, to ensure that our client's needs are fully addressed. Using our wealth of experience, our firm can guide you through your matter in the manner that best protects your interests.
---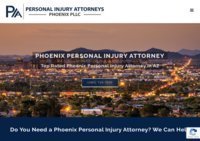 Personal Injury Attorneys PLLC are proud to represent clients in the Phoenix, Scottsdale and Tempe areas with their personal injury related needs. When it comes to the wide spectrum of personal injury lawsuits and the complications that can arise when faced with such challenges, call on attorney Ben Wright to assist you with your claim and be on your way to health, justice and security. We offer a free injury consultation.
---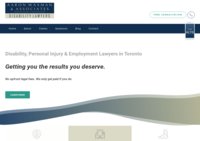 Aaron Waxman & Associates understands what you are going through after a personal injury. They are committed to helping the victims and don't accept insurance companies and corporations so you are guaranteed to receive fair legal assistance. The law firm will carefully review your case to ensure that you receive the best settlement. So, whether your insurance company fails to give you the benefits you truly deserve or a negligent party refuses to give you the compensation that you need after a personal injury, you can trust them to perform the necessary legal procedures. Aaron Waxman & Associates offers a free no-obligation initial consultation. Contact their toll-free number at 1-844-583-4878.
---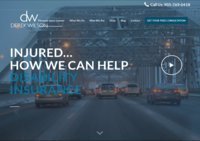 Derek Wilson Law is a personal injury law firm in Hamilton. Derek has practiced on both sides of personal injury law which is why he is focused on helping those who have been injured or denied an insurance claim. We're not the biggest firm out there because we don't want to be. We understand when you're going through a hard time, it's important to be surrounded by friends, family and people who have your best interests at heart. That's tough to find in a large law firm where you are just another number. At Derek Wilson Personal Injury Law, we're honest, we care about our clients, we know their names, and we fight for them. Contact us today to get a FREE CONSULTATION and let's see how we can help you heal your hurt.
---
If you seek legal representation or would like more information about my legal services in Cook County, contact my office today to set up your free initial consultation. Please call 312-236-7282
---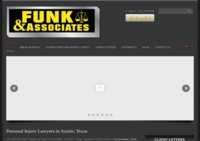 The personal injury lawyers at Funk & Associates, in Austin, Texas, represent injured clients in Car Accidents, Truck Accidents, Motorcycle Accidents and other Personal Injury Claims. Speak with an Attorney before you accept a settlement.
---