30 North LaSalle, 30 N LaSalle St #3450, Chicago, IL 60602, USA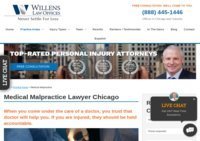 Willens Law Offices is a personal injury law firm based in Chicago, Illinois. The attorneys handle cases including vehicular accidents, medical malpractice, product and premises liability, and workers' compensations. The founder Matt Willens, J.D has been recognized as the Best of the Best Personal Injury Lawyers in Illinois and was selected to the Super Lawyers List in 2012.
---
120 W Madison St Ste 400, Chicago, IL 60602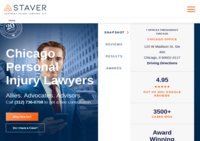 Staver Accident Injury Lawyers, P.C. is an award-winning personal injury law firm with seven offices across Chicago.
The firm is a member of the American Association of Personal Injury Attorneys and Top 100 Trial Lawyers of America. The legal team handles car, truck, motorcycle accidents. They also take on cases involving premises liability, medical malpractice, wrongful death, dog bites, work injuries, brain injuries. Clients can call for a free consultation and they don't pay until they win.
---
225 W Wacker Dr #1760, Chicago, IL 60606, USA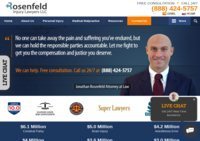 Rosenfeld Injury Lawyers LLC is a legal practice founded by Jonathan Rosenfeld, a personal injury attorney lawyer in Chicago.
The firm advocates for people injured by car, motorcycle and truck accidents, slips & falls, nursing home abuse & neglect, premises liability, and medical malpractice.
---
100 N La Salle St Ste 1710, Chicago, IL 60602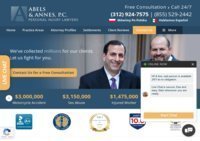 Founded in 2008, Abels & Annes, P.C. is a personal injury law firm based in Chicago with offices in Phoenix, AZ and Waukegan, IL.
The firm's practice areas include Dog Bite, Work-Related Injuries, Auto Accidents, Premises Liability, Other, Motorcycle Accident, Nursing Home Abuse / Neglect, Wrongful Death, Truck Accidents. The attorneys offer free consultations in English, Spanish, and Polish.
---
One E Wacker Dr #3800, Chicago, IL 60601, USA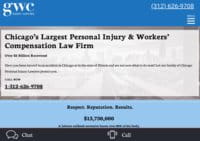 With more than $2 billion recovered in verdicts and settlements, GWC Injury Lawyers LLC is one of the premier personal injury and workers' compensation law firms in Chicago, Illinois. The firm's dedicated injury attorneys have the experience, the determination, the resources, and the reputation of success necessary to get you and your family the justice you deserve.
---
134 N LaSalle St #1515, Chicago, IL 60602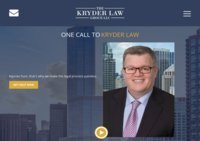 Kryder Law Group, LLC is a law practice assisting personal injury victims throughout the Chicago area. The firm's attorneys litigate cases involving medical malpractice, nursing home abuses, slip and falls, wrongful death cases. They also pursue justice and compensation in civil cases involving car accidents, motorcycle accidents, work injuries, construction accidents, bicycle accidents, pedestrian accidents, and truck accidents. The firm provides free consultations for initial case reviews.
---
55 W Monroe, S Clark St 37th floor, Chicago, IL 60603, USA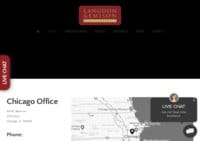 Based in Chicago, Langdon & Emison Attorneys at Law is recognized as one of the nation's top personal injury law firms. The attorneys have built a national reputation for taking on the world's largest corporations in personal injury litigation. They evaluate every case for a potential product defect or act of negligence to bring all responsible parties to justice and obtain the maximum recovery possible for their clients.
---
4141 N Western Ave., Chicago, IL 60618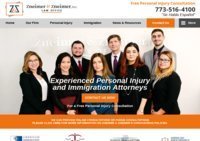 Zneimer & Zneimer, P.C. is a general law practice based in Chicago that litigates personal injury and immigration cases. The attorneys handle injury claims including car, truck, motorcycle, and pedestrian cases. The firm also represents people hurt by the negligence of others who seek fair compensation for medical expenses. They provide free consultation and services are available in English and Spanish.
---
4809 North Ravenswood Avenue, Chicago, IL 60640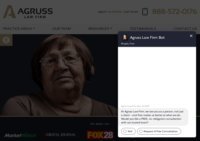 Agruss Law Firm, LLC is a consumer rights and personal injury firm based in Chicago, Illinois. The attorneys accept motor vehicle accidents involving auto, truck, motorcycle as well as pedestrian accidents. Other cases the firm deals with include animal attacks, premises and product liability, birth injuries, and construction accidents.
---
223 W Jackson Blvd Ste 200, Chicago, IL 60606
Sam Adam Jr. Law Group is a solo practitioner that serves people with personal injury claims in the Chicago area. Attorney Sam Adam Jr. specializes in personal injury, criminal defense, and civil rights law. The main practice areas include medical malpractice, workers' compensation, nursing home abuses, and wrongful death. In 2015, the attorney has been named as one of the Top 100 Trial Lawyers by the National Trial Lawyers Association.
---