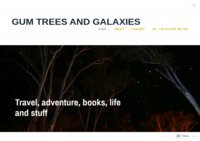 A pair of empty-nested Australians explore places far from the city in this travel blog that goes off the beaten path. It's more of a glamping travel blog as they make their way around in a teardrop camper. Discover Australian wildlife at its finest as you get a chance to travel to the bush without your passport through these travel stories.
---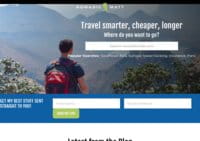 Nomadic Matt is a travel blogger that focuses on helping others travel the best way possible while spending the least. With valuable tips and tricks every traveler can use, you'll learn how to budget while getting to travel the world even to places you thought you couldn't afford. For those that want to save money on travels, this is the best travel blog.
---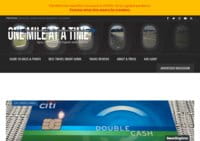 A travel blog with perceptive travel advice regarding airport lounges, airlines, plus how to save money on air travel. Quirky and fun reviews about things travelers want to know from hotels to redeeming points.
---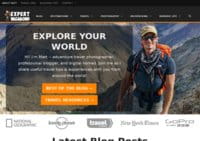 From a digital nomad named Matt, you'll discover stunning travel photography to feast your eyes upon in this travel blog. Go around the globe on a visual adventure while this professional travel blog covers all kinds of ground. From personal stories of his experiences to useful travel tips, this expert vagabond covers it all in this travel advice blog.
---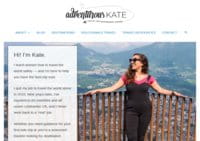 Solo female travel blogger Kate takes you with her on her epic adventures around the world. It's one of the blogs to follow for women interested in solo female travel as you'll not only find out the best places to visit and what to do, but you'll also discover valuable tips about keeping safe everywhere you go. Travel all over the world with Kate giving you guidance on how to go about the world on your own and love it.
---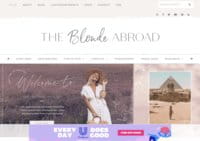 This solo female travel blogger goes by the name of Kiki and is ready to show you how to break out of the boring confines of life and embrace one revolving around travel. With stunning photography of her adventures, this social media darling has you covered with helpful hints for every type of solo traveler so you can catch the travel bug yourself. Use it to help you with planning a trip that's perfect for you.
---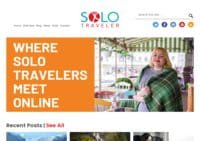 Solo Traveler is one of the best travel blogs for solo travelers because it goes beyond blogging. It's a community that joins you with others that feel as passionately about solo travel as you do. In addition to helpful travel advice and blog posts, you can exchange tips with others, offer suggestions, and get the encouragement you need to grab your passport and jet off to the locale of your dreams.
---
Offering a more journalistic approach to travel blogging, Maptia creates empathy for other cultures around the world through vivid stories and photography. Documenting these people and places in rich detail also weaves a tapestry of fascinating stories to connect us all with a deeper meaning to our travels. You'll see both beauty and sorrow in these travel tales that will encourage you to make a difference when you roam the globe.
---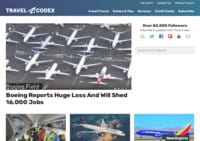 Straightforward travel guides and tips about everything from getting there to destinations. See all travel loyalty programs, choose the perfect travel credit card, and make the most of future travel plans all in one place.
---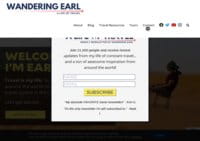 As one of the best travel blogs around the world, Wandering Earl brings you over 20 years of travel experiences to help you see the world. Not only will you smile while reading it but you'll also gain confidence for your travels. Read blog posts, find travel resources, and get the best travel advice to plan the adventure of your dreams while staying entertained.
---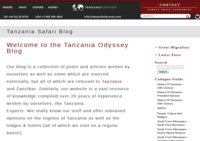 Detailed Tanzania Safari Blog including Zanzibar holiday info
---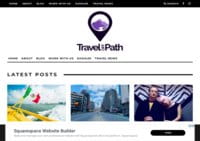 Inspired by spontaneity, this blog revolves around embracing minimalism while seeking the freedom of travel. Learn more about travel hacks, destination guides, trending travel news, and other travel essentials.
---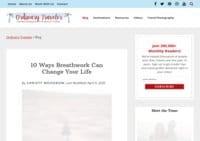 Blog on travel with an emphasis on extraordinary photography plus useful travel tips and advice. It features personal stories on balancing home life along with the urge to travel and how to make the most of being in different lands.
---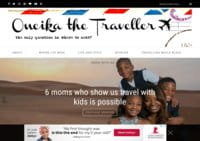 Perhaps you recognize Oneika from social media and the Travel Channel. As a journalist and Instagram personality, she offers up excellent travel tips and tricks plus life and style tips. This travel blog also features a section for traveling while black and travel stories that will help you make the most of your travels in the safest way possible.
---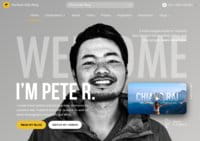 As the name somewhat implies, this travel blog features lists for every digital nomad and those seeking travel guides and itineraries for far and away from lands. With excellent travel photography, Peter keeps things exciting while tearing into adventure abroad. The tips you'll learn will help you set yourself free and choose your travel adventures around the globe with confidence.
---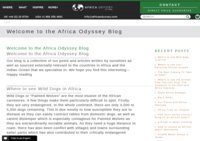 Blog from all the Lodges in Africa and the Indian Ocean
---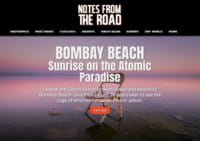 Notes From The Road takes a unique approach to travel blogging. While there are travel tips on how to organize and stories about travels, the hand-drawn illustrations add a special and personal feel that brings you along for the adventure. Go beyond just top travel sites to explore and see things from a whole new perspective to inspire your travel.
---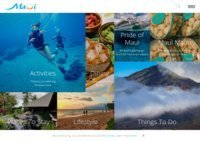 Discover Maui and get insider tips from this side of Hawaii. Everything from fun activities, shopping, nightlife, restaurants is covered along with the best this vacation paradise has to offer.
For those dreaming of travel to Hawaii, this blog is the place to start. You'll find the best things to occupy your time in Maui as well as the rest of Hawaii. All information and travel tips are kept current and provided by local insiders to give you the best guidance. Most people wait a lifetime to go to Hawaii so use this blog to help you plan your travels there
---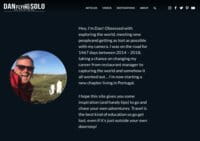 Dan Flying Solo encourages others to chase their adventures for travel inspiration and travel tips. Likening it to a learning experience will help you get lost in the world in the best way possible, digging into change, new places, and enjoying meeting new faces all in one.
---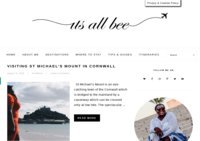 Need travel tips? Then look no further than ItsAllbee. Bianca shares travel tips on her travel blog; a gateway to all those that want to see the world, whether in heels or hiking boots. From London To Paris and from Cape Town to Cairo. Experiencing travel from luxury hotels, hostels to exploring in a campervan in places like Iceland.
---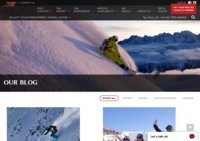 Ski Armadillo is the leading Ski Chalet operator in Verbier, Switzerland. They pride themselves on having luxury accommodation and excellent service to match. SkiArmadillo offers 5-star accommodation, food, and drink - all at an affordable price.
---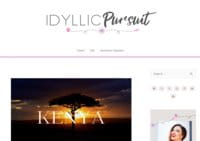 The secret to telling a great story is living one, and this blog proves it through first-person accounts of international travels along with travel advice. The world comes alive in this charming blog written by a self-professed digital nomad.
---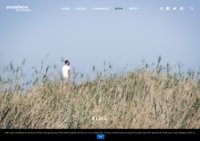 Anywhere We Roam is a travel blog featuring our detailed itineraries, helpful insights, and highlights from our adventures around the world.
Our passion for travel drives us to seek out destinations that appeal to our interest in history, culture, and natural scenery; places that have a story to tell, people to meet, and a rare landscape to discover.
We created Anywhere We Roam to share our passion for travel. To inspire you to venture to amazing places – armed with some practical advice – and have a truly unique travel experience.
So, fire up a screen and grab a Melbourne-quality flat white. Read our stories, explore our itineraries, find out more about us and our passion for travel. Follow us on social media and plan your next travel adventure.
---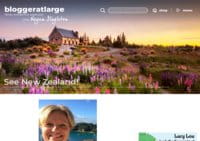 Megan says it best with her "Travel inspiration made easy" tagline in this passionate travel blog. Daring to help others open their eyes to the world, this travel blogger and radio travel correspondent has gobs of tips to share in well over 900 different blog posts designed to help you with your travel plans, find tips and tricks, plan itineraries, and find great places to stay.
---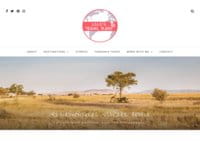 If you're tired of polished Instagram posts, this blog is the no-frills travel blog for you! Lili jetted off to Tanzania and stayed there where she shares her rich adventure stories that are real and compelling. A traveler for other travelers, she encourages others to leave behind the grind and embrace travel and personality.
---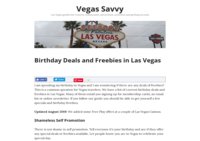 The Vegas Savvy Blog is dedicated to providing helpful tips and reviews to make your Vegas vacation a great one. Looks for articles on restaurants and dining, hotels, attractions and activities, getting around, The Strip and Fremont St.
---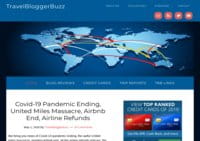 Curating the best web links on travel, personal finance, miles and points, and more.
---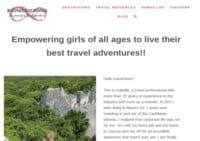 Boundless Roads is a travel site written by a solo female traveler and digital nomad with the purpose to inspire other female travelers to live their best life on the road, whether they want to pursue the digital nomad life or simply travel alone.
---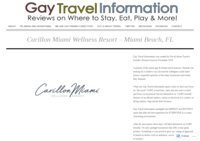 Reviews on where to stay, eat, play, and more.
---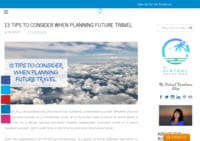 Reviews, information, and pictures for upscale family vacations on land and sea. Great tips for family travel throughout. Through a website and blog, explore cruise ships, destinations, resorts, restaurants and more. You'll find up to date information including menus and programs.
---