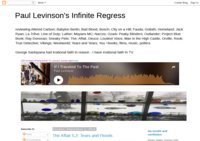 reviews of 24, Battlestar Galactica, Dexter, Heroes, Lost, Rome, The Sopranos, The Tudors - the best of television - minutes after the episodes have aired ... with links to 3-5 minute podcast reviews
---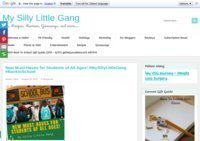 My Silly Little Gang gives a glimpse of the life of Silvie with her husband and three rambunctious boys. Aside from personal accounts of family life, you can also find her favorite recipes and recommendations of family-friendly places to visit.
And if you're a little bit curious about vertical sleeve gastrectomy (VSG) or Nutrisystem for weight loss, get some first-hand info on the subject from Silvie. She has tried different weight loss solutions and chronicled her experiments with them. Also, check out weight loss recipes and products she's tried.
---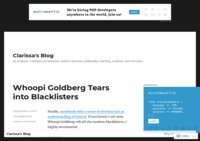 Clarissa's blog offers a peek into the mind of an academic as she shares her views on the many things that make up her reality.
Find thousands of posts on politics, literature, and philosophy, which are her favorite topics. She also likes to talk about everyday life, teaching, pop culture, and more.
Sharing her opinions on a wide range of topics from 2009 to the present, the blog is a reflection of a rich inner life. Her passion to write down her thoughts is evident in her 100+ entries per month.
---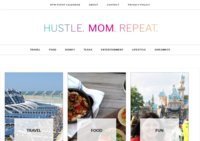 The Frugal Mom blog is written by Dawn, a 35-year-old mom of four from Fort Worth, Texas. The blog offers tips and advice on living a frugal lifestyle, including how to save money on products, travel, recipes, and more.
---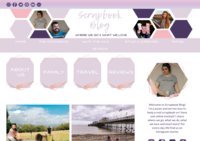 Scrapbook Blog, formerly Belle du Brighton, serves as the digital scrapbook of UK mom, Lauren. Originally dedicated to fashion and beauty topics, it now covers travel, food, and interiors.
---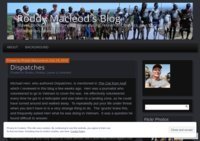 What is life like after retirement? Roddy says 'positive' and has got his blog to prove it!
Let Roddy Macleod take you on a day in the life of an information professional enjoying retirement. He travels, tries new food experiences, and keeps active. Learn about his kayaking trip in the Isle of Barra, week-long tour of Bulgaria, 14-day cultural tour of Vietnam, and more.
Since he also loves to read books and talk about politics, you'll get to see this side of him, too. And let's not forget he worked as an information professional, so you can expect some interesting trivia and snippets of history in the Roddy Macleod blog.
---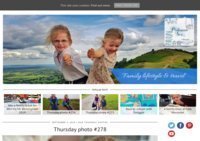 Plutonium Sox serves as the digital archive of Natalie Ray. A freelance writer, wild swimmer, and runner living in rural Worcestershire.
---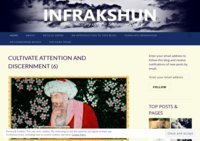 This blog is a place for the author to share their thoughts on various topics, including social science, the occult, 9/11, Zionism, and more.
---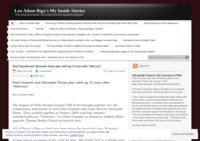 A Working Journalist's no-frills blog featuring my stories about people, their passions, and their magnificent obsessions.
---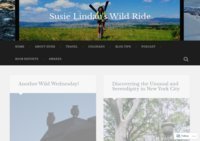 Susie Lindau is a fiction and non-fiction writer, jet setter, and poster child of early detection. Her blog, aptly called Susie Lindau's Wild Side, is a reflection of the thriver that she is.
Join her as she walks you through the adventures and misadventures she's encountered in the different places she's traveled to. She also gives a peek at her crazy journey to being cancer-free in her Boobs Report. And if you're an aspiring writer or blogger, check out her blog tips!
Don't miss out on her interviews with interesting people who have embraced their wild side! Among them are an FBI profiler, a drug and alcohol counselor, and a 101-year-old man.
---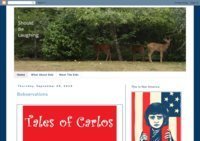 Just a space for me, as a frustrated author, to put up some stories and thoughts, opinions, ideas, and tall tales, for you to enjoy, despise, or ignore. You choose.
---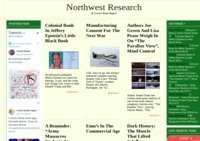 Covert Book Report provides book reports, hidden histories, political news, personal views, and in-depth analysis of current events and social issues.
---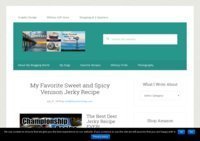 3 Quarters Today is a blog by an American mom with many passions. She loves farming, the small town she lives in, photography, the military, Jesus, and her human and furry kids.
All these are evident in her articles. One moment, you'll find her sharing tips on raising a dog or discussing the rudiments of photography. In another, you get a glimpse of what it's like to be a Marine mom as she shares stories and recipes. Next, she's giving you updates on events in her town or on farming.
Add to her many hats the fact that she's a passionate shopkeeper. Find a wide range of items in her store which has to do with her interests.
---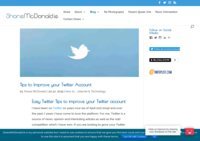 Shane McDonald is an expert in software and web development, e-commerce, digital marketing, and social media marketing pro with a love for music and photography.
His artistic inclinations find expression on the platform, serving as a depository of his 400 piano chords, everything Queen-related, music information, and more. With his love of travel, he takes semi-pro photos of interesting things he's seen in his trips and chronicles them. He also shares packing tips, hotel and restaurant reviews, and activity suggestions.
And if you need a good laugh, his collection of funny and worst jokes are there to cheer you up.
---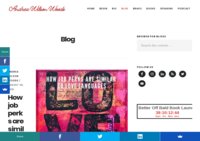 This is the story of a sister's journey to find wisdom, happiness, and hope after losing a sibling whom she raised as her own to liver cancer. Besides her struggles dealing with the loss, she reserves a spot on her blog for cancer advocacy, self-development, and career coaching.
---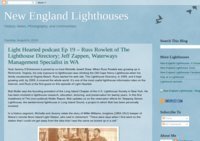 Got a thing for lighthouses or curious about what it's like to be a lighthouse keeper? New England Lighthouses is wholly dedicated to the topic!
Learn about the history of lighthouses in New England and their keepers. Find lectures on the topic, interviews with the lighthouse keepers, photographs of the towers, and more. If you're interested in booking a lighthouse tour, that's an option, too.
The blog is published by Jeremy D'Entremont, a maritime historian, lighthouse preservationist, tour guide, and photographer.
---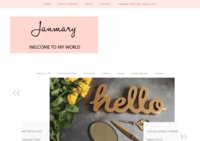 Janmary is the creative and personal platform of a mom from Northern Ireland, Janine. With over 300 posts on family life, it offers an invitation to get to know the author intimately. It's a mix of family history, parenting tips and reflections, personal stories, and favorite recipes. Every entry is made more enjoyable with her wonderful snapshots.
She also takes you for a walk through her jewelry designs, crafts, home decor creations, photos taken with her iPhone or trusty Fuji X100S camera, and travels in Northern Ireland and abroad. Browse through her gallery for inspiration.
---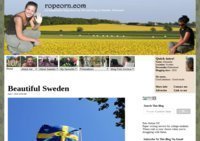 What is it like to live in the land of beautiful landscapes, clean cities, and Northern lights? Let half-Iranian, half-Swedish Alexandra Lindberg take you on an immersive tour of Sweden!
My Life in Sweden offers in-depth information about the country by offering readers a local's viewpoint. Great for anyone looking to visit or move there! Read not only about Swedish food, traditions, and touristy places but also about food and gas prices, where to get ice cream, how Mother's Day is celebrated, and more.
You'll also get to know Alexandra more as she shares personal stories from her fridge magnet collection and three-week interrailing experience in Europe to her favorite books and TV series.
---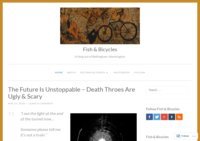 Ponderings of a Bellingham man on topics that strike his fancy, from current events and personal life experiences to art, culture, technology, and sustainability. Browse through also his nature-themed photos in his gallery.
---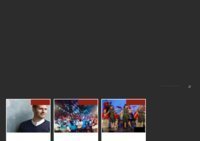 5 Things to do Today features helpful information and tips on just about anything—and in fives, of course. Find features on five things to do at an upcoming social event (like the Frank Skinner showbiz show), five ways to fix a problem (such as a poor internet connection or transitioning to university life), and more.
---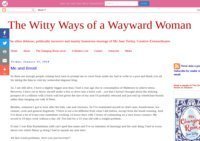 A feisty wife navigating life's twists and turns with wry and self-deprecating humor, a dose of pettiness, and a penchant for making the mundane sound interesting.
---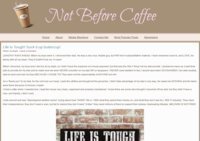 Not Before Coffee is the personal blog of Gayla Baer-Taylor, a self-professed worrywart, life-long learner, an early adopter of social media, and Christian. Started in 2005, it served as Gayla's platform to share her thoughts on politics, religion, and life in general--topics her grandma told her to never discuss at the dinner table or anywhere else. Pick her brain on universal issues such as divorce and depression, as well as on polarizing American topics such as Black Lives Matter and Donald Trump.
---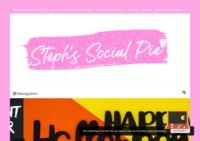 Steph's Social Pie is a lifestyle blog and editorial featuring hot and fresh health, wellness, beauty, and lifestyle articles.
---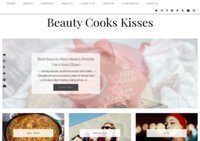 A treasure trove of beauty and style pointers, great food and home-tested recipes, DIY projects, time-saving tips, health articles, organizing hacks, product reviews and giveaways, and so much more!
---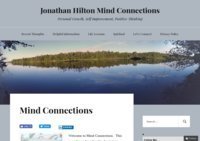 The Personal blog of someone yearning to connect with individuals committed to self-improvement and positive thinking. It touches the subject of personal energy, the power of thought, happiness, forgiveness, authenticity, alignment, positive principles, and everything else that leads to a full life.
---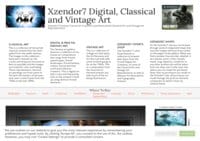 Retouched portrait art, landscape art, marine art, animal art, engraving art, mythological art, religious art, architectural art and genre artwork.
---
A personal lifestyle blog dedicated to trying new things and digging up facts (so you don't have to) and sharing the experiences and results! From the newest face cream and diet craze to trending gadgets and sustainable products, Mliae is keen to jump in feet-first and live to tell the tale.
---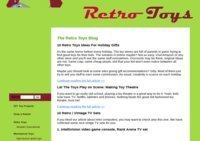 Everything about automata and retro mechanical toys
---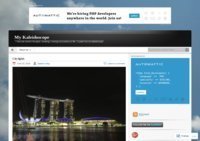 My Kaleidoscope is a peek into the lens of an electronic engineer who finds life's shifting and colorful patterns interesting.
Read up on Sanjeev's ramblings and musings on life through his vast collection of poetry, stories, and reflections. He likes to talk about India, Singapore, love, cricket, technology, and nature, among others.
Take a peek at places he's been to through the photos he shares with his readers. See pictures of his travels in Bangkok, Siem Reap, Tamil Nadu, Chikmagalur, and more.
---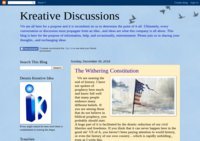 Kreative Discussions is a digital platform for those who love ideas--whether it be encountering them for the first time, playing with them, or finding their practical applications. But mostly, they are seen as tangible solutions to daily challenges or obstacles.
Expect to find editorials on health and fitness, politics, spiritual matters, relationships, and more. These thought-provoking vehicles are meant to get to the core of things or find new angles to approach traditional or modern thought.
On a lighter note, you can also find a couple of movie reviews.
---