---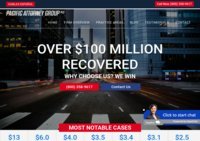 Pacific Attorney Group is a law firm based in Los Angeles, California. We have a perfect track record in handling work accident claims caused by the employers' negligence.
Pacific Attorney Group's areas of practice include vehicular accidents, medical malpractice, toxic exposure, defective products and drugs and more.
---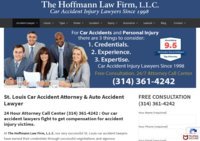 St. Louis, MO Car Accident & Personal Injury Lawyer. If you suffered a severe injury or family fatality in an accident, we can help you recover financially.
---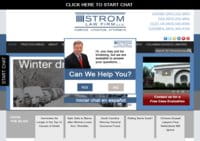 COLUMBIA SC PERSONAL INJURY LAWYER AND CRIMINAL DEFENSE ATTORNEYS
---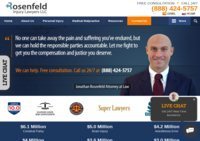 Rosenfeld Injury Lawyers LLC is a Chicago-based, personal injury law firm.
---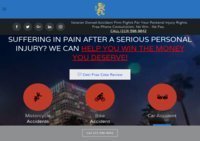 Serious injury attorney Los Angeles County for motorcycle accidents, wrongful death, trucking accidents burn injuries and more! Get help from a master of disaster for all catastrophes.
---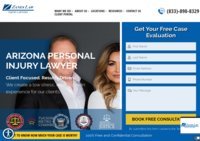 Zanes Law is an Arizona-based law firm that was founded in 2003 by Doug Zanes.
---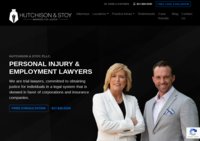 Hutchison & Stoy, PLLC is a personal injury and employment law firm serving the Dallas-Fort Worth metroplex in the state of Texas.
---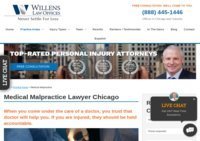 Willens Law Offices is a law firm based in Chicago, Illinois.
---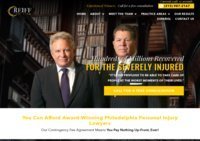 Reiff Law Firm handles a wide variety of claims and lawsuits, which include injuries from assault, aviation accidents, products and premises liabilities, wrongful deaths and survival actions, and more.
---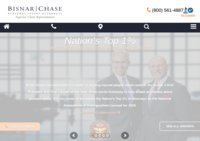 Bisnar Chase Personal Injury Attorneys represent injured plaintiffs in California. We have recovered hundreds of millions for car accident, auto defect & dangerous product clients.
---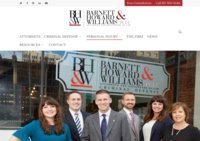 ---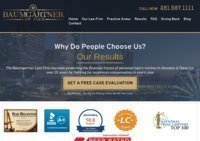 The Baumgartner Law Firm has been committed to protecting the rights of personal injury victims for the past 35 years. Founded in 1985, we focus on cases that have resulted in serious injury or loss of a family member.
---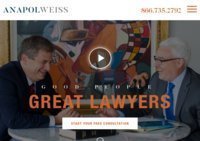 Anapol Weiss is a Philadelphia personal injury law firm located in the heart of Center City. Our commitment to giving every victim a voice is at the heart of all we do. We are dedicated to obtaining justice for those who have been injured or wronged, speaking out for them, and getting their voices heard.
One Logan Square 130 N. 18th St. Ste. 1600
Philadelphia, PA 19103
---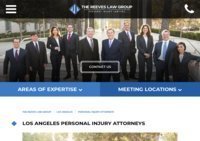 Recognized by Newsweek Magazine as one of the "10 Best Personal Injury Attorneys" in the US, The Reeves Law Group is an award-winning Los Angeles personal injury law firm specializing in accident and injury cases only. Our law firm has successfully handled injury and accident cases from lawsuits to settlements for over 30 years and have helped thousands of clients achieve satisfactory results for their accident claims and get the compensation they deserve.
---
Pace Law is a top rated personal injury law firm serving the people in Toronto and GTA regions to help get them justice and safeguard their rights. We help our clients all personal injury cases such as car accident, slip and fall, dog bites, battery charge and disability claims. With more than 35 years of experience, Pace Law gives customers solid and educated direction on where the case stands and stays by you till the end while you focus on your health. Get in touch with one of your lawyers today before time runs as most cases are time sensitive these days! For more information, please visit our website at https://pacelawfirm.com/
---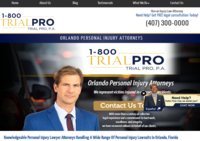 Trial Pro P.A. is pleased to provide excellent service and value long-term relationships with our clients across the State of Florida, including our Central Florida office located at 250 N Orange Ave 14th floor, Orlando, FL 32801 Our fully committed trial and personal injury attorneys deal with a variety of legal cases, from Slip and Fall Injuries to car accident lawsuits. Contact us Today (407) 300-0000
---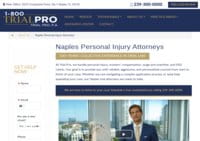 Trial Pro, P.A. is honored to provide exceptional service and value long-term relationships with our clients all over the State of Fla, including our Naples office. Our committed trial and personal injury lawyers manage a variety of legal issues, from employment legal disputes to accident insurance claims. Our team can use our knowledge and legal skills to assist you not only achieve a favorable outcome, but relieve the legal burden from your shoulders simultaneously. Our whole team comprehends how overwhelming and difficult judicial proceeding might be, and that is just why our team is ready for our clients through each and every phase of the suit.
1019 Crosspointe Dr Suite 1
Naples, FL, 34110 USA
(239) 300-0000
Hours of Operation: 24/7
​help@trialpro.com
---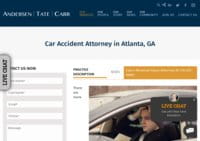 For over 30 years, Andersen, Tate & Carr has set the standard for legal excellence in greater Atlanta. Through our collaborative approach, we are able to provide full-service representation to businesses and individuals alike. We are committed to the community we serve. We are committed to you.
---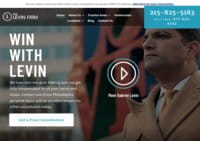 Philadelphia Personal Injury LawyersAt The Levin Firm, we take fighting for accident victims seriously. We are passionate about our jobs and helping people get back on their feet. When you call for a free consultation, you will speak directly with an experienced attorney. That attorney will handle your case the entire time and will be available to you throughout the process.We want to get to know you, and we want you to know your lawyer. When you call in with a question, your lawyer gets on the phone. It is this kind of personal service that will make your experience at The Levin Firm exceptional, and it is what separates us from the rest.
---
Each injury client is assigned a team of Chicago personal injury attorneys that will focus its time on that specific case. On our staff, we also have a physician who holds a law degree, and he can accurately examine your injuries to determine the number of damages to seek for your case.
---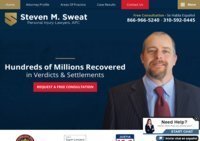 Los Angeles personal injury attorneys.
---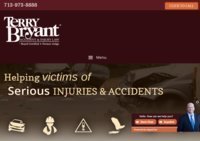 ---
Ian Silverthorne the premier personal injury lawyer in Orange County, CA. Silverthorne Attorneys posts regular blog articles on car accidents, dog bites, wrongful death and pedestrian accident law.
---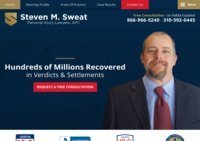 Steven M. Sweat has received numerous awards and accolades over the past two decades. These include Thomson Reuters News Service and Los Angeles Magazine's Super Lawyer, National Trial Lawyers Top 100, The Litigator Awards, Best Attorneys of America and Ethical Lawyers of America.
---
Bakersfield personal injury attorneys Sherwin Arzani, Oliver Naimi, and their team have over 20 years helping those injured due to someone else's negligence. We handle all accidents including car accident, bicycle accidents, dog bites, motorcycle accidents, pedestrian accidents, and wrongful death claims. Call for a free consultation.
---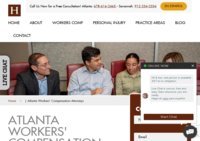 Hasner Law is a workers' compensation and personal injury law firm serving all of Georgia including Atlanta, Savannah, Macon, and more. If you've been injured at work or due to someone else's negligence, call us today for a free consultation.
2839 Paces Ferry Road SE
Suite 1050
Atlanta, GA 30339
---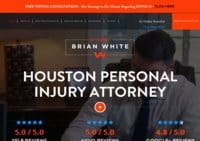 Attorney Brian White & Associates, P.C. is a top personal injury law firm helping injury victims in Houston, TX. With over 45 years of combined experience, we have handled all personal injury matters including car accidents, truck accidents, motorcycle wrecks, slip and fall injuries, and more.
---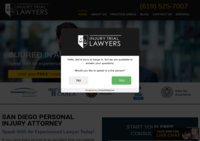 San Diego personal injury lawyer Richard Morse III and his team have over 22 years experience helping those injured in an accident. We handle all accidents including car accidents, motorcycle accidents, dog bites, pedestrian accidents, wrongful death claims, and more. Call for a free consultation.
---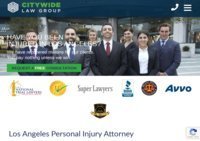 Citywide Law Group is a personal injury law firm serving all of Los Angeles, CA. We handle all personal injury matters including car accidents, motorcycle accidents, dog bites, pedestrian accidents, wrongful death claims, and more. Call today for a free consultation.
---