Livesay & Myers, P.C.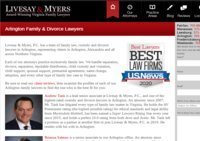 Phone #
Visit Website
The family law and divorce attorneys in the Arlington office of Livesay & Myers, P.C. represent clients in Arlington, Falls Church and Alexandria, Virginia.
Opening Hours
Monday-Friday: 8:30-17:30, Saturday-Sunday: Closed
Email Address
info@livesaymyers.com
Phone #
703-865-8242
Facebook
Twitter
LinkedIn
Reviews
"New Replica Rolex"
by

New Replica Rolex