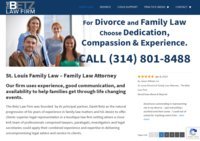 St. Louis divorce and family law attorney with a strong desire to offer to clients superior legal representation.
---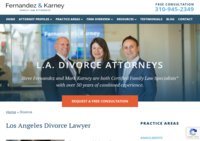 Fernandez & Karney is a divorce and family law firm located in Los Angeles, CA. Co-founders Steve Fernandez and Mark Karney have over 50 years of combined experience and are Certified Family Law Specialists.
---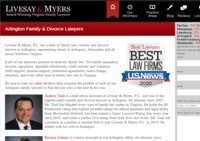 The family law and divorce attorneys in the Arlington office of Livesay & Myers, P.C. represent clients in Arlington, Falls Church and Alexandria, Virginia.
---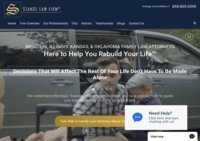 A Midwest divorce and family law firm with offices in Missouri, Illinois, Kansas & Oklahoma in places such as St. Louis, Kansas City, Columbia, Springfield, Wichita, Tulsa and Beyond.
---
Los Angeles divorce lawyer Hossein Berenji and his team have over 25 years assisting those going through a family law related issue. Hossein handles divorce, child custody, child support, and property division matters. Call for a free consultation.
---
Sean Smallwood is a family law and divorce lawyer for the Law Offices of Sean Smallwood, P.A. where he represents clients in all areas of family law and divorce. 100% of the practice is devoted to family law. As an attorney, he has helped many families with a wide variety of family law cases including Divorce, Child Custody, Child Support, and many other issues.
---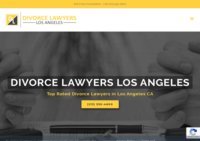 Divorce Lawyers Los Angeles is California's premiere family law firm. Our family law attorneys can help navigate your case. Call for a free consultation.
---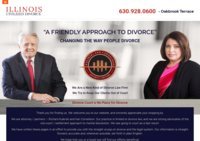 CHANGING THE WAY PEOPLE DIVORCE – WE WERE THE FIRST COLLABORATIVE LAW FIRM IN ILLINOIS! A Friendly Approach To Divorce is LEAST EXPENSIVE, LEAST PAINFUL, and has the LEAST WEAR & TEAR ON THE FAMILY! We reach out-of-court settlement in over 96% of our divorce cases.
---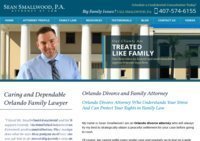 Sean Smallwood. is in Orlando Florida divorce attorney representing clients in all areas of Florida family law including divorce, child custody, paternity establishment, fathers rights, and child support. The firm offers a refundable fee structure which is one of the many ways that they prove that they placed the clients best interest out of their room.
---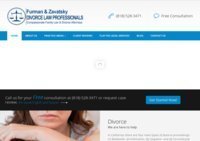 Los Angeles Divorce Lawyers
---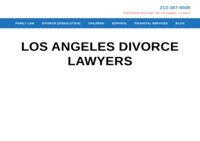 Charles M. Green- Highly experienced Certified Family Law Specialist with over 18 years of successful legal representation in Los Angeles County. Financial expertise as a former CPA (now inactive.) Get the best possible settlement in your divorce or family law case.
---
Family Law Attorney located in Naples, Florida
---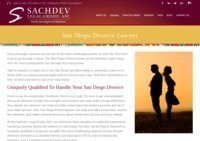 Sachdev Legal Group, APC is a top-rated family law firm serving San Diego, CA. Our divorce attorneys have decades of experience helping clients in San Diego County. We know how stressful this time is for your family, so we take pride in getting our clients through their legal matters with compassion and competence. Our founding attorney, Puja Sachdev, is a Certified Family Law Specialist and a Certified Divorce Financial Analyst. If you are in need of a divorce in San Diego, there is no better person to contact. Call today to get started with your case. We offer a free, no-obligation consultation.
---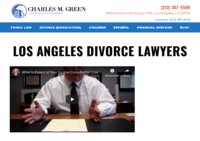 Charles M. Green- Highly experienced Certified Family Law Specialist with going on 20 years of successful legal representation in Los Angeles County. Financial expertise as a former CPA (now inactive.) Get the best possible settlement in your divorce or family law case.
---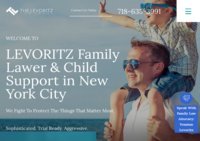 Levoritz Law Firm is a Family Law Firm in New York City, New York. Our experienced Divorce Lawyers offer a broad spectrum of Family Law services, including Divorce, Child Support, Child Custody, Father's Rights and more. Call us (718) 942-4004 or request a consultation online today.
---
Divorce and Child Custody Website
---
Huffe is Singapore's leading divorce lawyer portal. The portal offers excellent legal education guidance to help users understand matrimonial and divorce law in Singapore. Huffe also guides married couples in understanding the emotional, social and financial consequences of a divorce. The portal has a listing of recommended good divorce lawyers, and also sets out clear guidance and criterion to help users find the best divorce lawyer for their circumstances and navigate the complexity of the divorce procedure in Singapore.
---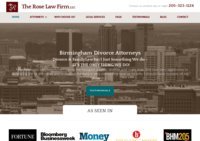 At The Rose Law Firm, LLC, we focus our entire practice on family law. We understand what you're going through, and we are committed to doing everything in our power to secure a favorable outcome in your case. We will be there with you throughout the process, and we'll see your case through to its conclusion — constantly working to protect your future.
---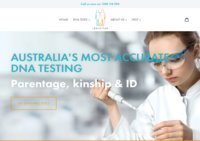 Identilab are your local paternity test Australia experts. Based in Brisbane, but offering paternity tests to clients in Sydney, Melbourne, Adelaide, Perth and all other areas of Aus, Identilab offer the most accurate DNA paternity testing available on the market and are fully accredited by NATA. Whether you need peace of mind or a court ordered paternity test, visit Identilab's website today to purchase your at home DNA paternity test kit for fast delivery throughout Australia.
---
With over 50 years of divorce experience, this team of top NYC divorce lawyers help in divorce mediation, custody disputes, alimony negotiations, rights, and agreements.
---
Our legal team consists of highly qualified and specialized divorce and family law attorneys. Our extensive knowledge of family law and the attentiveness to our clients' needs have helped us establish a reputation as strong legal advocates and an effective law firm allowing us to bring maximum results to our client's cases.
---
If you're experiencing any legal issues related to family law, please contact our team today at (505) 445-4444 or book a consultation online.
---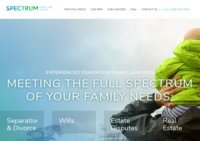 We are a boutique family law firm proudly providing our clients with the full spectrum of family law services relating to separation and divorce, helping you resolve disputes through collaborative law, negotiation, mediation, or litigation. Contact our Edmonton family lawyers today for a consultation.
---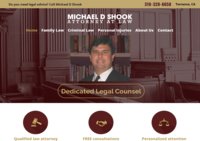 Dedicated Legal Counsel
---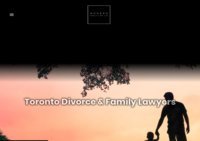 Our Toronto family lawyers have handled all types of family law cases – from lengthy trials, to complex appeals, to detailed property disputes, to high conflict parenting disputes, and everything in between. Experience is critically important to ensuring your case is handled properly, time is not wasted needlessly and to assist you in achieving your goals.
---