---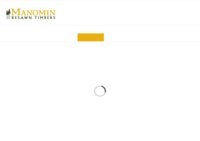 We specialize in reclaiming wood from old barns, buildings and transforming it into flooring, mantels, timbers and more.
---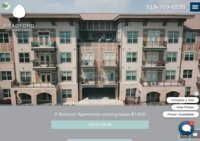 Located in the prestigious Preston neighborhood in Cary, NC, Bradford Luxury Apartments & Townhomes offers 1, 2, and 3-bedroom units available for rent.
Visit our website to learn more about our upscale amenities, including on-site golf simulator, dog park, state-of-the-art fitness facility, and beautiful saltwater pool.
---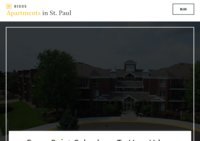 A bright and clean design with large and beautiful images of architecture and real estate properties. The site is easy to navigate and the colors make it's call to action's stand out in a natural way.
---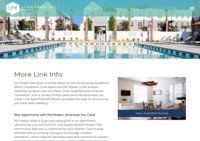 New owners, management, and renovations bring you the new and improved luxury apartments, Link Apartments Mixson. With premium amenities, stunning finishes, and perfect location within the Mixson neighborhood it is the new must-have homes you have been searching for. Created to bring great opportunities of revitalizing the community back together it is the perfect place to make your home. Luxury and comfort with high-end interiors such as modern-high quality fixtures and finishes, spacious apartments with oversized windows, and a washer/dryer. Relaxation is also a key component and is available with a refreshing pool, lounge deck, and a state-of-the-art fitness center. Located in North Charleston, Link Apartments Mixson is in a prime location with walkable distance to all the advantages that the Mixson Community has to offer such as restaurants, shops, parks, and more. This up and coming neighborhood is heading to success, so come make the prestigious Link Apartments Mixson your new home.
---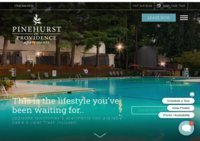 The lifestyle you have been waiting for in Charlotte's most desirable area is now possible with Pinehurst on Providence Apartments. With the best to offer such as a quiet and relaxing resort-like home located in the center of excitement in Charlotte. Homes are all uniquely designed with 2-bed gardens, 2- or 3-bed townhomes, or 3-bed tri-level floorplans available for rent. Each home is designed with indulgent details and features to provide the luxurious aesthetic of your home. This new community has extravagant amenities like an Olympic-sized pool & sun deck, sand volleyball court & soccer field, and a newly upgraded fitness center. Since it is located right near uptown Charlotte, there are many tasteful restaurants and trendy shops to endure. A luxurious, comfortable home that is located in South Park is waiting for you at Pinehurst on Providence. The wait is over, so schedule a tour today and explore the many things Pinehurst on Providence has to offer.
---
---
Roofing and Fence Company Springfield MO
---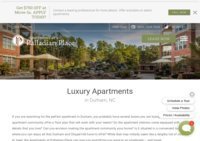 Living in luxury, elegance, and adventure is now available to you with the superior spaces, indulgent details, and stunning surroundings at the Apartments at Palladian Place. Our upscale apartments offer extraordinary studio, 1, 2, and 3 bedroom flats that are each arranged with impressive details and finishes. The Apartments at Palladian Place are designed to accommodate to the comfort and convenience of all the residents while providing a fun and exciting lifestyle. Live lavishly with the stunning amenities, such as a pool, fitness studio, and a 24-hour resident clubhouse that are available to the community. You can also enjoy the beautiful wooded view with the elevated indoor sky lounge. With an ideal location in Durham, NC, there will always be something exciting going on to enjoy. Apartments at Palladian Palace offers the extraordinary lifestyle you have been looking for and more. Discover the luxury living you have been missing and schedule a tour of your new home today.
---
manufactured mobile homes
---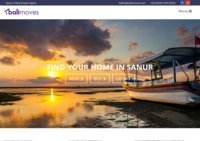 ---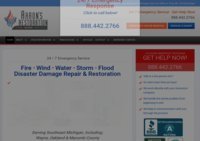 We are a Michigan restoration company that helps clients deal with everything from water damage repair to capital improvements.
---
LPC Living is a residential property developer that thinks differently. We deliver unique properties across the UK, from individual homes to major regeneration projects and lots of fantastic projects in between.
---
Located in the heart of Chapel Hill, between highways 54 and 15-201, you'll find serene Glen Lennox Apartments.
Glen Lennox offers a unique and vibrant community of apartments is the perfect combination of classic American charm and modern urban convenience. Our cottage –style apartment homes offer updated features including hardwood floors, multiple entrances and ceramic tile baths. These cottage style homes are also all only one level and include a host of community amenities.
Residents enjoy their own 24/7 fitness center, dog park and front door mail delivery all while enjoying the sixty eight acres of beautiful landscaping Glen Lennox has to offer.
Our central location puts you in close proximity to the delights of Chapel Hill, NC.
---
Listing Loop offers a 'first' in the Australian real estate industry by addressing off-market real estate transactions which account for approximately 20% of Australian residential property sales.
---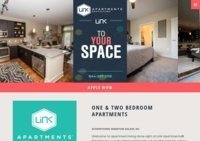 Link Brookstown is officially here and waiting you in Winston-Salem, NC. This urban style of living is exploding with new and stunning designs and features. The interiors are fashioned with high-end trends from stainless steel & granite kitchens to private patios with stunning views of the ballpark. Relax by the pool, stay fit at the fitness center, or even take advantage of the cyber café while enjoying some delicious coffee from the resident coffee bar. The excitement does not stop there, because Link Apartment Brookstown is conveniently surrounded by a variety of retail & grocery shops, restaurants, and entertainment/nightlife. With unique floorplans, there is guaranteed to be a home that best accommodates to all your needs & desires. Apartments come in spacious, one or two bedroom layouts. These apartments offer everything you could want/need and more! Apply now and be able to take pride in your spectacular home & community by living at Link Apartment Brookstown.
---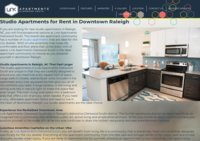 Link Apartments Glenwood South, a new luxury community in Downtown Raleigh, featuring contemporary architectural touches and lavish amenities that create a fresh outlook on city living. Each apartment home features large walk-in closets, energy-efficient stainless steel appliances, and oversized windows. For fun and fitness, indulge in the heated saltwater pool, outdoor grilling and recreation area, and state-of-the-art fitness center. In addition to the aforementioned amenities, shopping, dining, and entertainment are all within walking distance, making Link Apartments Glenwood South the perfect place to call home.
---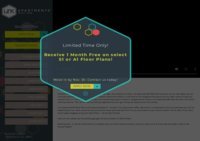 Connect with the vibrant, Historic West End community with Link Apartments West End. Aesthetics are a key component to Link Apartments West End, so we offer high-end, spectacular features and exciting amenities. Unique floorplans are available anywhere from studio to 2-bedroom layouts each designed to meet the needs of comfort and convenience of the residents. Apartments are each designed with luxurious features such as stunning white quartz countertops, contemporary espresso stained cabinets, large oversized windows with skyline, mountain views and much more. Residents are also welcomed to indulge in the vast majority of impressive amenities that Westend offers, such as a yoga mezzanine, a saline pool with an aqua deck, a fitness center, and a dog park & spa. Living in luxury is now possible with all the advantages that Link Apartments West End has to offer. Connect with your community while enjoying art, brews, and neighborhood culture. Stop the search and apply now for a tour of the brand new stunning and modern Link Apartments West End.
---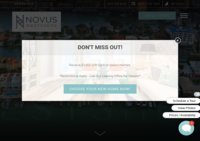 Live lavishly in the luxury apartment community, Novus Westshore. Discover the prestigious neighborhood of Westshore and downtown Tampa while living here. Your home will feel like a resort with all the amenities, apartment features, and being located right near the beach. These must-have apartments are now offering 1-, 2-, or 3-bedroom homes that are all designed with unique and spacious floorplans designed for your convenience. Each apartment is equipped with only the best and stunning features to make residents' lives more comfortable yet luxurious. Besides having the excitement of living near Tampa, Novus Westshore offers many amenities to enjoy like a game room and business hub. Residents are welcome to relax at the resort-like pool, spa & saunas, or a poolside cabana lounge. Also, available is a state-of-the-art fitness health club along with a strength, cardio, & fitness flex room. Experience Tampa living and schedule a tour today to visit the luxurious living of Novus Westshore.
---
---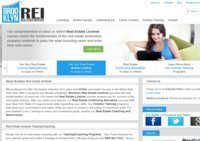 ---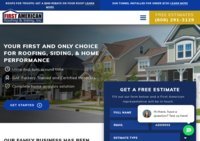 First American Roofing is a second generation family owned business that's GAF Master Elite certified and offers the best, ("The Golden Pledge") warranty in the industry.
---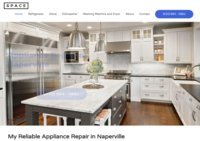 We are an appliance repair company serving Naperville and the surrounding suburbs or Chicago. Whether you need fixing for your refrigerator, stove, dishwasher or washing machine, we can help you. Give us a call to see how we can help!
---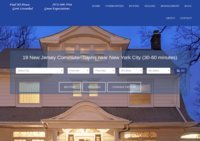 Find NJ House specializes in Northern New Jersey Real Estate within 30-60 minutes from Midtown Manhattan. Find the best New Jersey Commuter towns close to New York City. Over 20 years of experience in the Northern New Jersey Real estate Market.
Not sure where to start? Follow the New Jersey train line.
---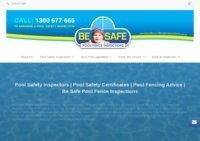 Pool Fence Inspection Service Brisbane
Be Safe Pool Fence Inspections are a Brisbane based pool safety inspection business. If you require a pool safety certificate to comply with the QLD pool fencing regulations, the experienced team of pool fence inspectors at Be Safe can assist.
For more information on the Brisbane pool fence inspection services available in your area visit http://besafepoolfenceinspections.com.au today.
---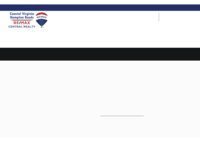 After retiring from the Marine Corps with 14 PCS moves I entered the real estate business with a strong sense of client representation, service and ethics. Now with over 14 years of experience, I have helped hundreds of local buyers and sellers just like yourself, buy or sell their home! We know how to locate the finest properties quickly and negotiate the best deals.
---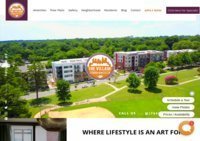 Located in the highly desired neighborhood of Plaza Midwood, The Village at Commonwealth is a new urban apartment community, which is quickly becoming one of the most popular places to live in the Queen City. Proudly offering unique floorplans, as well as 1, 2, and 3 bedroom homes. Luxury amenities and an ideal location make this a perfect place to live. Visit our website to learn more about our community. Schedule your tour day!
---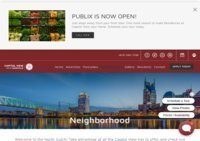 In the heart of Nashville in the attractive North Gulch District is a brand new apartment community with modern, urban apartments ready to rent. Capitol View provides residents with everything from studio apartments to spacious three-bedroom units, all with large windows that overlook Charlotte Avenue and 11th Avenue North. With upscale finishes like Misterio quartz countertops and subway tile backsplashes, these are apartments that capture the distinctive living you want. Each one has a private balcony overlooking the city, allowing residents to soak in the city vibe right from their apartment homes.
The community also boasts amenities to keep residents comfortable. Take a soak in the saltwater pool which sits elevated over the city, or head to the clubhouse with its resistance pool and sauna for a quick workout. Grab some friends and head to the fitness club, which is always open, or spend some time in the landscaped courtyard enjoying the excellent Nashville climate. Pets are always welcome, and a covered pet area ensures their needs are met too. Everywhere you look, Capitol View has thought of the details you want for a comfortable Nashville lifestyle. Scheudle a tour of Capitol View today, and learn to live your point of view in Nashville.
---
---
---