Werman Salas P.C. is a Chicago-based Employment Law Firm serving and protecting workers across the United States. If you've been wronged, contact our Employment Lawyers Chicago today for help (312) 419-1008.
---
Soni Law Firm has an established reputation for helping employees & employers with a full range of employment and labour law issues and we strongly believe in advocating for our clients and ensuring they can pursue their legal rights.
---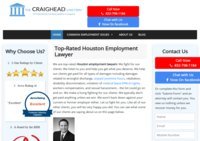 The Craighead Law Firm is an employment law firm, protecting the rights of employees who have been wrongfully terminated, undergone sexual harassment, or experienced other unlawful employer practices.
---
Taylor Janis LLP practices Employment Law & Labour Law for employees & employers in Calgary and Edmonton AB. Serving cases involving matters such as wrongful dismissal and employee rights.
---