1104 San Antonio St, Austin, TX 78701, USA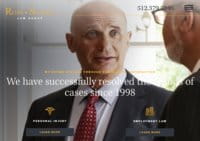 Ross - Scalise Employment Lawyers LLP is committed to providing employment law services for individuals experiencing difficulties with their employers or insurance companies. We often represent individuals in high-stakes disputes against wealthy companies, and our expertise combined with our competitive spirit has helped us bring impressive results.
---
712 Main St #900, Houston, TX 77002, USA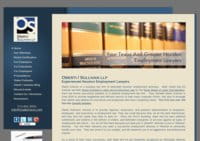 When you need to find the right employment law attorney for your business, turn to Oberti Sullivan. We offer our clients a comprehensive approach to representing them within the Texas and federal court system. Board-certified labor and employment attorneys, local Super Lawyers-Thompson Reuters member, and U.S. News-Best Lawyers top Tier 1 labor and employment attorney for two separate groups—we provide heightened and efficient service to our corporate clients as expertise for executives with compelling cases.
---
32 Broadway, New York, NY 10006, USA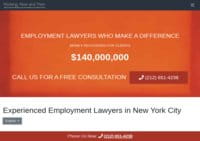 Experienced employment lawyers in NYC. Practice areas include:
- workplace discrimination
- wage theft
- sexual harassment
- retaliation and hostile workplace protections
- wrongful termination
---
60 E 42nd St, New York, NY 10165, USA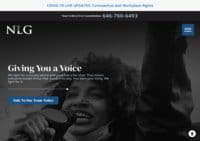 Nisar Law Group, P.C. provides superior employment and labor law representation to clients in the state of New York. Whether you were wrongfully terminated based upon a discriminatory practice, or you are the victim of workplace sexual harassment, our team has the experience, knowledge, and dedication you need to fight for your rights.
---
1400 Broadway Building 1350, New York, NY 10018, USA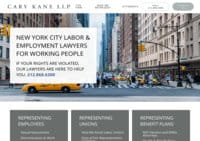 If you need help as a worker, union member, or as part of an employee benefit plan, then this law firm can represent you. The Employment law firm of Cary Kane LLP has decades of experience representing employees at all levels and in every industry. The law firm is equipped and ready for any challenge, from minimum wage to overtime paid, even wrongful termination to unfair labor practices and other legal claims.
---
440 Louisiana St #900, Houston, TX 77002, USA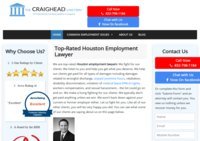 The Craighead Law Firm is an employment law firm, protecting the rights of employees who have been wrongfully terminated, undergone sexual harassment, or experienced other unlawful employment practices.
---
5850 Canoga Ave, Woodland Hills, CA 91367, USA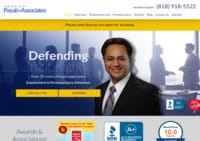 The Law Offices of Payab & Associates handles thousands of cases every year that involve employees being wronged by employers. If you have experienced discrimination, unsafe conditions, or any other violations of your rights as an employee, our firm is here to help.
---
3355 Lenox Rd NE, Atlanta, GA 30326, USA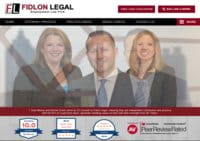 Fidlon Legal is a law firm in Atlanta, Georgia, offering FREE CASE EVALUATIONS. This professional labor and employment law firm has the expertise to handle virtually every type of workplace dispute or issue, including wrongful termination, discrimination, wage/hour and overtime pay, sexual harassment/hostile work environment, employment agreements, non-compete agreements, disability, and medical leave.
---
10250 Constellation Blvd, Century City, CA 90067, USA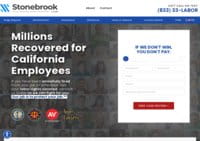 Stonebrook Law's founder, Mr. Tojarieh, focuses on all areas of labor and employment law, including wage disputes, discrimination, harassment, retaliation, leaves of absence, workplace torts, employment contracts, and workplace privacy. He has experience representing employees in state court and before the California Labor Commissioner.
He has represented employees in various industries for over 25 years ranging from assisted living to retail to medical care, along with many others.
---
700 Milam St #1300, Houston, TX 77002, United States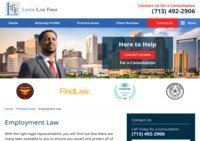 Based in Houston, Tx, Leeds Law Firm helps people and organizations pursue their rights against unlawful employer activity, such as discrimination, harassment, retaliation claims, and overtime and minimum wage violations.
If you're searching for employment law representation to explore your options together more thoroughly, we'll explain applicable laws so we can come up with a game plan on what.
---
300 E San Antonio Dr, Long Beach, CA 90807, United States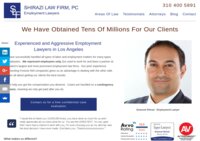 Emanuel Shirazi is an aggressive employment litigation lawyer in Los Angeles handling sexual harassment, wrongful termination, discrimination, and more. His clients have recovered millions for clients. At Shirazi Law Firm, we work directly with our clients. The vast majority of employment cases settle in litigation before trial. Still, even then, your settlement value may be less if the opposing side believes your lawyer won't go to trial.
---
4100 West Alameda Avenue Third Floor, Burbank, CA 91505, United States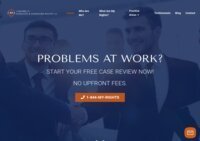 We represent employees. We take on cases other lawyers deem "too small." We take on clients who cannot pay legal fees, which can be hundreds of dollars per hour. We are only paid if we are successful in getting you a recovery. Robert Byrnes is the head of litigation and has represented employees with legal claims in state and federal courts. He has negotiated significant settlements on behalf of workers.
---
200 E 5th Ave Suite 123, Naperville, IL 60563, United States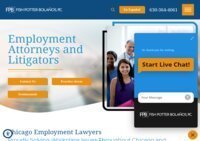 Fish Potter Bolaños, P.C. takes on employment law cases on behalf of employees and employers across the greater Chicago area. Call or stop by our office to discuss your case with our legal team. Fish Potter Bolaños, P.C., uses 100+ years of combined experience and extensive law knowledge to assist clients in a wide range of labor and employment disputes. The firm has represented clients before various agencies, including the Illinois Department of Labor, the United States Equal Employment Opportunity Commission (EEOC).
---
1651 Richmond Ave, Houston, TX 77006, United States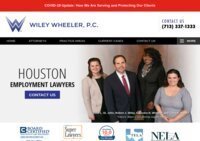 Wile Wheeler, P.C. is an award-winning labor & employment law firm that has built a reputation on aggressively representing employees in lawsuits against employers. Our attorneys advocate for clients before agencies like the EEOC and lead the charge in state and federal court.
We devote our practice to fighting for workers' rights! Don't hesitate to contact us so we can answer your questions or schedule a free consultation with an employment attorney by calling (713) 337-1333.
---