Los Angeles bankruptcy attorneys offering free consultation for debt relief, loan modification, mortgage issues, business reorganizations and other types of financial distress.
---
The Law Office of David S. Adams is your legal source for a local bankruptcy attorney, personal injury attorney, auto accident attorney, and adoption attorney in Overland Park, Lenexa, Shawnee, Olathe, KS and the Kansas City metro.
---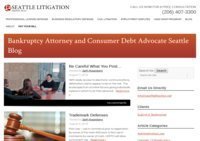 Bankruptcy attorney and consumer debt advocates in Seattle provide insightful articles about administrative law, professional license defense, business regulatory defense, and employment disputes.
---