---
Website for buying, selling and leasing homes in the Dallas area.
---
Splash Condos for sale, information, and free condo search
---
---

Over 55 & looking to downsize? Ready to smell the roses, but not be put out to pasture? Want some peaceful mountain solitude for an extended personal retreat? Deciding whether to move permanently to the area, looking for a home to buy? Rugged setting, 4x4 required. Pets, horses, chickens all OK. Come stay with us, 30 minutes to Asheville, North Carolina airport. Brand new build. 400 sq ft cabin with 400+ sq ft covered porch, and about 1/4 acre mountain forest all to yourself.
---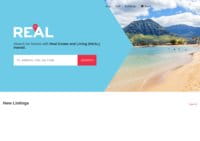 Real Estate and Living (REAL) Hawaii is a real estate product and services company.
---