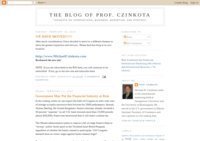 This is the blog of Professor Michael Czinkota of Georgetown University. It contains his personal viewpoints on a number of issues including: politics, international business, international marketing, global trade, tariffs and taxes, and business. There are also selections from his textbooks on international business, marketing, and other related content.
---
After a successful career as a portfolio manager, managing multibillion portfolios, I help you to build your real estate portfolio, understand the economy and fundamental investment concepts. On this personal website, I am sharing with you my professional investor's knowledge!
---
The Holon is the personal blog of Richard B. Hollis, Chairman & CEO of Holonis Inc., the world's first fully integrated marketplace for consumers and businesses to manage modern relationships.
---
I am currently a MBA student at John Molson School of Business. I learnt a lot about entrepreneurship and value creation during the course. My blog is basically my way of doing the out of box thinking. I have used some iconic scenes from some of the movies and tried to connect the concepts of entrepreneurship to it.Overall my blog is concerned with the idea of how a good mindset can help person to go through up and down situation of life.
---