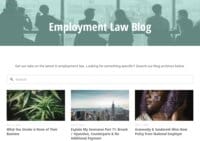 At the Granovsky & Sundaresh law firm, you can find up-to-date news and advice on current employment law issues affecting both New Yorkers and Ohioans. Posts discuss non-compete agreements, severance agreements, overtime law, and more.
---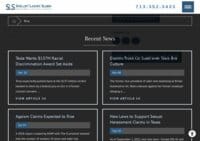 The Shellist Lazarz Slobin LLP Employment Law Blog discusses issues and relevant news stories in the legal field. You can learn more about your case or how to protect yourself from wrongful termination by consulting with our attorneys.
---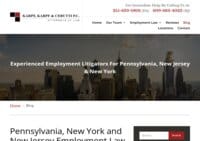 The Karpf, Karpf & Cerutti, P.C. Employment Law Blog covers Pennsylvania, New York, and New Jersey employment law issues, including the WARN Act, sexual harassment, the Family and Medical Leave Act, racial discrimination, OSHA requirements and standards, and EEOC uniform guidelines for employee selection procedures.
---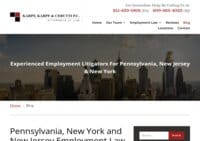 The Tuckner, Sipser, Weinstock & Sipser LLP Employment Law Blog provides insights and advice on various employment law issues. Here you'll find updates and analysis on the latest developments in women's workplace rights, including job security, pay equity, and sexual harassment. Learn from experienced wrongful termination, gender pay disparity, and sexual harassment attorneys.
---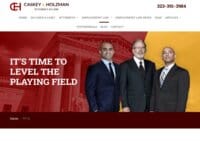 The Caskey & Holzman blog covers employment law in California. Read posts about discrimination against older workers, deaf and hard of hearing employees, pregnant women, and those with mental illness. You can also find out more about your rights regarding leaves of absence and compensation.
---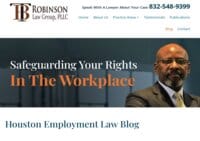 At TB Robinson Law Group, PLLC, we provide updates and commentary on employment law in Houston, Texas. Our blog includes posts on workplace rights, sexual harassment, disability discrimination, and more. We welcome your thoughts and comments.
---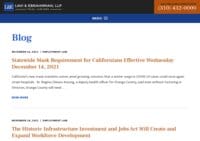 The Lavi & Ebrahimian, LLP blog updates California employment law, including information on the statewide mask requirement and new workforce development initiatives.
---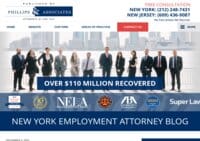 New York Employment Lawyers at Phillips & Associates publishes the New York Employment Attorney Blog, providing updates on employment law in New York. Posts discuss sexual harassment, gender discrimination, and other types of workplace discrimination. Readers can learn about their rights and pursue a claim if they have been mistreated at work.
---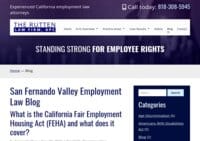 The Rutten Law Firm, APC, is committed to providing San Fernando Valley residents with up-to-date information on California employment law. Our blog covers various topics, including wrongful termination, disability discrimination, and sexual harassment. Learn more about your rights and protect yourself from employment law violations.
---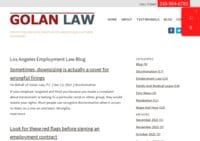 The Golan Law P.C. Los Angeles Employment Law Blog provides news and commentary relevant to LA residents on wrongful firings, employment contracts, sexual harassment, age discrimination, and more.
---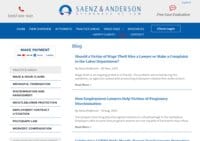 Stay up to date with the latest news and updates from Saenz & Anderson blog, a law firm based in Miami-Dad, and Broward. Learn about your rights as an employee, including information on wage theft, pregnancy discrimination, and LGBTQ rights.
---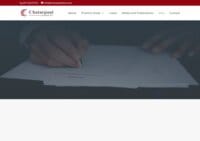 The Chatarpaul Law blog covers various legal topics affecting New Jersey residents, including employment law, civil rights, and more. Read posts to learn more about your legal rights and how to protect yourself from discrimination or retaliation.
---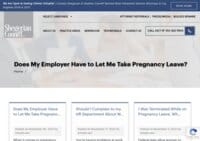 The Shegerian Conniff blog discusses various topics related to harassment, discrimination, and wrongful termination in the workplace. Readers can learn about their rights under the law and gain insight into handling multiple situations they may encounter in the office.
---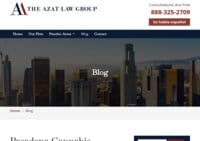 The Azat Law Group's Pasadena cannabis business and employment law blog covers employment law in California, including wrongful termination, at-will employment, overtime pay, and independent contractor vs. employee classification. Readers can learn about their legal rights and remedies in the event of pregnancy discrimination, overtime pay violations, and more.
---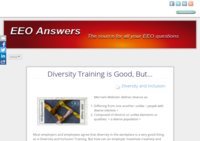 EEO compliance service firm provides information on worker's discrimination, administrative charge support, diversity and inclusion training, harassment investigations, and HR support.
---