750 B St UNIT 3210, San Diego, CA 92101, United States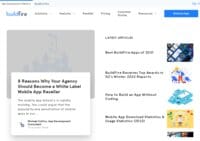 The BuildFire blog is an excellent resource for mobile app developers and entrepreneurs. You can find tips and advice on everything from app development to marketing and monetization.
---
H-146, 147, Sector 63 Rd, H Block, Sector 63, Noida, Uttar Pradesh 201307, India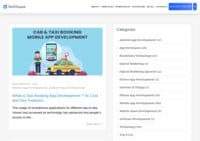 The TechGropse Blog includes posts on various web and mobile app development topics, such as Taxi Booking App Development, Daily Deals App Development, Diet Planner App Development, and more. You can learn about the cost and features of various types of apps and the future of IoT in different industries.
---
39899 Balentine Dr, Newark, CA 94560, USA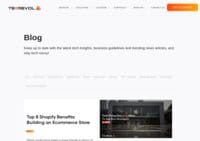 The TekRevol blog offers insights and news on the latest trends in the app industry. You can find tips on business guidelines, tech insights, and more. There is also a range of content discussing the top apps in various categories and generating revenue.
---
60 E 42nd St 46th fl, New York, NY 10165, USA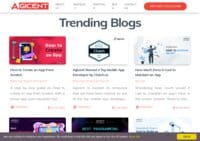 The Agicent Blog provides information on app development, mobile app design and development, cost of maintaining and developing apps, top Google Play Store statistics, best programming learning sites, and more.
---
17330 Preston Rd, Dallas, TX 75252, USA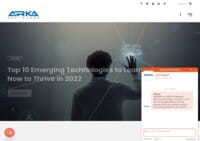 Arka Softwares Blog shares the latest insights and trends in technology, web, and mobile app development. You can also learn about the cost of developing various types of apps.
---
3024 Washington St,Boulder, CO 80304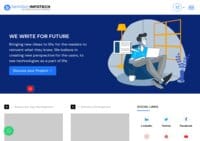 Semidot Infotech Blog is about website development, app development, and blockchain technology. You can learn about the latest trends in these areas and stay updated on tech news. The blog also includes tips for choosing a software development company and compares different platforms for developing NFTs.
---
675 N 1st St, San Jose, CA 95112, USA Matellio's blog provides news and information on web and mobile app development and other tech-related topics. The blog is helpful for businesses and developers alike, with content that ranges from developing specific types of apps to predictions for the future of technology.
---
4100 Spring Valley Rd Suite 525, Dallas, TX 75244, United States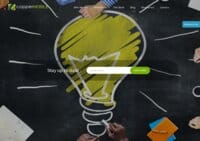 The Copper Mobile Blog is a blog that features topics ranging from breaking tech news to an insider's point of view, along with the latest updates on app development. The blog aims to help readers stay updated on the latest news and trends in the mobile app development world.
---
15592 60th Ave N,Minneapolis, MN 55446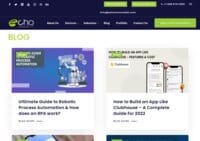 The Echo Innovate IT blog provides informative web designing and development posts, including mobile app development. It delivers articles on topics such as the best apps for cash advances, e-scooter apps, stock trading apps, etc. The blog also contains posts on Magento vs. Shopify and eLearning portal development.
---
388 Market St #1300, San Francisco, CA 94111, United States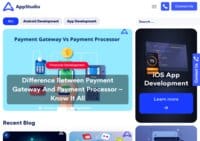 The AppStudio Blog is a blog that provides information on the latest technologies, mobile app design, and mobile app development. You can find business news, trends, technology launches related to mobile and web applications.
---
3405 Pennsylvania Common, Fremont, CA 94536, United States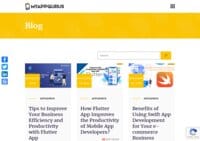 MyAppGurus blog provides App development technologies trends and tips, including:
- productivity tips for mobile app developers,
- using Swift for eCommerce business,
- the digital transformation of grocery delivery services,
- low code app development,
- planning an eCommerce mobile app development project,
- the role of mobile apps in the beauty industry,
- React JS benefits and more.
---
500 Mercer St,Seattle, WA 98109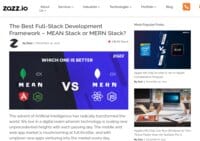 The Zazz Official Blog is a blog that covers the latest news, updates, and technology launches in mobile app development and web application development. Experts in the field write the blog posts, and they offer tips and advice on how to make your iPad app development project a breeze, make your website SEO friendly, and establish a DevOps Toolchain.
---
789 E El Camino Real, Sunnyvale, CA 94087, USA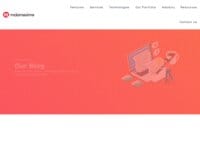 The Mobmaxime blog is a resource for web and mobile application development, focusing on iPhone app development and Android app development using Xamarin. The blog covers various topics such as Angular and VueJS, React Native App Development, Saas vs. PaaS vs. Iaas, and Top 7 Eases Operations to choose Flutter for Cross-Platform App Development.
---
111 NE 1st Street 8th Floor #422, Miami, FL 33132, United States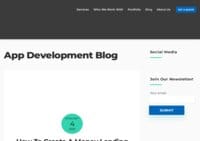 Alpha Bravo Development is a top-rated app development company offering custom iOS/Android app development, web app development, and marketing and consulting services. In this blog, you can learn about the latest trends in app development, the most profitable apps for this year, why restaurants need a mobile app, and more.
---