WeWork in The Shops at Legacy, 7300 Lone Star Dr c200, Plano, TX 75024, United States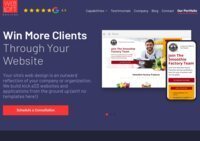 Web Loft Designs is a top-notch web design and mobile app development company based in Dallas, TX. We provide expert web development, digital marketing, SEO, and more to businesses of all sizes. Contact us today for a free consultation!
---
975 Woodoak Ln Suite 110, Millcreek, UT 84117, United States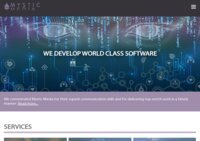 Established in 2001, Mystic Media is a mobile app, software, and web development company located in Silicon Slopes. We have decades of experience in software design and development, and we use proven technologies to create stable, sustainable tools for businesses.
---
6851 Roswell Rd 2nd floor, Atlanta, GA 30328, United States
WebClues Infotech is a leading website and mobile development company based in Atlanta, GA. We specialize in full-stack development services, iOS, and Android app creation. Our team uses industry best practices in responsive frameworks and fluid layouts to create faster loading and highly functional solutions across multiple devices and platforms.
---
2912 Colorado Ave, Santa Monica, CA 90404, United States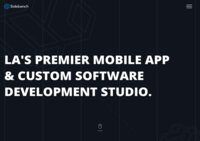 Sidebench is a Los Angeles-based mobile app, web application, and software development studio that focuses on creating innovative solutions for businesses of all sizes. We strive to uncover unique opportunities in unexplored territories and co-invent the future with our clients. Our expertise comes from years of experience in various industries, making us well-equipped to take on any challenge. Whether you need a mobile app for your business, custom software developed, or help with your website design, Sidebench has you covered.
---
812 Huron Rd E Ste 421,Cleveland, OH 44115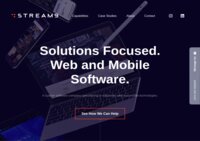 Stream 9 is a Cleveland-based web design and software development company. We specialize in cutting-edge web and mobile technologies. Since 2008 we have empowered businesses by providing custom, scalable solutions leading to greater efficiency. Our team is entirely based in Cleveland, Ohio.
---
306 E Tyler St, Tampa, FL 33602, United States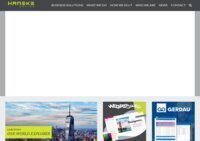 Haneke Design is a web design and mobile app development firm located in Tampa, FL. We specialize in creating user-centered solutions for connected devices, including iOS and Android mobile apps, websites, and web applications. Since the platform's inception, we have been developing mobile apps and have over 15 years of experience in designing interactive digital experiences. Our team comprises creative and dedicated designers, developers, and project managers who collaborate closely to ensure that our client's objectives are always met. Our client base ranges from small businesses to Fortune 500 companies, all of whom require high-quality, enterprise-level applications.
---
801 2nd Ave N Fl 3,Nashville, TN 37201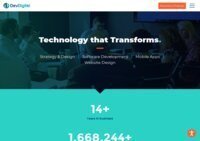 DevDigital is a web design and mobile app development company with over 1,000 clients worldwide. We specialize in creating custom websites and apps that help businesses grow. Unlike other development firms, we focus on building long-term partnerships with our clients, through which we can help them achieve their digital goals. Whether you're just starting or you're a well-established business, DevDigital has the experience and expertise to help you get where you want to be.
---
3792 Agnes Creek Drive,Frisco, TX 75034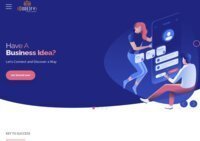 Qodeify is a full-service software development company that offers website design and development, mobile app development, and digital marketing services globally.
---
282 Hanover St, Boston, MA 02113, United States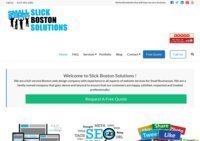 Boston web design company Slick Boston Solutions provides mobile-friendly and affordable website design services for individuals, small businesses, and non-profit organizations. Our team of experts creates stunning websites that are easy to use, navigate, and optimized for major search engines. In addition to website design, we also offer comprehensive social media marketing and SEO services.
---
5907 Meredith Dr,Urbandale, IA 50322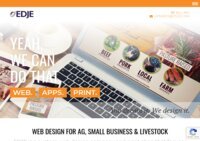 EDJE is a web design and development company with over 20 years of experience. We specialize in eCommerce, mobile app development, and other web solutions that can help your business grow. With more than 3,500 completed projects, we have the experience and talent to get the job done right.
---
218 E Ramsey Rd, San Antonio, TX 78216, United States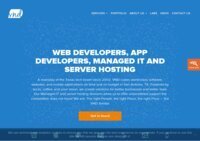 At Visual Net Design (VND), we are web developers, app developers, and IT professionals. Since 2002 we have specialized in mobile app development, custom desktop & server software development, web design and development, SEO, server hosting and IT Services. With years of experience, we have the knowledge and expertise to take your project to the next level.
---
10717 S State St, Sandy, UT 84070, United States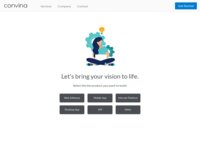 Convina has been a leading software development company since 2001. They specialize in web and mobile development and are known for their ability to help clients reach more customers and operate more efficiently. Convina is the first company to develop a product without relying on external software libraries- proving that their software is truly innovative and impactful.
---
222 Broadway, New York, NY 10038, United States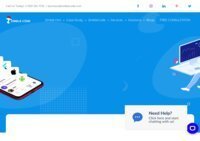 Zimble Code is a top mobile and web app development company that creates advanced, innovative digital solutions. We are proud to disrupt the IT sector with solution-oriented, enterprise-level web and mobile application development services. Our goal is to build digital products that offer an excellent user experience. If you have any questions or want more information, please don't hesitate to contact us. We are technology veterans who are happy to help.
---
16870 W Bernardo Dr #400, San Diego, CA 92127, United States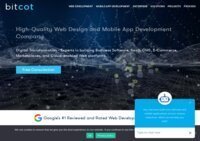 BitCot is a web design and mobile app development company located in San Diego, California. We specialize in developing custom solutions for businesses of all sizes, utilizing cutting-edge technologies like artificial intelligence, voice recognition, and blockchain. Our team has the experience and expertise to help your business grow and succeed.
---
17 State St #4000, New York, NY 10004, United States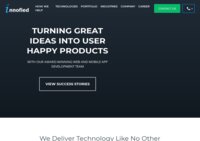 Innofied is a web and mobile app development company helping Fortune 500 companies, startups, and first-time founders attain their business goals since 2013. Innofied is an expert in IoT, AR/VR, VR, and chatbot development. With over 60 years of combined technology experience, Innofied has 400+ high-quality solutions in mobile and web platforms.
---