Publisher specializing in fine architecture and tropical gardens books. Blog contains unofficial comments from photography travels, reviews from various gardens, and more.
---
Independent publisher of coffee table books featuring fine artistic photography of architectural treasures, lush gardens, travels and explorations.
---
Maine wedding photographer illustrates love stories in classic and photo-journalistic approach. Photographed over 100 weddings in a span of 5 years and documented engagements as well.
---
We are providers of professional level online photography courses. Great, regularly updated content taught by our dual qualified tutors. Great prices and flexible payment plans. Sale currently on so take advantage now.
---
Leading wedding photographer in Hudson Valley and recognized among the top 5% of wedding professionals nationwide. Browse for recent works such as couple portraits, location shoots, business profiles and more.
---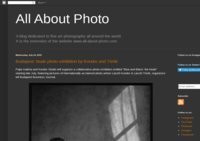 Fine art photography discussed and presented through words and images. With references, news and updates from various photography trends and events around the world.
---
'Pass Through Glass' blog chronicles the journey of my photographic work & play. By work I mean shooting theatre, dance, musicians, artisans, etc. By play I mean travel & nature. I release a blog post every Saturday with periodical extra blogs generated randomly when I have extra new material spilling over in my catalogue. If you subscribe to the RSS feed you will be notified of these publications & also when I update my site with fresh content. Enjoy!
---
#allcitiesarebeautiful is a contemporary photography repository, centered around the theme of urbanism and focused on showcasing a weekly updated collection of international photographers and interviews, bi-weekly published essays on photography and urban living, alongside magazine and book recommendations.
---
Online gallery of photographs taken by Trevor David Betts, mostly consisted of high quality, monochrome film based medium. Site contains colored photos and videos as well.
---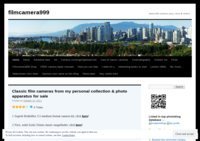 Old school photographer still uses the classic film cameras. Online resource for non-digital camera care, repair manuals, coverings, lightseal kits, and vintage art photography.
---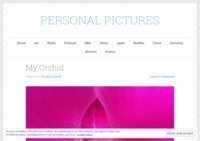 Gallery of high definition photos of flowers, animals, landscapes, artworks, and people. Includes travel pictures from Malta, Japan, Switzerland, China, Germany, France, and more.
---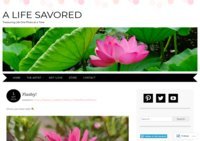 Random photos and imagery capturing the beauty and fun in life. Devoted primarily to images from my life abroad in Asia.
---
Featured works of Orlando based photographer Melissa T., whose specialization includes newborn, maternity, children, seniors, and family photography.
---
Marcia's wedding photography covering all Cheshire. Check out my blog keeping you up with my work.
---
Fine art photographs by Rabin Ramah, highlighting flowers, botanical shows, gardens, railroads, colorful close-ups as well as back and white photography.
---
Professional photographer shares published work for newspapers and magazines. A site for buying prints and reading essays about New York, campus life, nature, and stock photography.
---
Tech, Tips, How To and General conversation regarding phone photography with a dash of reviews.
---
Comprehensive source of photography information, featuring the works and articles of UK photographer Sean J. Connolly. Read guides, commonly used terms, reviews, and browse the gallery.
---
Photos, slideshows, and videos of wildlife captured through the lens of professional photographer Greg Harvey. See animals in their natural habitat, from the tigers of the African Safari to the polar bears in Canada's National Park.
---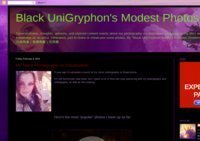 Showcase of the works by photographer Kandice Kathleen Zimbleman, featuring stylized compositions, general photos, thoughts, and opinions of the artist.
---

Online gallery of photographer and cognitive scientist Adrian Wale, featuring nature, historical landmarks, events, and pop culture. Photo prints, posters, postcards, and canvas prints are available at the shop.
---
Easily search and save real estate for sale in Orange Beach Alabama. Also learn where the locals go with the local business directory and more
---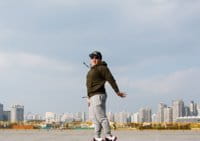 My inspiration is the world around me, I love to just walk around and photograph my surroundings. Candid street photography is the best way to capture a true expression.
I try to bring out the best in the places I have travelled to found in my posts, finding unique angles, creative locations to make sure I capture the moment.
---
Photography of Colorado Springs, Colorado and surrounding areas. Wildlife and scenic photography, shots of gardens, outdoor traveling and discoveries. Also some experimenting with photoshop and HDR processing.
---
Favorite images, works, and musings of photographer Bob Barrett, featuring wildlife, politics, community, technology, dining, family, life, music and random interests.
---
Dapixara's official blog. On the Dapixara blog, the photographer shares about his personal life through blog posts and inspirational landscape photography from the Cape Cod.
---
See photos full of life through the gallery of Corrie Coston, whose photography works include families, children, seniors, preschools, sports teams and more.
---
Visual representation of Carl Donohue's photography work, which mainly consists of nature, travel, and adventures in Alaska - its wildlife and landscape.
---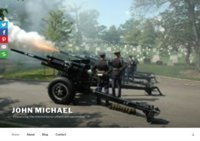 Professional photographer and historian John Michael presents a unique collection of images honoring the heraldry and history of the US military.
---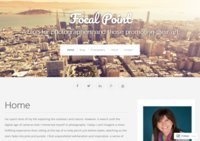 I wanted to create a blog where digital photography enthusiasts could learn tips and exchange ideas for developing their skills and promoting their art.
Everything I write in this blog is from my perspective, based on my life experiences and what works for me. If something resonates with you. Inspires you. Or offends you. Go with it…
See where it leads. There are no right or wrong answers. Only self-discovery.
---