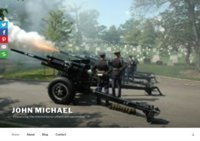 Professional photographer and historian John Michael presents a unique collection of images honoring the heraldry and history of the US military.
---
Closer glimpse of the country life by Arizona photographer James Gordon Patterson, featuring events, music, garden, rodeo, horses, coyotes, cowboys, sports, and other attractions.
---
Award-winning photographs taken by John Mead, featuring Blue Lion Photos, breathtaking views, wild animals, science buildings, theatre snapshots and other high resolution images.
---
Style Over Coffee is a photography blog which includes fashion, beauty and lifestyle content. Read about current trends, travel chronicles, DIY ideas and photographs that highlight the best in life.
---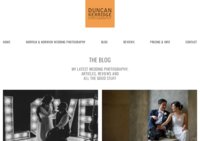 Fun, spontaneous documentary wedding photography by Norfolk wedding photographer Duncan Kerridge.
---
Multi-awarded photographer Thom Zehrfeld showcases the beauty of Oregon and other places through high dynamic range photography and digital printing. View architecture, seascapes, landscapes and more.
---
Photography portfolio and personal musings of Misty Dawn, a freelance photographer living in a farm. The blog is a mix of personal stories on animal advocacy, family life, outdoor living, and nature.
---
Portfolio of sports and commercial advertising photographer Jonathan Fennell, known for skillfully capturing intense action shots in unique angles, most of which have been used in various publications.
---
We are providers of professional level online photography courses. Great, regularly updated content taught by our dual qualified tutors. Great prices and flexible payment plans. Sale currently on so take advantage now.
---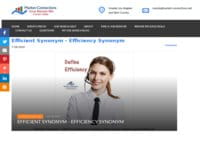 The best job search blog provides an array of job search advice for all career levels starting from entry-level internships to senior level career transitions. It contains the following categories: Career Counseling, Employment Services Interview Coaching, Job Search Ideas, LinkedIn Strategies, Personal Branding, Recruiters, and Resume Writing Ideas
---
Photography of Colorado Springs, Colorado and surrounding areas. Wildlife and scenic photography, shots of gardens, outdoor traveling and discoveries. Also some experimenting with photoshop and HDR processing.
---
Action-packed gallery of images about baseball, hockey, sports teams, family, Spokane, Spokane Chiefs, night, nature, people and architecture.
---
Photography blog featuring works of Hena Tayeb, a Pakistani photographer based in New Jersey. The site contains stories behind the photos and artworks as well personal travel adventures.
---
Maine wedding photographer illustrates love stories in classic and photo-journalistic approach. Photographed over 100 weddings in a span of 5 years and documented engagements as well.
---
My aim at a wedding is to tell your story: not only and solely of your official wedding ceremony, but also of who you are. This is why I would encourage you and your guests to forget about me and my presence and simply enjoy the day and have fun. On such occasions, I prefer to catch natural light and I hardly ever use flash. I'm quiet and discrete during the ceremony of blessing at home, and later in church.
Based in Ireland, as a photographer I took part in a number of events, shooting on location not only in Ireland, but also in Poland, Portugal, Majorca, Croatia, among others.
---
"A Thousand Words" includes blog posts about photography, nature, spirituality, politics, memoir, and gardening by professional photographer and author Tracy J Thomas.
---
We are a blog about fabulous life moments, awesome travel experience, beautiful photography and amazing artworks.
Moments makes up our life journeys. At iCorridor Moments, we believe an optimistic and positive attitude will bring greater happiness to our lives, and capturing and memorizing the precious life moments will make us feel wonderful.
---
Publisher specializing in fine architecture and tropical gardens books. Blog contains unofficial comments from photography travels, reviews from various gardens, and more.
---
Independent publisher of coffee table books featuring fine artistic photography of architectural treasures, lush gardens, travels and explorations.
---
Leading wedding photographer in Hudson Valley and recognized among the top 5% of wedding professionals nationwide. Browse for recent works such as couple portraits, location shoots, business profiles and more.
---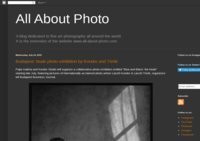 Fine art photography discussed and presented through words and images. With references, news and updates from various photography trends and events around the world.
---
'Pass Through Glass' blog chronicles the journey of my photographic work & play. By work I mean shooting theatre, dance, musicians, artisans, etc. By play I mean travel & nature. I release a blog post every Saturday with periodical extra blogs generated randomly when I have extra new material spilling over in my catalogue. If you subscribe to the RSS feed you will be notified of these publications & also when I update my site with fresh content. Enjoy!
---
#allcitiesarebeautiful is a contemporary photography repository, centered around the theme of urbanism and focused on showcasing a weekly updated collection of international photographers and interviews, bi-weekly published essays on photography and urban living, alongside magazine and book recommendations.
---
Favorite images, works, and musings of photographer Bob Barrett, featuring wildlife, politics, community, technology, dining, family, life, music and random interests.
---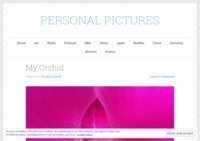 Gallery of high definition photos of flowers, animals, landscapes, artworks, and people. Includes travel pictures from Malta, Japan, Switzerland, China, Germany, France, and more.
---
Online gallery of photographs taken by Trevor David Betts, mostly consisted of high quality, monochrome film based medium. Site contains colored photos and videos as well.
---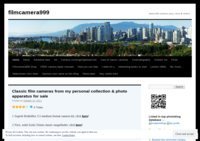 Old school photographer still uses the classic film cameras. Online resource for non-digital camera care, repair manuals, coverings, lightseal kits, and vintage art photography.
---
See photos full of life through the gallery of Corrie Coston, whose photography works include families, children, seniors, preschools, sports teams and more.
---
Featured works of Orlando based photographer Melissa T., whose specialization includes newborn, maternity, children, seniors, and family photography.
---
Marcia's wedding photography covering all Cheshire. Check out my blog keeping you up with my work.
---