The world's most reliable blending solutions have come to Singapore! First class blending machines are now available at Blender Singapore. Featuring Vitamix, a brand trusted for its high performance blending technology that is suitable for both home and commercial use. Whether you need a handy blender to make juice and smoothies, or a powerful machine for dough making, Blender Singapore recommends the perfect model to meet your needs.
---
The world according to Ms Q - my take on what's interesting, stylish and cool: restaurants, food, wine, music, cocktails.
Asia-based, internationally focused, American-flavored
---
Rod J BeerVentures is a blog about all things beer. Whether its craft beer or macro beer, all aspects of the drink are discussed and explored here. Focusing on the local beer industry in the Cincinnati area, Rod J BeerVentures provides news, updates and events for all the beer lovers out there.
This blog aims to educate drinkers on choosing the right beer, and increase awareness on different kinds of ingredients. Rod J BeerVentures also helps businesses reach more beer enthusiasts through social media.
---
Fast and easy salad recipes that everyone can enjoy. New recipes and videos every day.
---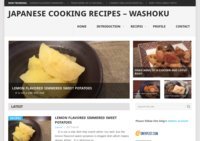 I'm very excited to share this blog with you. On this blog, I will post useful information about "Cooking Japanese food". I always welcome to hear your comment, so feel free to click on my contact page, send me an e-mail.
---
Apple green is a food blog. Our idea is simple: tasty traditional food made from healthy ingredients. Happy cooking everybody.... :)
---
Ome Made started out as a blog about food, family and lifestyle. Now it has evolved into a business with the same name, selling homemade spice rubs, condiments and preserves. Ome Made also specializes in food catering, which is where the passion for fresh, organic, and free range food comes from. There are loads of recipes shared in the articles, covering a wide range of cuisines. It is a great site to learn how to cook a kid-friendly curry, a spicy lamb dish, or just a one pot meal that is quick and easy to prepare.
---
Cooking is made easier with Sav's Kitchen, a food blog that is all about blending the right flavors and creating an aromatic experience that is almost magical.
Featuring an array of amazing dishes cooked with love, Sav's Kitchen has been recognized as one of the best vegetarian blogs at IFBA 2015. This site features countless ways of cooking and serving vegetables at any time of the day.
---
RV Cooking Full Time with RV Exec Chef. Gourmet recipes made easy for your RV.
---
---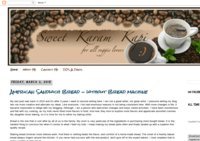 Vegetarian food blog!
---
Vegetarian dishes are easy to find at The Foodi Blog. It is home to hundreds of vegetarian recipes, kitchen tips, and food preparation techniques. With a mission to let everyone nurture their inner chef, this food blogger shares his best recipes for everyday meals and snacks. Specializing in Indian vegetarian, Indo Chinese, Italian, and Paneer recipes, The Foodi Blog presents a delicious mix of culinary specialties.
---
Wine-Flair is written by a wine connoisseur. More than just a blog, it is a treasure trove of facts and relevant information about wine. From origins and varieties of grapes to food pairings and recommendations, this site is constantly updated with all the things you ever wanted to know about wines.
Wine-Flair shares a list of commonly used wine terms, wine quizzes, news, and periodic columns and podcasts that wine lovers can really pop the cork on.
---
My Special Food shares free recipes, food news and authentic gourmet selections. It started as a small, family-owned business specializing in Italian cuisine, offering fresh and hard-to-find traditional food products coming from every region of Italy.
From simple dishes to gourmet fare, My Special Food is a great source of Italian food recipes. Product recommendations include wines, cheeses, sauces and sweets. Local food culture and history are featured as well.
---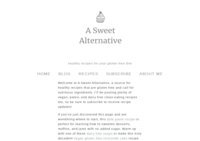 Healthy gluten free recipes with plenty of paleo, vegan, dairy free, and refined sugar free options.
---