TWIMII or simply, the way I make it is – chronicles the journey of a food blogger who started this site while learning how to cook. From someone who went through a multi-stage diet and had only knowledge of basic meals, TWIMII became a source of easy-to-follow recipes.
Most of the recipes are adapted from the food blogger's favorite cookbooks, with the dishes tweaked and made a bit healthier.
---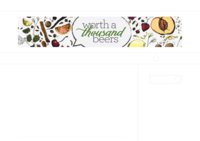 ---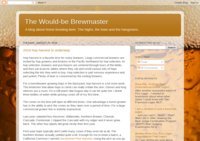 A blog about home brewing beer, the highs, the lows, the hangovers.
---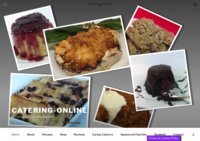 Catering Online is all about saving you money and spreading a bit of kindness. I'm hoping to encourage caterers to help others and to save you money when cooking. I share recipes that I love and give my honest opinion on catering-related products and services that I have used. My blogs range from recipes to food poverty. A section of my website called 'Caring Caterers' showcases those caterers who help the homeless and less fortunate.
---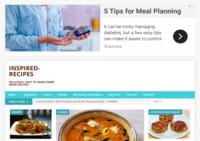 A recipe site with a collection of fresh, homemade, and easy to make recipes.
---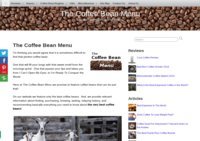 The Coffee Bean Menu is our little blog about coffee, coffee beans, where they are grown, what great beans are from various regions, and just anything related to coffee and coffee beans.
We've put a lot of work into this site over the years and hope you enjoy the fruits of our labor!
Regards,
Jaggerware LLC
---
Learn about tastes long forgotten and how to forage for your own Wild Food. Packed with recipes and guides we'll take you through the steps of gathering and finding your own Wild Foods.
---
ATL Adventurer highlights the amazing food, culture, and events of Atlanta. This blog recommends where to eat, drink, and explore this city – both as a tourist and as a local.
It is filled with insider guides to dining spots, popular attractions, and recent events. Foodies will love checking out its Restaurant Spotlights – a regular section where local restaurants throughout Atlanta are reviewed. Recent urban developments and street art are also featured in this blog.
---
Fast and easy salad recipes that everyone can enjoy. New recipes and videos every day.
---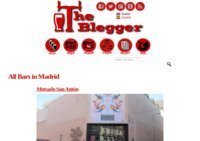 A guide where we review the best bars & pubs in Madrid, Spain, basically a beer blog.
---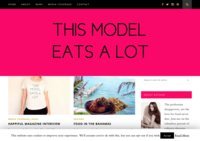 The profession disapproves, yet the love for food never dies. Join me in the relentless pursuit of culinary pleasure. And bring a napkin.
---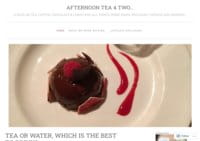 A blog on tea, coffee, chocolate & cakes, and all things home-made including vintage and modern…
---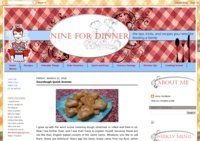 Nine for Dinner is all about giving tips, tricks, and recipes needed for feeding a family. Whether your household is big or small, this blog provides useful information such as kitchen tips, grocery savings, menus, and children's favorites. There are plenty of interesting posts to read, such as the blogger's food musings, favorite cookbooks, kitchen gadgets, and fun anecdotes.
A must-read for the modern homemaker.
---
From a bird's eye view, I am a hotelier by training, a technocrat by profession, a foodie, and a chef by passion. I eat because I enjoy, I cook because I love and I rant because I think. I write about all these because I feel.
---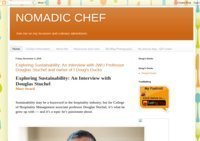 Nomadic Chef is a food blog created by a renowned chef and culinary educator from Rhode Island. As a locavore, this site is filled with everything about locally grown ingredients. From farm to table, this chef aims to bring out the best in cooking with the freshest produce.
A multiple-award winner and highly experienced in foodservice and culinary internships, Nomadic Chef shares his experiences in culinary travels, raising ducks, and urban agriculture.
---
Coffee lovers will definitely like The Coffee Tongue, a blog dedicated to all things coffee. From pictures and stories to recipes and coffee product reviews, this site has it all. There are articles about favorite brews, recommended coffee machines, and foods that go well with coffee.
The Coffee Tongue gives a hundred and more reasons to enjoy the drink. This caffeine-induced blog is ready to satisfy its readers' thirst for more.
---
Vegetarian dishes are easy to find at The Food & I Blog. It is home to hundreds of vegetarian recipes, kitchen tips, and food preparation techniques. With a mission to let everyone nurture their inner chef, this food blogger shares his best recipes for everyday meals and snacks. Specializing in Indian vegetarian, Indo Chinese, Italian, and Paneer recipes, The Food & I Blog presents a delicious mix of culinary specialties.
---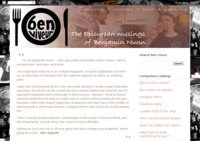 Ben Vivieur is a blog written by a renowned author, critic, and gourmand, Benjamin Nunn. It is full of robust opinions and commentaries about the food and drink industry.
Restaurant reviews are brutally honest, whether it's about a newly opened pub or a savory discovery. Beer is a celebrated topic, with the articles being mostly about brewing, breweries, festivals, and nostalgia. There's a yearly award for the best pub in London as well.
---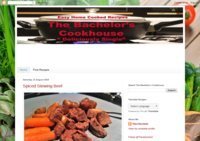 The Bachelor's Cookhouse is written by Theo Bachelor, a food blogger who loves to share his personal recipes. Believing
that there is always enough time to feed oneself something good, his recipes are filed according to specific completion time.
In a hurry? At The Bachelor's Cookhouse, it is easy to find recipes that can be prepared in under 15 minutes. Or, if you are in the mood for a longer fusion of flavors, some dishes can be prepared in under an hour or more.
---
Northern California bloggers share a glimpse of their family life filled with food, travel, and wine & craft beer adventures. Often featured are the lush wine regions surrounding Sacramento and the craft breweries offering the finest hops. Trying to provide fun and family-friendly information, Sipped in California celebrates the best things on this side of the world.
Discover lots of delicious yet fuss-free recipes in this blog. From kid-friendly meals to lovely wine pairings, Sipped in California has it all.
---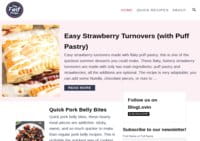 The Fast Recipe aims to offer homemade fast food recipes suitable for busy people trying to feed a family in a healthy, tasty, and budget-friendly way.
---
Cooking is made easier with Sav's Kitchen, a food blog that is all about blending the right flavors and creating an aromatic experience that is almost magical.
Featuring an array of amazing dishes cooked with love, Sav's Kitchen has been recognized as one of the best vegetarian blogs at IFBA 2015. This site features countless ways of cooking and serving vegetables at any time of the day.
---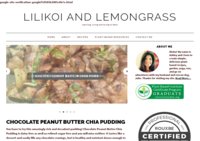 Delicious simple plant-based recipes while living, learning, and loving on Maui Hawaii
---
The world according to Ms. Q - my take on what's interesting, stylish, and cool: restaurants, food, wine, music, cocktails.
Asia-based, internationally focused, American-flavored
---
Recipes and techniques to make your own bread, charcuterie, beverages, soups, soaps, and ferments. I don't buy food wrapped in cardboard.
---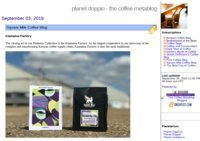 The most interesting coffee articles from the most interesting coffee blogs in the world.
---
Ome Made started as a blog about food, family, and lifestyle. Now it has evolved into a business with the same name, selling homemade spice rubs, condiments, and preserves. Ome Made also specializes in food catering, which is where the passion for fresh, organic, and free-range food comes from. There are loads of recipes shared in the articles, covering a wide range of cuisines. It is a great site to learn how to cook a kid-friendly curry, a spicy lamb dish, or just a one-pot meal that is quick and easy to prepare.
---
Traditional family recipes
---
Rod J BeerVentures is a blog about all things beer. Whether it's craft beer or macro beer, all aspects of the drink are discussed and explored here. Focusing on the local beer industry in the Cincinnati area, Rod J BeerVentures provides news, updates, and events for all the beer lovers out there.
This blog aims to educate drinkers on choosing the right beer and increase awareness of different kinds of ingredients. Rod J BeerVentures also helps businesses reach more beer enthusiasts through social media.
---
I am always sharing fresh, flavorful, (mostly) healthy recipes that I love to make and eat in my real, actual, daily life in this space. If I wouldn't eat it in real life, I won't put it on the blog. My goal is to encourage you with both approachable AND exciting food, whether you're cooking for yourself, your family, roommates, or friends. I want you to be so enthusiastic about these recipes that you eagerly await 5 pm when you can go home from work and start cooking.
---