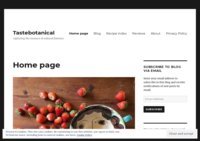 Quick and easy recipes using healthy, seasonal, mainly vegetarian ingredients. Lots of inspiration on how to use herbs, spices, edible flowers and other natural flavourings to make fantastic meals and impress your family and friends.
---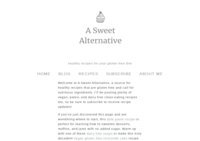 Healthy gluten free recipes with plenty of paleo, vegan, dairy free, and refined sugar free options.
---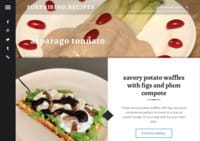 easy and surprising recipes for everyone
---
My Special Food shares free recipes, food news and authentic gourmet selections. It started as a small, family-owned business specializing in Italian cuisine, offering fresh and hard-to-find traditional food products coming from every region of Italy.
From simple dishes to gourmet fare, My Special Food is a great source of Italian food recipes. Product recommendations include wines, cheeses, sauces and sweets. Local food culture and history are featured as well.
---
Man, That Stuff is Good started out as an online archive of personal recipes cooked over years. Since 2012, this food blog became a source of Southern food specialties for beginner and seasoned cooks. It is constantly updated as a mission to encourage aspiring cooks to prepare good food as quickly and inexpensively as possible.
A love of cooking is a great way to reconnect with family and friends, and this is what Man, That Stuff is Good helps its readers discover.
---
Wine is best enjoyed when you know more about it. From the best wine pairings to cocktail recipes, you can find it here at Tasting Pour. This blog explores everything about wine and spirits, and the places where you can taste the finest wines. Tasting Pour is a reliable source of wine education, offering in-depth information about tasting terms and wine making methods. For wine lovers and those who cellar it, there are featured wineries and pairing tips as well as updates on new events.
---
Danish wine expert Frederik Kreutzer shares his tasting notes and encounters with wine lovers all over the world. Wine education is what this blog is all about. He pours his heart into each article, serving his in-depth understanding on the history and flavor of different wine products. Bottles from various brands are reviewed and wine shops are usually featured. As one of Denmark's oldest wine blogs,
VinKreutzer has become a comprehensive guide on the various types of wine. Learn more about blind tasting, serving suggestions and recommendations.
---
All Vegan Foods is a blog that makes the vegan lifestyle so much easier to follow. With the blogger's passion and expertise about all things vegan, this is the place to go for comprehensive vegan information. All Vegan Foods takes pride in its recipe collection, all of which are proven and tested. As part of its advocacy for nurturing the vegan lifestyle, this blog also promotes vegan supplements, exercise and vegan beauty products.
---
Wine-Flair is written by a wine connoisseur. More than just a blog, it is a treasure trove of facts and relevant information about wine. From origins and varieties of grapes to food pairings and recommendations, this site is constantly updated with all the things you ever wanted to know about wines.
Wine-Flair shares a list of commonly used wine terms, wine quizzes, news, and periodic columns and podcasts that wine lovers can really pop the cork on.
---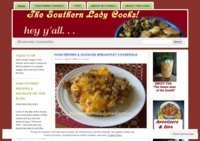 A blog about southern cooking and the south with lots of recipes, quotes, and home cooking
---
Food addict in NYC blogs about her travels and latest food discoveries. Sillydrunkfish is a lifestyle blog of a certified foodie, reviewing restaurants, night clubs, lounge, and bars on a daily basis. If you want to learn how to eat your way around New York, find popular holiday meals in Australia, or just need to know which wine is best to pair with your steak, then you've come to the right place.
---
Celeste's Best shows off gluten-, egg-, and dairy-recipes. You will find recipes for gluten free bread, cookies, and even ice cream! It's such a delicious delight to browse through.
---
Food Tips is a premium blog designed for everyone who shares a love for cooking, baking and entertainment. It is all about easy and quick recipes, interviews with top chefs, health tips, kitchen hacks. You can find reviews of modern kitchen appliances and buyer's guides to help you make the right purchasing decision.
---
Welcome to the official blog of The Brewery Show, a series of Youtube episodes about beer brewing. Paying homage to this popular drink, this blog shares the stories behind the breweries, their beer, and the people who brew it. From the featured articles and photos, much can be learned as the bloggers explore the facets of the craft beer revolution. See how each brewery makes its beer unique, and what really makes a beer taste remarkable.
---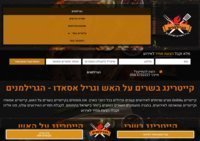 The Grillman Catering offers a variety of menus for small and large events. We offer quality meat for events, including hot toppings, including fresh salads and of course drinks and desserts. Here you can enjoy a variety of quality meats that are made directly on the grill and served together with hot additions suitable for quality meat. On our site you can enjoy a variety of quality meat grills and recipes for more information about the service we offer for events contact us through the website and we will be happy to make you available. The grillmen team is expert at catering asado for events.
We provide services for all types of events; Weddings, parties, birthdays, conferences, social gatherings and family gatherings. For each type of event we adapt a rich meat menu that is designed according to the event owner's budget.
The catering team is managed by an expert meat chef who works together with 5 professional teams providing our grilling services.
Grillman Catering is considered Israel's leading caterer for grill events on fire. Our menus include everything you need for a good meat meal; Professional staff, fancy serving buffets, perishable utensils and of course a lot of quality meat accompanied by hot toppings, fresh salads, drinks and desserts. Contact us today and get a quote for an event in fine ministry.
---
A Harmony of Flavors is a food blog created to teach people how to blend flavors in their cooking. It shares the love and joy of preparing food, no matter how simple or fancy the dish may be. In line with its goal of exploring both ethnic and domestic cuisines, this blog is regularly updated with recipes and cooking techniques.
A Harmony of Flavors is on a constant journey of diverse culinary experiences. It is a great source of recipes ranging from local to international cuisine.
---
Daleville Alabama Kitchen is a food blog of a home cook. It is written and maintained by a mama baker from Southeast Alabama, whipping up sumptuous goods in her small kitchen. Whatever foods she makes, they are usually shared and posted, whether it is an adaptation of a recipe or a reinvented classic. Most of the featured recipes are family friendly. Some are even prepared for special dietary requirements such as gluten-free, less sugar, and low-carb options.
---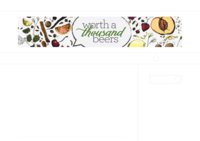 ---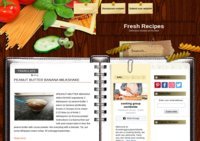 Recipes group, all with delicious recipes. Place your recipe with photos and clear description. Preferably in English so that everyone can read it. If you have friends with good cooking tips. Invite them out so you can share experiences with others
---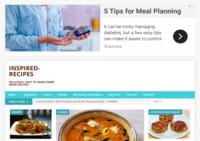 A recipe site with a collection of fresh, homemade and easy to make recipes.
---
Find recipes for soups, appetizers and main courses made of fresh ingredients to bring out the best flavors and aromas.
---
A vegetarian food blog with many Indian delicacies and more...
---
TWIMII or simply, the way I make it is – chronicles the journey of a food blogger who started this site while learning how to cook. From someone who went through a multi-stage diet and had only knowledge of basic meals, TWIMII became a source of easy to follow recipes.
Most of the recipes are adapted from the food blogger's favorite cookbooks, with the dishes tweaked and made a bit healthier.
---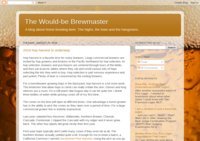 A blog about home brewing beer, the highs, the lows, the hangovers.
---
West Sussex, UK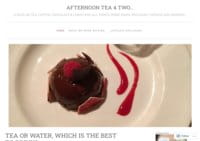 A blog on tea, coffee, chocolate & cakes, and all things home-made including vintage and modern…
---
A happy kitchen full of vegan goodness, this is what Masala Vegan is all about. Discover lots of plant based recipes inspired by spices! For cooking, baking, and living, this food blog showcases vegan dishes from India and beyond. Since most of the recipes are based on whole foods, the dishes can be prepared to be allergy friendly. Masala Vegan creates magic, using aromatic spices and fresh ingredients that nourish the body while leaving a happier legacy for the planet.
---
ATL Adventurer highlights the amazing food, culture and events of Atlanta. This blog recommends where to eat, drink, and explore this city – both as a tourist and as a local.
It is filled with insider guides to dining spots, popular attractions and recent events. Foodies will love checking out its Restaurant Spotlights – a regular section where local restaurants throughout Atlanta are reviewed. Recent urban developments and street art are also featured in this blog.
---
A Brit in Helsinki deals with vegan cooking, interiors and travel. Recipes, pictures and tips are published in this vegan food blog, featuring a diverse range of cuisines including British, Mexican, Indian and Middle Eastern dishes.
There are product tests as well, such as ones for microgreens, Birch water, gourmet coffee, fermented food and more. A Brit in Helsinki provides a wide selection of recipes ranging from kid-friendly meals to main courses and desserts.
---
From a bird's eye view, I am a hotelier by training, a technocrat by profession, a foodie and a chef by passion. I eat because I enjoy, I cook because I love and I rant because I think. I write about all these because I feel.
---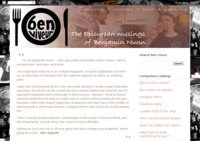 Ben Vivieur is a blog written by a renowned author, critic, and gourmand, Benjamin Nunn. It is full of robust opinions and commentaries about the food and drink industry.
Restaurant reviews are brutally honest, whether it's about a newly opened pub or a savoury discovery. Beer is a celebrated topic, with the articles being mostly about brewing, breweries, festivals and nostalgia. There's a yearly award for the best pub in London as well.
---