From breakfast, lunch to dinner, this food, and travel blog has gluten-free recipes that will make one's life easier. Created by Becky Excell, the award-winning food blogger from London.
---
Easy and healthy recipes to suit your tastes. Gluten-free, vegetarian and vegan recipes as well as sugar-free treats. Also features food blog writing tips for bloggers.
---
Life of Lisa & James is the lifestyle blog of Lisa Samples, an Orlando, Florida mom. Here, she shares the many things that capture her heart, from social responsibility and technology to her son James.
But it is her love for cooking and traveling that take center stage on this blog. Check out her family favorites or the wonderful food she's tried in her travels. Whip them up in your own kitchen by following her recipes.
Join her on her trips in and out of Orlando through her travel posts. Learn from her budgeting tips, recommended activities or places to go, and more.
---
Lynchburg Mama is a library of recipes by a Tennessee mom bent on leaving a positive impact on the world. She desires to bring families back to the dinner table through a deep appreciation for good old homecooked meals.
Aside from recipes, Shelly Maynard also likes to write about southern living in what she considers home--South Central Tennessee,and specifically, Lynchburg. Discover the flavors and hospitality of this small town from the viewpoint of this southern mama. Find recommendations on local wineries and restaurants to try, as well as the best places to stay in the hill city.
And being the great homemaker that she is, she generously shares tips on how to keep your home sweet and the household running smoothly.
---
Find out what's going on in and around the Austin Craft Beer Industry. Check out refreshing local brews, special tappings, weekly events as well as bottleshops around town.
---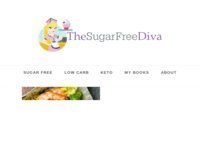 Reformed sugar addict's kitchen recommendations and sugar free recipes for meals and desserts, including low carb, air fried, gluten free and vegan food options.
--- Looking for fast, easy, and family friendly meals? Then you've come to the right place! This food blog is a virtual kitchen where dishes are prepared using fresh and cost-effective ingredients. The cooking procedures are easy to follow, and the flavors are the very definition of hearty, home-cooked meals.
With the blogger's love for baking, an abundance of baking recipes can also be found here. There are lots of tips on how to make bread rolls, meat pies and so much more.
---
Annies Home is a blog about food and family life. It started in 2008 as an online journal for menus and recipes but quickly evolved into a page where product reviews, helpful hints and tips about everyday living were shared.
Thousands of recipes, food preparation tips, and lifestyle advice can be read at Annies Home. Whether you're looking for a quick idea for a children's snack, or something sumptuous like a slow-cooked dinner, this is the place to go.
---
Find tasty recipes and a lot more at Cookingnook.com. We talk about healthy eating, special diets like gluten free and diabetic, the health benefits of a variety of foods and much more.
---
The Wilderness Wife is the blog of a mom sharing her love for cooking and her life in northern Maine. Recipes were tried and tested through the years, tasty and well-loved by her family and friends. As an old school home cook, the Wilderness Wife shares herpassion for easy to prepare dishes. The procedures are reasonable, without the need for gourmet techniques, exotic ingredients, nor special equipment. Most of the recipes created in this blog are often baked, slow cooked, or grilled to perfection.
---
Want easy, healthy, and delicious recipes that will delight your taste buds? Blondelish takes you along on a delicious adventure of tastes and places. From London to more distant locals, this food blog chronicles her culinary journey. See her best recipes for full meals, appetizers and snacks. On a special diet? Blondelish has got you covered, there are recipes, lots of recipes designed for keto, paleo, whole 30, gluten-free, vegetarian, and vegan.
There is always something to cook for everyone here.
---
The Fresh Menu Planner will teach you how to eat healthy while saving money. This food blog is maintained by a professionally trained chef. It offers a wealth of information about proper meal planning and food preparation. Cooking ideas are generously shared in this blog, from gluten free and vegetarian dishes to cheat day options and treats. A few recipes for low oxalate diets are also featured, while most content is focused on serving nutritious and well-balanced meals.
---
As an avid fan of food and flavors and with a sense of adventure, we're (my techy honey Mike and I) gonna blog this huge stack of recipes I've been saving to share. So I hope you make yourself at home and follow along.
We'll share stories and pictures from our kitchen to our backyard garden. We've got 4 grown kids scattered about, plus our 3 crazy dogs. There's always something going on around here, and we'd be pleased as punch to make some new foodie friends!
---
Simple and delicious recipes designed to inspire you in the kitchen!
---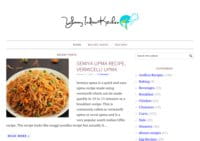 Indian food blogger sharing all kinds of Indian recipes including vegetarian and non vegetarian cuisine from all across India as well as International Recipes...
---
Nothing comes close to the smell of a warm, freshly baked pizza, fresh from the oven. With Thursday Night Pizza, you're one step closer to making your pizza dreams come true! This food blog chronicles the weekly adventures of a pizza lover who regularly makes pizza from scratch, using fresh, seasonal ingredients. As the author of the Teenage Mutant Ninja Turtles Pizza Cookbook, you can bet she's a true pizza fan. Thursday Night Pizza is the ultimate cooking guide with hundreds of inventive and easy-to-make pizza recipes ranging from savory to sweet.
---
Recent Austin transplant from the Blue Ridge Mountains of Virginia I'm a fan of discussing pop culture, spicy Tex-Mex, but mostly drinking craft beer.
---
Travel Food Atlas proudly showcases incredible, weird, unique and delicious food around the world.
---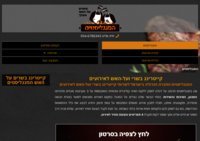 The Mangalists provide meat catering services for small and large events. On the site you will find a variety of recipes and menus for good quality meat.We offer a variety of menus that all contain quality and fresh meat for events. You can choose between basic menus and upgraded menus
---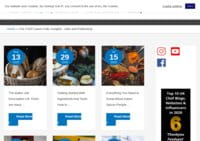 I've always found the sounds, the smells, the people, and of course the food in kitchens is incredibly alluring. I also found that I was able to practice my own skills learning mostly from cooking books and observations with a lot of trial and error.
Gain Insights Into An Inspirational Chef Career in the UK Or Just Pick Up A Few Cookery Tips!
Become | Learn | Set-Goals | Evolve
---
Dee Cuisine blogs all about food, and the dining scene in New York, Connecticut, and beyond. Dee, the blogger, loves food--that's why this page was conceptualized. Together with her husband, Jay, Dee Cuisine offers loads of info about cooking and wine drinking in NYC, as well as in the places they visit abroad. Most of the content consists of food pictures, tested recipes, and restaurant reviews. Updates on new dining establishments and local food events are also announced every now and then.
---
Tested Recipes, Cooking Advice, Equipment Reviews, Travelogues & Food News.
Written by internationally experienced chef and food writer who has cooked for the
rich and famous around the world.
---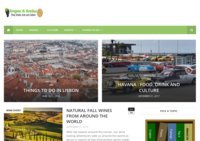 Grapes & Grains is an international community and blog dedicated to food, drinks, arts and culture. The blog shares interesting topics on food and drinks from around the world with emphasis on pairing, history, culture and traditions.
---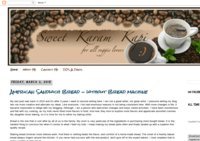 Vegetarian food blog!
---
Pooja, a food blogger, shares her love for Indian cuisine through this online journal. Pooja's Cookery is a collection of yummy and easy to prepare dishes ranging from vegetarian to non-vegetarian fare.
Growing up in a traditional Indian household, Pooja believes that home cooked meals can help people live healthier lives. In her blog, she shows how this can be achieved through recipes that require less time and effort. The blog includes info on how to cook traditional Goan specialties, as well as snacks, appetizers and desserts.
---
Local Food Rocks is a food blog by a home chef with a passion for locally sourced food. This Connecticut-based blogger is a culinary columnist who's on a mission to inspire and encourage people to support hometown produce. From seasonal recipes to sustainable food choices, Local Food Rocks aims to share the benefits of buying ingredients that come fresh from the farm. Discover and learn from its features and reviews.
---
Tasty and authentic Indian recipes from 7aumSuvai, a food blog born out of love for family and friends. Written by Shanthi Muthuvel, a Govindanagaram native who is now residing in Canada, it is a journal of different cuisines ranging from Chettinad to Continental. The term 7aum suvai means 7th taste in Tamil, so you can expect to find new flavors by recreating these recipes. There's a native touch in each dish, especially the ones for Diwali, Pongal, Krishna Jayanthi, Ganesh Chathurti and Navarathri celebrations.
---
Hello!! I am passionate about food and cooking is my joy. After several years as a career woman, I have decided to take a well-earned break and nurture my creative side. Join me and my experiments in the kitchen - experience life, love and food!!
---
---
Two friends share their gastronomic adventures in The Eating Place, a food blog dedicated to the restaurants in Madrid.
With a passion for good food and fine wines, The Eating Place is on a quest to discover trendy restaurants and new culinary treasures in every corner of Madrid.
Expect to read about their recent tapas outing, a visit to a winery, or a kitchen anecdote from food-loving influencers in the city.
---