Featured posts in ReinoFeed may be on all topics: gaming, technology, cars, movies, and computers. We would like to share with you here the most up-to-date and interesting articles.
The game section in ReinoFeed concerns video games on PlayStation, Xbox, PC, Nintendo Switch and mobile devices. We explore games, game devices, find out tips, suggests best games for you to enjoy with friends, family or to play alone.
---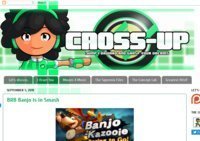 Ever find yourself in love with a video game, but you can't quite figure out why? Or maybe there's a TV show all your friends love, but you can't stand -- and when it's time to explain why, you're left a stuttering mess. And who wants a guy like that at parties?
Don't worry, though; Cross-Up has you covered. If you're looking for a place that takes an in-depth look at what makes games, and movies, and TV, and more tick, then you've found it. Come have a look and open your mind to the concepts behind codes and lines alike. Feel free to weigh in on the matters at hand.
And who knows? Maybe once you do, you'll be the life of the party. Or the sole source of its ruination, possibly. If you're the sort that lacks manners.
---