Daily news, technology, articles, insight, reviews about small business technology
---
This is the business blog for leading business software provider Sage
---
User Experience and Customer Success Blog that focuses on customer experience, onboarding, SaaS marketing strategy, automation, and digital transformation.
---
---
---
---
This blog by Vanessa DiMauro and Leader Networks looks at building online communities for business: Industry happenings, case studies and best practice.
---
Elder Research is a recognized leader in the science, practice, and technology of advanced analytics. We partner with commercial clients and government agencies to develop custom analytical models, powerful text mining tools, and data visualization to provide actionable solutions to real business problems. Our blog features articles on the practical application of analytics to provide actionable data-driven solutions to real-world business problems in healthcare, insurance, software usage, government oversight, and financial services.
---
SharonDrewMorgen.com posts cutting edge thinking in decision facilitation and the Buying Facilitation® model, and other change management issues related to B2B, management, decision making, and sales.
---
---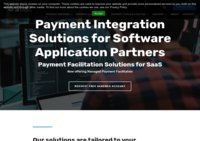 ---
---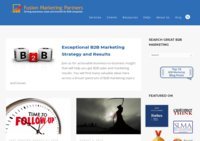 A blog on B2B Marketing delivering actionable insight on B2B marketing strategy and execution. Discover valuable ideas across a spectrum of B2B topics.
---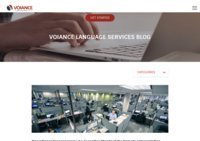 ---
---
---
The Fleet Beat: A blog for those of us who live and work in fleet management.
---
---
Come Alive! A Public Speaking and Presentation Skills blog
---
---
We Brand 4 You supply promotional products and all kinds of branded merchandise from promotional pens to printed mugs and we deliver daily to customers across the UK.
We have the experience and expertise needed to provide you with help and advice of the highest calibre and can supply you with quality promotional merchandise that speaks volumes about your products, services and why it makes so much sense to do business with you.
We are able to cater for a wide range of budgets, so don't worry if you only have a modest amount of money to invest – we are confident we can cater for you no matter what your needs are.
---
Madden Manufacturing manufactures industrial diaphragm metering pumps, and steam system equipment of its own design by utilizing state of the art CNC machining equipment.
From boiler blowdown equipment including heat recovery systems, blowdown separators, and bottom blowdown tanks, our products are 100% made in the USA. Our heat recovery systems are designed to recover energy in otherwise lost BTU's due to steam ventilation and convection cooling.
Madden chemical metering pumps are available to handle the majority of industrial metering pump application requirements. From acids to caustics our dosing pumps have a repeatable accuracy of +/- 1% over a 10:1 turndown ratio.
To learn more about Madden Manufacturing metering pumps and industrial steam equipment, call (574)295-4292 or toll-free (800)369-6233.
---
he Biz Blog, hosted by BizEx, provides relevant news, events, tips, case studies, business listings, and industry insight for small business owners, business buyers, business sellers, and business advisers. For more information on BizEx please visit our website at http:// www.BizEx.net
---
Change. It Happens. We provide high-tech and science transformation consulting and support.
Architecture | Management | Outreach | Operations - data | high-tech | science | geospatial | remote sensing | visualization | IT
---
---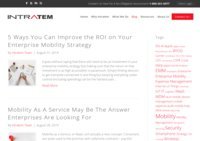 ---
---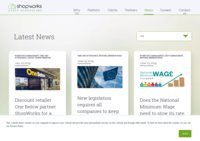 At Shopworks, we build time and attendance software that helps your business run more efficiently and supports, trains and motivates your staff. Our bespoke workforce management (WFM) and staff scheduling solution is unique to every client.Shopworks supply businesses in the retail, leisure and hospitality sectors with between 200 and 20,000 staff.
---
---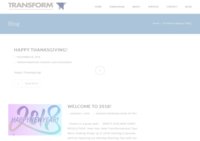 ---