433 W Van Buren St, Chicago, IL 60607, USA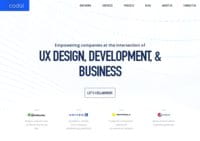 Codal Inc. is a Chicago-based e-commerce development company with a strong focus on user web experience (UX). Codal helps businesses of any size grow by improving their brand visibility and increasing conversions through web-based ecommerce solutions. Founded in 2009, this team brings years of experience in online development and specializes in emerging technologies, UX strategy, and data science.
---
85 Broad St, New York, NY 10004, USA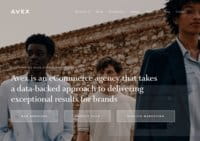 Avex Designs is a diversity-forward e-commerce development agency with a majority of female employees that improves sites through data-backed services. Located in New York City, they are a Shopify Plus Partner Agency and utilize the accompanying benefits to develop highly optimized eCommerce sites. Avex Design's full-service approach includes UX design, email marketing campaigns, conversion optimization, and site analytics.
---
3900 S Wadsworth Blvd, Lakewood, CO 80235, USA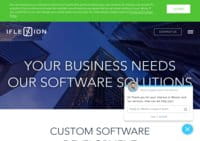 Operating from Denver, Colorado, Iflexion is an e-commerce development company that uses business tech experience to find effective solutions for mobile app development, enterprise software services, and web development services. They support the infrastructure of a business in addition to web design. Iflexion creates HTML5/JavaScript apps to enhance UX across all devices. They also offer QA testing to diagnose and correct problems in existing projects.
---
2875 NE 191st St, Aventura, FL 33180, USA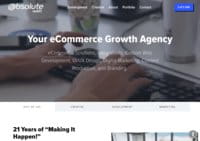 Absolute Web is an eCommerce development company founded in 1999 that assists businesses in modernizing their online presence with the implementation of new technologies. Based in Miami, they utilize major e-commerce services including Magento, Shopify, and WooCommerce but also offer custom web developments. Absolute Web improved engagement and retaining of customers through burgeoning areas like AI, machine learning, marketing automation, and trend forecasting.
---
100 N Stone Ave, Tucson, AZ 85701, USA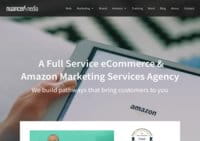 Nuanced Media is an award-winning e-commerce development agency based in Tucson, Arizona. They specialize in Amazon marketing, eCommerce marketing, and web development. Nuanced Media's multimedia strategy uses custom-made visuals and their marketing campaigns focus on ROI and page analytics to create the most efficient strategies.
---
135 Madison Ave, New York, NY 10016, USA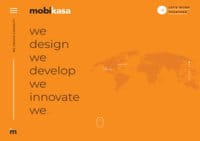 Mobikasa is an e-commerce development company headquartered in New York specializing in web and mobile apps, growth marketing, and UI/UX design. They are experts in creating top-rated Shopify, BigCommerce, and Magento content and were in Clutch's Top E-Commerce Developers List in 2019. Mobikasa improves business growth with custom web plugins, AI strategies, and front-to-back-end development.
---
1501 Broadway, New York, NY 10036, USA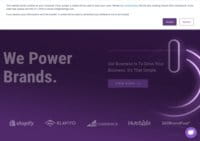 Based in New York, Eventige Media Group is an e-commerce development company that improves brands through email marketing, website design, SEO, and advertising services. With experience in Shopify, BigCommerce, Klaviyo, HubSpot, and WordPress, Eventige assists businesses of all sizes to improve their brand visibility through ecommerce website development.
---
42 Dogwood Ridge, Jupiter, FL 33469, USA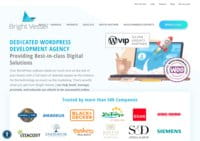 Bright Vessel is an e-commerce development company founded in 2013 and operates out of Jupiter, Florida. As a WordPress VIP Partner, Bright Vessel concentrates on creating high-converting WordPress and WooCommerce websites through custom plug-ins and UX design. They also handle digital marketing through PPC management, social media ads, and SEO services.
---
4099 McEwen Rd, Farmers Branch, TX 75244, USA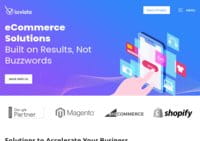 Established in 2004, ioVista is an eCommerce development agency operating out of Farmers Branch, Texas. ioVista handles digital strategy, consulting, web design, and online support. Their experts specialize in SEO, PPC advertising, social media content marketing, and Amazon products. One of ioVista's core competencies is e-commerce personalization which recommends products based on individual customer browsing and purchase histories.
---
2208 E Enterprise Pkwy, Twinsburg, OH 44087, USA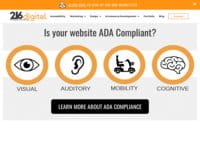 Operating out of Twinsburg, OH, 216digital is an e-commerce development company that offers free ADA compliance scans. This is in addition to their PPC management, SEO, content writing, social media, and consultative services. 216digital's web development focuses on unique visuals and high functionality across both PC and mobile. They are experienced in development platforms including Miva, Magento, WooCommerce, WordPress, and also perform custom software development.
---
66 W Flagler St, Miami, FL 33130, USA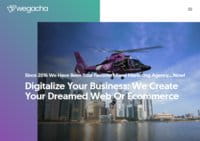 Winning Clutch's award for a top Miami marketing company, Wegacha focuses on creating a strong brand identity and correlating web design. Wegacha does this through connected graphic styles, custom visual media, and PPC advertising campaigns. Their Ficsme SaaS business data platform manages social media, marketing channels, and integrated SEO tools.
---
11755 Wilshire Blvd, Los Angeles, CA 90025, USA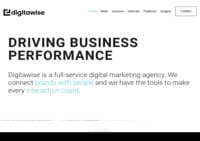 Digitawise is a full-service eCommerce development company based in Los Angeles, CA. They offer online marketing including SEO, PPC advertising, branding design, web development, graphic design, digital marketing, and consulting services. They focus on conversions rather than clicks and perform deep dives into site analytics to customize their e-commerce solutions. Digitawise works with BigCommerce, WooCommerce, Shopify, and Shift4Shop as their main platforms.
---
3311 Richmond Ave, Houston, TX 77098, USA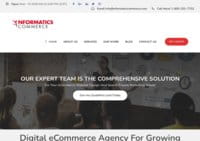 Informatics Commerce is a Houston-based e-commerce web development company that helps businesses of any size grow. Their expertise is in coding and designing unique website UIs and optimizing conversion rates. Informatics Commerce employs talented graphic designers, digital marketers that specialize in Magento development and other e-commerce solutions.
---
514 Larkfield Rd, Elwood, NY 11731, USA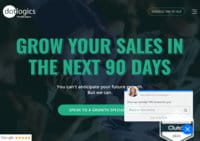 Dotlogics Incorporated works out of Elwood, NY, to create web designs that fit with a company's brand identity. They specialize in mobile app development, content strategy, branding, and ecommerce web development on popular platforms like Magento, Shopify, and WordPress. They create a central identity for brands through custom Logos, style guides, and the tone of content.
---
7650 Edinborough Way, Minneapolis, MN 55435, USA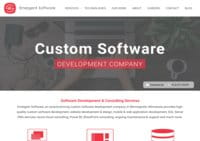 Based in Minneapolis, Minnesota, Emergent Software is a consulting and software development company. Their services cover custom software development, analytics, Azure Cloud consulting, and SharePoint consulting. Emergent Software's full-service approach creates web infrastructure support along with site designs and software solutions to grow a business.
---
1931 SE Powell Blvd, Portland, OR 97202, USA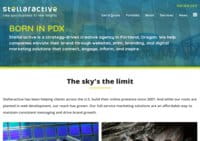 Based in Portland, Oregon, Stellaractive is an e-commerce development agency that improves brand awareness through engaging web and mobile solutions and digital marketing campaigns. They do this through web management, SEO practices, and focused social media strategies. Stellaractive's specialty lies in custom-made WordPress sites and stands out through print design services utilizing direct mail, trade show presentations, and capability brochures.
---
800 W El Camino Real, Mountain View, CA 94040, USA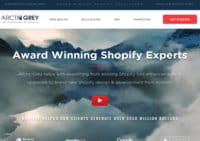 Headquartered in Mountain View, Arctic Grey is an award-winning eCommerce development company that has earned over $550 million for its clients. With locations in California, New York, and Chicago, they are a certified Shopify partner and handle site analysis, and web and mobile website development. Their marketing focuses on best SEO practices and controlled traffic to bring the most convertible visitors to a site.
---
1100 Broadway, Santa Monica, CA 90401, USA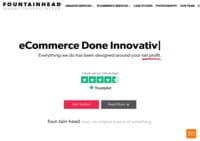 Based in Santa Monica, California, FountainHeadME specializes in optimizing Amazon product pages and storefront management. They study buyer behavior and hard numbers to create targeted marketing strategies and compelling web designs. FountainHeadME also creates custom photography, graphics, videos, and content for sites during their web development process.
---
226 N Front St, Wilmington, NC 28401, USA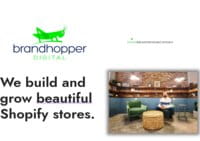 Headquartered in Wilmington, North Carolina, Brand Hopper Digital is an eCommerce company that specializes in Shopify web design. They aim for a modern design that automates the buying process for 24/7 businesses. BrandHopper runs paid advertising campaigns on Instagram, Facebook, and Google.
---
Pilot Hill, CA 95664, USA
NorCal Web Designs is an e-commerce development company that assists small and medium-sized brands with web development, online marketing, and consulting. A California-based company, NorCal Web Designs has developed hundreds of WordPress sites and created video productions and custom graphics. Their marketing services center around social media advertising to improve visitor engagement along with SEO services.
---
460 Park Avenue, New York, NY, USA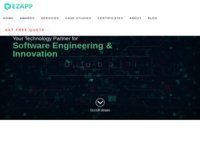 Established in 2008, an award-winning software agency based in New York specializing in web and mobile app development
---