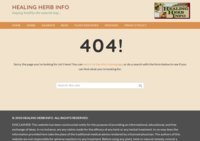 A blog that for those wishing to share ideas and feelings about the benefits of medicinal plants, herbs and trees
---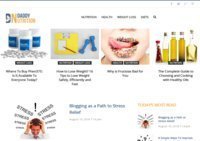 Daddy Nutrition provides fresh information about nutrition facts, food & health
---
Celeste's Best shows off gluten-, egg-, and dairy-recipes. Celeste is a mom who discovered that her daughter has Celiac Disease. This meant that their family had to go on a strict gluten free diet. Many food products contain gluten so they had to learn how to cook and make meals without it. They have expanded their selection to food without common allergens such as eggs and dairy. Now her blog contains recipes for many delicious and healthy snacks and meals. You will find recipes for gluten free bread, cookies, and even ice cream! It's such a delicious delight to browse through.
---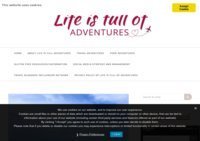 Life is Full of Adventure is a resource center for people suffering from celiac disease. In fact, it is certified by celiacdisease.org. Celiac disease is a medical condition that causes inflammation and damage to the intestine when you have eaten gluten. Through the website, you will be thoroughly guided on how you can ensure your wellness with their numerous food guides and information. You'll also read stories about the struggles of having the disease to make you realize that you are not alone in your journey. They even provide product recommendations so you can assess which is safe for your consumption.
---
The New Zealand Health Food Co. was founded in 1988 and is a leading producer of wholesome, nutritious food. Their blog is an effort to share tips and tricks to help people along their journey to healthy living. It has suggestions on building healthy habits such as getting enough sleep, exercising moderately, and choosing healthy snacks. Many of NZ Health Food's products come from natural sources, such as bees (they have many Manuka Honey and Royal Jelly products) and fish (their Omega-3 capsules). Their blog entries are well-written, and won't make you feel spoken down to, even as they preach the benefits of their supplements.
---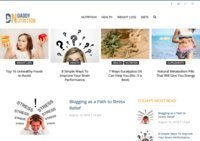 The Daddy Nutrition mission is to provide the inspiration and information people need to make healthy eating a way of life
---
Find healthy, gluten free recipes, tips on natural beauty and health here!
---
Food Tips is a premium blog designed for everyone who shares a love for cooking, baking and entertainment. It is all about easy and quick recipes, interviews with top chefs, health tips, kitchen hacks, and much more. Also, you can find reviews of modern kitchen appliances and buyer's guides to help you make the right purchasing decision. The emphasis is on eliminating all the unnecessary information floating around and allowing you to make the right food choices for yourself and your family. Whether you are a food lover, a busy mom, or just someone who loves to cook, this is one blog worth visiting.
---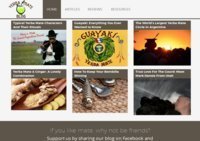 Learn all about Yerba Mate, a plant that makes a delicious drink called "Mate". The Yerba Mate Blog is by Celso Fernandes, a mechanical engineer who enjoys the aforementioned drink because of his Brazilian roots. Mate is a popular Brazilian drink that is rich in caffeine and antioxidants, and can easily replace coffee as part of a healthy diet. There are also suggestions on different ingredients to make other healthy drinks from your Yerba Mate. Frankly, many of Celso's suggestions sound delicious and the way he presents them make us want to try them ASAP!
---
Soul Beet blog is dedicated to helping people learn about soulful eating and understand nutrition better. The blog is written by Renee who has a Masters Degree in Nutrition and is currently working in the Full Body Systems Functional Nutrion Lab. Her drive to start the blog started with her personal experience of having GERD (Gastroesophageal Reflux Disease). She shares the secrets to embracing food cravings, teaching them to love their bodies and live fulfilling lives. It is also packed with inspirational recipes to show how easy it is to add nutritious ingredients to everyday meals.
---
Fat Reducing Drinks - The Latest on health articles on Teas, Juices and Smoothies . like Rooibos Tea that has Baffled Weight Loss Experts
---
http://www.chinesefoodsrecipe.com is an authentic Chinese food Recipes Blog, where you can find the most authentic China facts.
---
Delectable Dietetics is a blog that covers everyday nutrition problems and promotes a balanced approach to eating. Natalie Thompson is a Cairns-based non-dieting Accredited Practising Dietitian who practices with an emphasis on anti-dieting and a weight neutral viewpoint. Her articles are all about creating a healthy relationship with food and not focusing weight loss which can lead to eating disorders and unhealthy body images. She covers a wide range of topics to help people to understand their body so that they can make better decisions about what, when, and how much they should eat. Delectable Dietetics is an excellent resource for those looking to live healthier lives.
---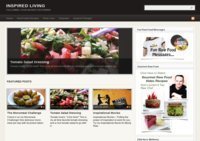 Inspired Living is a blog dedicated to conscious living and raw food recipes. If you have been considering a raw food vegan lifestyle, you will get useful information about healthy vegan-living that will give you the power to control your wellbeing. The blog also shares valuable preparation tips and ideas to help you incorporate these into your daily living, something that most people find it difficult to do. You will find a vast database of vibrant raw and some cooked recipes to motivate you to achieve your vitality by eating and living healthy. It is a great blog for vegetarians and those looking to reduce their consumption of meat.
---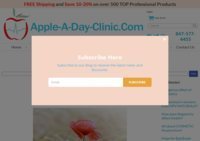 Staying fit and healthy is a combination of the right proportion of effort, discipline, and knowledge. Apple-a-day-clinic.com blog contains articles from experts and professionals in the industry on wellness, holistic nutrition, fitness, diet, mental health, beauty, pet care, research results, environment, and fitness. The blog is updated regularly so that you can expand your knowledge without having to dig into loads of scientific studies. The posts help people bust myths and change mindsets while assisting them in adopting positive habits. More than a blog, it is a community to inspire and motivate people like you to live an enriched life. The simple, personal, and relaxed tone of the blog will surely have you hooked!
---
Trusted HCG is the ultimate guide for those looking to lose weight through the HCG diet. The blog is written by Donna who lost a ton of weight by following the methods. After people saw her weight loss, many were inspired and wanted to do the same. She started her own clinic and also her blog to provide all the relevant information and ideas, and to be an inspiration to her readers who want to be fit. She shares HCG diet plans, recipes, and products that will help people make the right choice. Donna wants to empower everyone so that they can feel confident without depriving themselves.
---
Learn & educate yourself about diabetes and nutrition. and give your life a caring push.
---
If you are finding it difficult to get time to work out or lose your focus easily, this health and fitness blog is perfect for you. Brandi Rowell is a mother of three beautiful children and a certified Beachbody Coach. After losing her pregnancy weight, she realized that she could help others to get into shape with a little discipline and willpower. Her blog is inspiring people from around the world to live a healthy lifestyle. She shares information about exercises, nutrition, making healthy food choices, and many different aspects of fitness that will help you reach your goal. She also offers coaching to anyone who wants to transform their lives and build their self esteem.
---
Dishin' about Nutrition is a one-stop health and beauty blog to help people of all ages take care of their body and enhance their quality of life. This blog covers a wide range of lifestyle subjects, including weight loss, obesity, nutrition, supplements, healthy eating, beauty products, skincare tips, cosmetic and laser treatments, wellness, and more. The blog is informative and is updated daily on relevant subjects that are sparking debates around the world. You will be surprised at how embracing small changes to your life can lead you to a healthier path and make you more self-aware.
---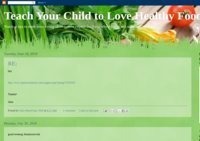 For moms of picky eaters who find it difficult to keep their meals exciting and nutritional at the same time, Teach Your Child to Love Healthy Food is a life savior. This blog is written by Julia Moravesil who has a degree in Cognitive Psychology and is also the mother of a boy. After becoming a parent, she realized that it's her responsibility to keep her child healthy by eating the right foods, this encouraged her to become creative. As time went by, she realized that there are millions of moms out there who are in the same position as her. She created the blog to help families be healthier and provide parents with kid-friendly food recipes that are full of nutrition that their growing body needs. Her tips, ideas and hacks will undoubtedly help children internalize healthy eating habits.
---
Fresh fruits and vegetables contain essential vitamins and minerals that boost your overall health. One way to extract these nutrients is by using a powerful juicer. The main aim of this blog is to keep you updated on the latest blenders and juicers to make healthy eating easier for you and your family. Here, you will find the best shopping tips, reviews, and also recipes that will allow you to make juicing at home fun and simple.
---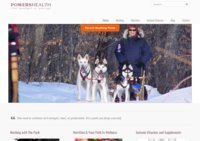 Powers Health is a blog that has a lot of energy and useful advice to help seniors live a healthier and fulfilling life. Most of the articles on the blog provide information about mushing, nutrition, health, wellness, and much more. This blog is a place for you to find inspiration and to learn how you can take charge of yourself with joy. While most articles cover topics about mushing, you will also find articles on how you can take care of yourself and live an active life. Even though this website is mainly for seniors, people of all ages can benefit from reading this blog.
---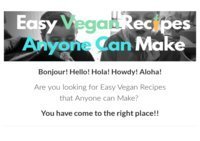 ---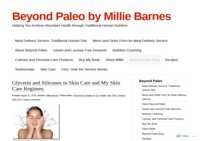 Beyond Paleo is a great blog for those living a Paleo lifestyle or anyone who wishes to learn more about it. This blog is maintained by Millie Barnes, a chef, a writer, and also a Nutrition Coach with over 40 years of experience. She wants to empower people and teach them to take responsibility for their health. The blog contains plenty of articles on how to effectively shift to the paleo lifestyle, sumptuous paleo recipes, and money-saving tips to help anyone get started. Many people have been inspired to lose weight and enjoyed living the paleo way after visiting her blog.
---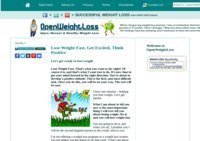 Always worried about maintaining the ideal weight? Feeling insecure about how people might see you based on your stature and appearance? Confused as to what procedures and/or instructions you should follow to maintain health? With so much going on online, from the Keto diet to detox diets, it is hard to choose which is the ideal program for you. Enter Open Weight Loss: The website that lets you choose the nutritional program and healthy lifestyle that is best for you. Laden with numerous articles on keeping fit and right, proper diet and nutrition, and exercise routines, Open Weight Loss is the repertoire of anything nutrition and health-related.
---
Do you want to start eating healthy? Learn how you can plan a nutritious and healthy diet with Oh My Nosh. It's run by Michelle, a credentialed Fitness Nutrition Specialist through the National Academy of Sports Medicine. Apart from being a nutritionist, she has also experienced weight struggles early in her adulthood. So, not only is she an expert when it comes to nutrition, she also understands the situation of someone who needs help when it comes to diet and eating healthy. With topics ranging from saving money while shopping for healthy foods at the grocery to healthy eating options while visiting Disneyland, this is one blog that you need to follow.
---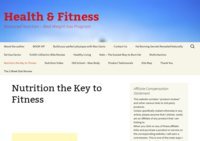 Nutro Balance is by Adrian Joele, a health and nutrition writer since 2008. He believes that a healthy diet is the key to good health and his blog posts reflect that. Here you will find information on balanced nutrition and different weight loss programs. Many of the recipes and menu suggestions on this blog are low to no carb — perfect additions to a keto menu. Some articles tackle fat burning and weight loss, as well as ways to boost your immune system. To round it all off, he also shares healthy living tips.
---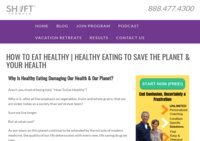 Learn why the "Eat More Plants To Save The Earth" movement is DANGEROUS to the Earth & your Health.
---
---
---