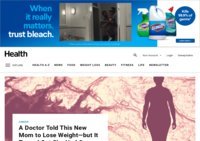 With an enviable domain name, it is not surprising that Health.com is at the top. It's good to know that the site is living up to its name. When you check it out, you will find numerous articles about weight loss tips, fitness apps, and other topics that are connected to health. It's not just the quantity of articles on the site that is impressive, but the quality as well. Each piece is well-written and factual. If you're after information about improving your overall wellness, Health.com will not let you down. Just try making one of the posted healthy recipes and you will surely be back for more.
---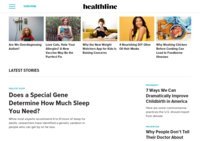 Healthline offers content on any topic connected to health. If you're on the lookout for information about a no sugar diet or some healthy dinner ideas, then it should be on the top of your to-visit list . With excellently written articles that are filled with a lot of helpful information, the site is a treasure trove of content for the fitness conscious folks who are always searching for websites that they can use as guides for their daily activities. Healthline has the ideal mix of informative articles full of facts and entertaining write ups that can be fun to read.
---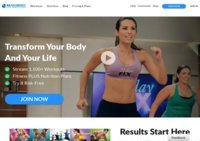 Everyone wants to have a beach body but not everyone can achieve it. Beachbody On Demand is a one-stop-shop for those willing to put in the work required to achieve a body that is worth putting on show. The blog has tapped some of the top experts in the fitness world to provide the best workouts you can find online. They also offer meal plans that you can customize to your needs, like if you need a vegan or a gluten-free diet. They know that achieving that perfect beach body is not just about sweating it out in the gym but also about sticking to a healthy diet, too.
---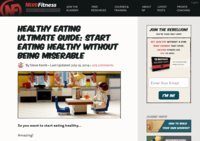 If you're a complete geek when it comes to nutrition and health foods, then it's about time that you visit Nerdfitness. Steve Kamb is the person behind the blog. A self-confessed nerd, he's also into fitness and healthy living. His aim is to help average guys to level up and become physically fit for life. As you know, a major part of achieving top physical condition is to eat all the right foods all the time. This guide will help clear things up for you; from helping you to create a diet plan to doing some easy healthy recipes that you can cook on your own.
---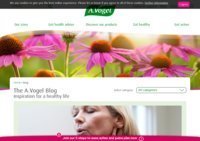 A.vogel is a line of nutritional supplements made from fresh, organically grown herbs that will help you get started or continue on your journey to healthy living. It has useful resources for anyone who wants to improve their diet and live more healthily. The entries are written by nutritionists and nutritional practitioners, so you can be sure that their advice is reliable and accurate. On the blog, you will find suggestions on how to incorporate healthy snacks to help you reach your fitness goals as well as advice to help you eat more healthily.
---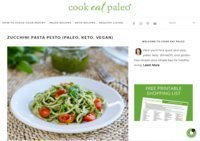 Cook Eat Paleo is a blog started by Lisa Wells to share the tips, tricks, and healthy recipes that she has learned while living on the paleo diet. When she started Paleo, she had to re-learn how to cook and bake without many staple ingredients that she had gotten used to. She was able to formulate new ways of cooking old favorites while sticking to her diet. There's a recipe for everything here, including healthy snack options and even desserts!
---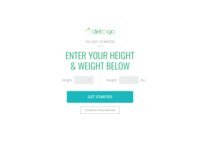 There are a lot of sources of information online when it comes to diet and healthy meals. One source that stands out from the rest is Diet To Go. This blog has posts about all kinds of topics related to diet, nutrition, and achieving a fit body. But don't assume that this is just like any other common nutrition blog that you can find online today. Because aside from articles that will guide you on how you can eat healthier, it also offers insights on how to improve your overall lifestyle. Remember, with a healthy diet and lifestyle, you will feel assured that you are protecting yourself from unwanted diseases and boost your energy level.
---
A health and nutrition blog, Slim Sanity offers recipes, informative journals, and articles discussing wellness and healthy living.
---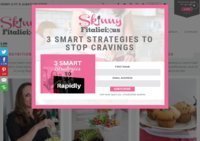 The blog Skinny Fitalicious is by Megan, a certified nutrition practitioner, a fitness instructor, and a freelance food photographer. In 2014, she started her battle with Hashimoto's Disease. To live a better quality of life, she removed gluten from her diet and made healthier food choices. She started her website so she could share her weight loss journey, healthy meal plans, and other tips to keep her readers in top shape. You will find tips and ideas to help you start eating, exercising and living better. Megan is also an empowering fitness inspiration.
---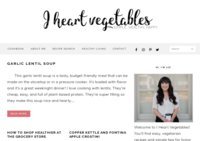 Not everybody can say they love vegetables, but Liz of I Heart Vegetables really does! She has been on a vegetarian diet for the past 10+ years. Over those years, she has learned easy, healthy recipes that are meat-free and delicious. These are the kinds of recipes she shares on her blog. If salad is not your thing, don't fret — there are other tasty veggie options here like gyros, burgers, tacos, and even pizza! Still thinking about what to cook for dinner? Click over to I Heart Vegetables to whip up a tasty, healthy meal!
---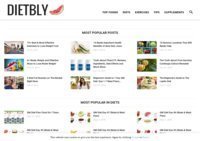 If you're looking for a diet plan, healthy food recipes, or advice on the best weight loss supplement — Dietbly has you covered! If you want to start eating healthier but don't know where to begin, there are several beginner's guides on this website for you to use. There are also many reviews about superfoods, supplements, and even workouts. It's not all about losing weight. They present these facts in a fun way too, they group fruits and vegetables by color and list their benefits. They can even help you figure out if you're having too much peppermint tea. All this fun and useful information just for you! Dietbly will help you achieve your fitness goals, no matter what they may be.
---
Tom Corson Knowles is a top health and nutrition coach. He admits to eating unhealthily when he was younger and attributes many health issues to such habits. He wants to keep other people from being unhealthy, so he built his blog and shares information to help you and your family stay healthy. His blog is a resource for those who are looking to make changes towards being healthy and fit for life. On this blog you will find weight loss tips, recipes and meal plans to follow the Dukan, vegan, paleo diet, and more.
---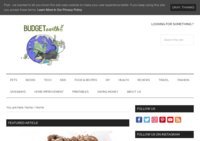 Budget Earth is dedicated to helping others live a healthier, greener lifestyle while still living on a budget. Learn to be Eco-friendly without killing your budget with fun reicpes, tips, and articles!
---
Urban Tastebud: behind the catchy name is a blog filled with lists and reviews of food and subscription boxes to help you follow a certain diet. If you are on a vegan diet or need to stay on a gluten-free diet, then this blog is a great resource for you! This blog is by Adam Bryan who loves trying and discovering new and exciting products himself. He then shares his experiences with us in neatly organized categories on his blog. The newest vegan food or gluten-free snack is just one click away on Urban Tastebud.
---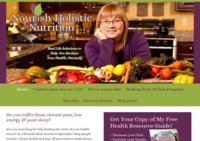 Certified Holistic Nutrition and Lifestyle Change Expert
I use what is now being called BioIndividual Nutrition to help people reclaim vibrant health. Each person has specific dietary needs that reflect their unique biochemistry, health history, and food reactions. What many people don't know is that most chronic health conditions have underlying immune, digestive, and detoxification imbalances. Once these imbalances are found and corrected the body is better equipped to regain health.
~ Whether you're suffering with general malaise, or have been diagnosed with a serious chronic health issue; such as hypertension, insulin resistance or an autoimmune disease, the foods you eat dramatically impact your health.
~ Using food as medicine effectively means knowing which specific foods and nutrients will be most helpful for your specific health condition. Not all foods are good for all people. If you're eating the wrong foods your body is a constant state of inflammation and imbalance.
~ Many people are surprised when they learn some of the foods they thought were healthy for them are actually making their conditions worse. By finding and using the best foods, herbs, and nutrients for each client I help them improve their body's ability to reduce inflammation, fight illness and regain good health.
• Specialized dietary programs for individual food allergies and sensitivities such as gluten-free, casein-free, soy-free, corn- free, egg-free, nut-free, or any foods you react to.
• Expert in elimination diets, yeast eradication diets, and personalization of SCD, GAPS, Low oxalate, Paleo diet, Primal diet, vegetarian diet.
• Condition Specific diets for people with Autoimmune Conditions, Insulin Resistance, Hypertension/CVD, Metabolic Syndrome, Leaky GUT, Diverticulosis, GOUT, IBS, and Cancer.
• Services include customized meal plans, recipes, and meal timings, dining out guide supplement review/recommendations and shopping lists.
• Nutritional and Lifestyle change packages available.
• On-going, monthly maintenance coaching packages available once new habits are established.
• Please call or email to see if I can help you.
• See my full profile on LinkedIN @ www.linkedin.com/in/nourishnutrition/
---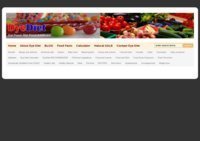 Dye Diet is a curious name and we're sure you're wondering why. The "dye" refers to food coloring, a common food additive. Nick, the blog's creator, is a chemist who has studied the effect of these food additives on the body. He found that many of them seriously affect the chemistry of our body. On his blog, he offers advice on which health food you can add to your diet and which to avoid if you want to stay healthy. It's always a good idea to eat healthily and be mindful of what we put in our bodies, and Dye Diet will help you do just that.
---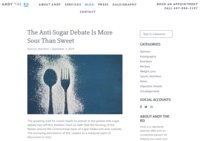 Andy The RD is run by Andy De Saints, an actual registered dietician. You are guaranteed that he knows and understands how dieting and nutrition works because he's not just some self-proclaimed food expert. You can get tips about topics like following a keto diet plan to having a plant-based diet by checking out his blog. Andy's blog can also be your online resource to clear things up like whether a fasting diet is actually beneficial or if there is a connection between nutrition and sleep. As you would expect from a professional, his blog posts are backed by links and facts that you can check for yourself.
---
At Anne's Healthy Kitchen, you will find recipes for healthy, delicious food that you can make in your own kitchen. Anne Guillot is a dietician and nutritionist whose goal is to help people, women especially, fight diseases and be fit for life by getting enough rest and eating healthy food. She believes that unhealthy living and eating habits are the root cause of illness and disease. As a dietician, her approach to nutrition is holistic and functional. Some of her most popular blog posts tackle the Busy Woman Syndrome and offer tips on improving sleep quality.
---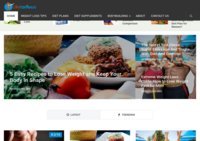 Read reviews about latest weight loss products, weight loss tips and diet plans.
---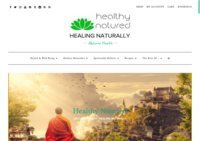 HealthyNatured.com aims to deliver the latest news and information about Natural Health, Holistic Living, Alternative and Complementary Therapies, Natural Remedies, Energy Healing and Personal Spiritual Development. Find the best products, services and remedies for natural health and well being.
---
There are many fitness and weight loss blogs on the web today. What sets Fitnessator apart is their commitment to providing facts and information which is backed by science. They ensure that their contributors are industry professionals and know what they're talking about. Even though Fitnessator offers a plethora of information, you won't get lost or overwhelmed because they're organized and put all of the information into categories. They have made sure that visitors to the site can easily find the specific content that they need. There are articles about fitness equipment: how to use them, if they're effective, etc. There are also diet and nutrition articles that will help you eat healthily and lose weight, without compromising nourishment.
---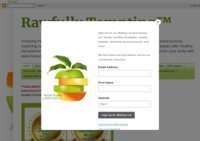 Rawfully Tempting has posts full of raw, vegetarian, and vegan recipes to help inspire your next meal plan. It is a good resource for people who are switching to a plant-based diet but need some new recipes to try. The instructions are easy to understand and the mouthwatering photos will have you excited to get started. Carrot ginger flax crackers and sweet potato latkes are two examples of the meals you could be making. It proves that you don't need to skip snacks or follow a boiled egg diet to lose or maintain your weight. Visit Rawfully Tempting for recipes that will teach you how to nourish your body with healthy food.
---
For Health Benefits has everything from diet plans, easy workouts you can do at home, to alternative health news. This website is very informative and is created by a team of fitness enthusiasts who want to share tips on how you can live a fresher, fitter life. Whether you need to eat and sleep better or get more exercise, there's bound to be tips and advice here that you can use. It's not all about diet food, either. There are also recipes for cleansing drinks, headache remedies, and allergy relief methods.
---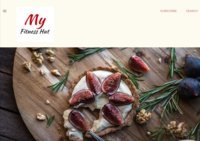 My Fitness Hut is one of many websites that Mark Dilworth owns. He is a lifestyle and weight management specialist who owns websites that tackle different aspects of fitness. My Fitness Hut is where Mark focuses on weight loss. He shares valuable content about exercise routines, diet tips, motivation, and more. Thanks to his years of experience, he's able to share many tips that help his clients and readers make changes to improve their overall wellness. He doesn't promote fast weight loss, fat burning supplements, or other such things. Instead, he will guide you to achieve and maintain an ideal body weight with an acceptable level of body fat through slow yet safe and effective natural methods.
---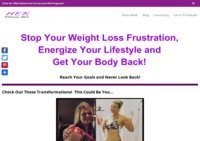 When you're having trouble shedding the pounds, knowing that someone out there understands your struggles can help keep you feeling motivated. Her Fitness Hut is run by Mark Dilworth, a fitness trainer who lost over 50 pounds through physical training and an appropriate diet. In fact, you won't notice weight loss supplements, starvation diets nor quick gimmicks on his blog. He believes that you can effectively achieve your weight goal with the right mindset and a healthy lifestyle. On his blog, you will find a variety of resources including a podcasts and blog posts. You can even join a community on Facebook to help hold yourself accountable on your weight loss transformation journey.
---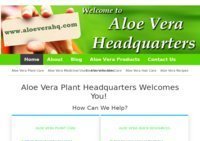 Aloe Vera Headquarters will open your eyes to all the wonders of the Aloe Vera plant. It's a popular skin and hair care ingredient because of its moisturizing and hair-growing properties. You can even purchase pure Aloe Gel as a cosmetic product. Did you know that you can add it to your diet, too? It has vitamins and minerals, such as copper and zinc, that build your immune system. You can mix it with your favorite healthy drinks or even have it by itself. On Aloe Vera HQ, you will learn how to make your own Aloe Vera juice and also the benefits of drinking it. They will even teach you how to cultivate your own Aloe plant.
---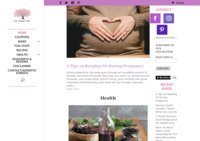 Your Organic Child, owned by Kathy, is one of the Top Mommy-Approved blogs. It is a great resource for tips about children's wellness, nutrition, activities and more. If you are looking for ways to get into healthy eating, you will find a variety of recipes here. The instructions are well-written and are easy to follow, so you can get started with creating healthy snacks for your kids. However, another important part of health is exercise. This blog also offers outdoor activities for children to help keep them active. With conversational posts full of useful information, this is one blog that will have you coming back for more.
---
The New Zealand Health Food Co. was founded in 1988 and is a leading producer of wholesome, nutritious food. Their blog is an effort to share tips and tricks to help people along their journey to healthy living. It has suggestions on building healthy habits such as getting enough sleep, exercising moderately, and choosing healthy snacks. Many of NZ Health Food's products come from natural sources, such as bees (they have many Manuka Honey and Royal Jelly products) and fish (their Omega-3 capsules). Their blog entries are well-written, and won't make you feel spoken down to, even as they preach the benefits of their supplements.
---
Jeanie and Joan is a fitness and health blog run by two best friends in their early fourties! Watch us take on diet and weight loss by following the latest strategies to lose weight including portion control, low carb and sugar free recipes and fun at home exercise programs to help you look and feel your absolute best!
---
Celeste's Best shows off gluten-, egg-, and dairy-recipes. Celeste is a mom who discovered that her daughter has Celiac Disease. This meant that their family had to go on a strict gluten free diet. Many food products contain gluten so they had to learn how to cook and make meals without it. They have expanded their selection to food without common allergens such as eggs and dairy. Now her blog contains recipes for many delicious and healthy snacks and meals. You will find recipes for gluten free bread, cookies, and even ice cream! It's such a delicious delight to browse through.
---