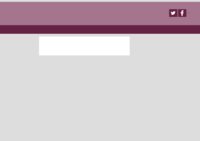 Providing a high-quality and affordable selection of vintage red wines and white wines for your enjoyment.
---
Tasty and authentic Indian recipes from 7aumSuvai, a food blog born out of love for family and friends. Written by Shanthi Muthuvel, a Govindanagaram native who is now residing in Canada, it is a journal of different cuisines ranging from Chettinad to Continental. The term 7aum suvai means 7th taste in Tamil, so you can expect to find new flavors by recreating these recipes. There's a native touch in each dish, especially the ones for Diwali, Pongal, Krishna Jayanthi, Ganesh Chathurti and Navarathri celebrations.
---
Tested Recipes, Cooking Advice, Equipment Reviews, Travelogues & Food News.
Written by internationally experienced chef and food writer who has cooked for the
rich and famous around the world.
---
Travel Food Atlas proudly showcases incredible, weird, unique and delicious food around the world.
---
Overseas Pinoy Cooking is a blog based on Pinoy food. It is written by a Filipino working overseas, who aims to pay homage to his heritage by cooking native dishes using simple and easy to find ingredients. Some recipes are traditionally prepared, while others are innovations based on classic Pinoy cooking. Recipes are classified into different types of meat, as well as vegetable, noodle, and dessert categories. The glossary section offers an explanation of native words and terminologies related to Filipino food and culture.
---
Simple and delicious recipes designed to inspire you in the kitchen!
---
Smitha's Spicy Flavors is a food blog filled with recipes from India. If you're looking for Andhraite dishes, you can find them here. Smitha creates a culinary fusion, bringing her Indian cooking skills into her American kitchen. The results are healthy and easy to prepare meals that are kid-approved and tested by picky eaters. It's all about everyday home cooked food, spiced up with a bit of culture, and garnished with love.
---
Wine-Flair is written by a wine connoisseur. More than just a blog, it is a treasure trove of facts and relevant information about wine. From origins and varieties of grapes to food pairings and recommendations, this site is constantly updated with all the things you ever wanted to know about wines.
Wine-Flair shares a list of commonly used wine terms, wine quizzes, news, and periodic columns and podcasts that wine lovers can really pop the cork on.
---
Wine is best enjoyed when you know more about it. From the best wine pairings to cocktail recipes, you can find it here at Tasting Pour. This blog explores everything about wine and spirits, and the places where you can taste the finest wines. Tasting Pour is a reliable source of wine education, offering in-depth information about tasting terms and wine making methods. For wine lovers and those who cellar it, there are featured wineries and pairing tips as well as updates on new events.
---
All Vegan Foods is a blog that makes the vegan lifestyle so much easier to follow. With the blogger's passion and expertise about all things vegan, this is the place to go for comprehensive vegan information. All Vegan Foods takes pride in its recipe collection, all of which are proven and tested. As part of its advocacy for nurturing the vegan lifestyle, this blog also promotes vegan supplements, exercise and vegan beauty products.
---
Food and travel blogger Amie Hu lives her dream of traveling from coast to coast, sampling delicacies and experiencing local attractions. This online magazine is a journal of her adventures, featuring different cities and exploring less-touristy food spots. Amie also covers the latest in food trends as well as travel itineraries, vacation guides, and restaurant reviews. Read about the local food scene in Singapore, Shanghai, Dubai, Australia, Europe, The Middle East and the rest of Asia.
---
Two friends share their gastronomic adventures in The Eating Place, a food blog dedicated to the restaurants in Madrid.
With a passion for good food and fine wines, The Eating Place is on a quest to discover trendy restaurants and new culinary treasures in every corner of Madrid.
Expect to read about their recent tapas outing, a visit to a winery, or a kitchen anecdote from food-loving influencers in the city.
---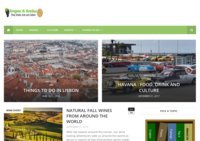 Grapes & Grains is an international community and blog dedicated to food, drinks, arts and culture. The blog shares interesting topics on food and drinks from around the world with emphasis on pairing, history, culture and traditions.
---
Pints, Forks & Friends is a social community supporting craft beer & foodies with a soft spot for BBQ. A collection of
enthusiasts, chefs, brewers and socials sharing stories.
---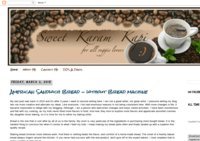 Vegetarian food blog!
---
Danish wine expert Frederik Kreutzer shares his tasting notes and encounters with wine lovers all over the world. Wine education is what this blog is all about. He pours his heart into each article, serving his in-depth understanding on the history and flavor of different wine products. Bottles from various brands are reviewed and wine shops are usually featured. As one of Denmark's oldest wine blogs,
VinKreutzer has become a comprehensive guide on the various types of wine. Learn more about blind tasting, serving suggestions and recommendations.
---
Searching for authentic Indian recipes? You can find them at Amina Creations – and more! Aside from being a cooking blog, it also features reviews, tutorials on how to design dresses, and crafts. Popularly known for its collection of delicious and easy to follow Indian recipes, Amina Creations has a dish for everyday meals and special occasions, whether they are traditional or innovative. So if you want to learn how to cook Chapathi, Iftar, Paneer, and Biryani dishes, this is the place to go.
---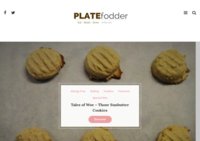 Plate Fodder is an online journal of food anecdotes and candid stories behind its well-loved recipes. The bloggers love cooking, discovering new dining spots, and recreating personal food favorites. Plate Fodder not only shares a collection of tried and tested recipes, but takes the readers on a culinary journey. Each food entry features personal reflections, random musings and sometimes an interesting piece of history about the recipe's origin. It is bounty of meal ideas which cover everything from breakfast to dinner, as well as options for those with special diets.
---
My Special Food shares free recipes, food news and authentic gourmet selections. It started as a small, family-owned business specializing in Italian cuisine, offering fresh and hard-to-find traditional food products coming from every region of Italy.
From simple dishes to gourmet fare, My Special Food is a great source of Italian food recipes. Product recommendations include wines, cheeses, sauces and sweets. Local food culture and history are featured as well.
---
Hello!! I am passionate about food and cooking is my joy. After several years as a career woman, I have decided to take a well-earned break and nurture my creative side. Join me and my experiments in the kitchen - experience life, love and food!!
---
All Good Beer is a blog about drinking, brewing and enjoying good beer. It shares beer related news and events as well as a large selection of recommended brands. Written by a blogger who identifies himself as a Beer Enthusiast, All Good Beer is simply a must read for people who are looking for drink suggestions. From white ales and specialty malts, to dark beers and heightened alcohols, there is a diverse range of brands and breweries to read about.
---
One of The UK's most popular bloggers, Andy's Kitchen Food Blog delivers a treasure trove of recipes for the adventurous foodie. Personal recipes have been shared through the years, as well as press releases on the latest food products. Here you can browse everything from starters and main courses, to drinks and desserts. Aside from recipes, you can also learn a lot from its reviews on cook books, kitchen gadgets, local shops, and restaurants.
---
Curryworld is an Indian cooking blog primarily focused on authentic dishes from Kerala. Recipes are developed from personal collections handed down through generations, as well as traditional Indian cuisine. In Curryworld, there are awesome varieties of meal ideas to learn about and see! Everything from Biriyani to Parathas, Chutneys to Chammanthi, Masalas and Thissur style recipes can be found here. There are entries for baked goods, desserts, salads, soups, snacks, and refreshments as well.
---
---
Living gluten free is easy with the recipes recommended by Free From G. This food blog features a collection of dishes which adhere to the gluten free diet, a lifestyle that is followed by the blogger herself.
With the menus not limited to cake and non-gluten desserts, Free From G makes gluten free comfort foods and proper home cooked meals that actually taste like the real thing. Each recipe has evolved and adapted to satisfy cravings and picky eaters alike. It is a place to look when you need gluten-free meals that are quick, safe, and delicious.
---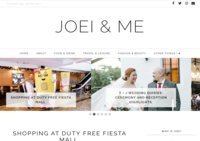 Read about my food trips and travel adventures!
www.joeiandme.com
---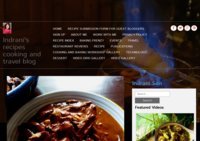 Want to learn how to prepare an authentic Bengali meal? Let Chef Indrani teach you a hundred and one ways to cook Indian meals using easy to find ingredients. Inspired by her mom's cooking, this food blog recreates her memories of traditional feasts and family get-togethers. Featuring a wide variety of regional cuisines, fusion cooking and continental dishes, Indrani's Recipes is a must read for Indian food lovers and foodies.
---
Welcome to the official blog of The Brewery Show, a series of Youtube episodes about beer brewing. Paying homage to this popular drink, this blog shares the stories behind the breweries, their beer, and the people who brew it. From the featured articles and photos, much can be learned as the bloggers explore the facets of the craft beer revolution. See how each brewery makes its beer unique, and what really makes a beer taste remarkable.
---
A Brit in Helsinki deals with vegan cooking, interiors and travel. Recipes, pictures and tips are published in this vegan food blog, featuring a diverse range of cuisines including British, Mexican, Indian and Middle Eastern dishes.
There are product tests as well, such as ones for microgreens, Birch water, gourmet coffee, fermented food and more. A Brit in Helsinki provides a wide selection of recipes ranging from kid-friendly meals to main courses and desserts.
---
Piacere is a food and travel blog with a dash of fine art photography. Here you can explore beautiful landscapes while being served all sorts of new meal ideas from the blogger's food adventures. It is a spectacle of gastronomy, nestled in landscapes and photojournalism.
See a variety of cheeses from the Swiss Alps, desserts from Parisian cafes, and homemade pastas from Italian towns. Piacere shares how these foods can be best enjoyed and more.
---