This blog was started in 2012 to archive the things that the author loves, from fashion and design to self-care and wellness. Find a huge library of art and inspirational prints as well as personal development workbooks which you can download for free.
---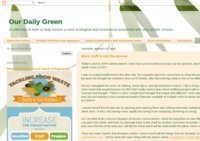 How to nurture ecological and economical households by making simple yet effective changes such as starting organic farming, recycling, reducing your carbon footprint, water conservation, and making sustainable lifestyle choices.
---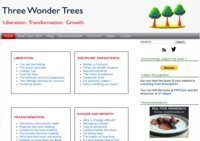 A blog dedicated to helping you recognize old patterns and paradigms that are no longer serving you, cultivate a burning desire to take ownership of your life, and equip you with practical tools to make the necessary shift and grow.
---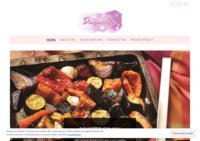 Started in 2016, the blog offers a sneak peek into the life of a socialite who is just entering motherhood. Join her in her food and travel trips, beauty and fashion experiments, family adventures, and more.
---
A personal lifestyle blog dedicated to trying new things and digging up facts (so you don't have to) and sharing the experiences and results! From the newest face cream and diet craze to trending gadgets and sustainable products, Mliae is keen to jump in feet-first and live to tell the tale.
---
The brainchild of a prolific thinker with four associate degrees who worked with grand projects—that is, the first manned mission to Mars (now on hiatus) and the discovery of breakthrough technologies for traveling between star systems (now defunct). House-bound because of Fibromyalgia, CFS, and severe IBS, she now uses her time to pen her thoughts on science, philosophy, her life, The Bachelor, and just about everything.
---
A Greenwich mom juggling parenthood and blogging. She pens her adventures with her two kids, thoughts on motherhood, experiments and experiences with hair and beauty products, and more.
---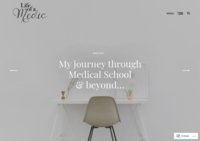 The journey of a UK student aspiring to become a doctor. Get pointers on how to get into med school as he shares personal accounts, tips to thrive in class, and access to his A-level and Medicine notes.
---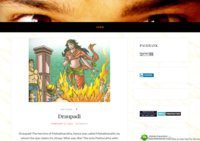 A collection of personal stories and Hindu mythology, Thitherwards extends an invitation to readers to immerse themselves in India's rich culture--past and present, at home or in the office, personal or political, religious or secular, fictional or real.
The author Brikut has a talent for spinning tall tales and for making a strong case on various issues with humor that makes you fall off your chair.
His exaggerations, animated speech, amusing metaphors, and wild imagination will get you hooked, no matter if you find his choice of topic interesting or not.
---
Liberty or Death is the digital platform of Christian, journalist, and antique lover, Bethany Carson.
Bringing together her love for travel, photography, and old things, as well as her gift for words, she provides anyone who shares her interest with good content. Browse through her travel posts about the old courthouses and churches in Iowa. They are wonderfully organized in a color-coded map that conveniently links to relevant posts.
You can also get to know her more with her entries on chess (the sport she competes in), Christianity, family life, and politics.
---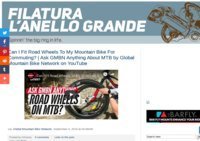 A blog about mountain bikes, cycling as an activity and sport, craft beer, and homebrewing.
---
---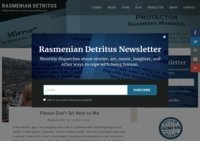 Rasmenia Massoud is a writer from Colorado currently living in France, where she spends her time speaking French poorly and writing fictional stories about what fascinates, confuses, and infuriates her the most—human beings. Her works of fiction have appeared in various literary magazines and she blogs semi-regularly about the awkwardness and joy of expatriation, the craft of writing, and a myriad of other topics.
---
Sitting Comfortably? is a warm and witty chronicle of one whose life course was changed by Parkinson's. Prior to being diagnosed with the disease, Andy Daly worked with art and design institutions and lived an active lifestyle as a black belt in a martial art, swimmer, and cyclist.
Not wanting his life to be defined by Parkinson's, he uses the blog as an outlet for
'refusing the subject'. Find oodles of short stories and tall tales, commentaries on the world we live in and the life we live, jokes, and more. Occasionally, you'll also find him acknowledging the challenges Parkinson's brings to his life.
---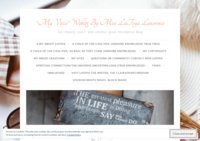 Ever wondered how life looks through the eyes of a clairvoyant? My Voice, a weblog by Miss LaToya Lawrence, offers you a peek!
A self-professed clairvoyant, she shares everyday stories with words like vibrations, energies, spells, magic, and whatnot casually thrown in here and there. She also offers an understanding of the workings of the spiritual realm and how it affects the physical world.
She also speaks proudly of being a caulbearer and a rootworker. Find out what that means and more on her blog!
---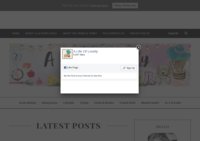 The life of a city-girl-turned-country-bumpkin mom who, along with her partner and 4 kids, has found a home amongst 3 dogs, 7 pigs, 3 sheep, 2 goats, 2 ducks, 14 chickens, 1 turkey, and a cat. She writes about her life in rural Somerset, mental health, and ethical and sustainable living.
---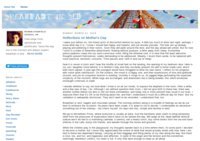 Thirty-something girl-geek writing about life's everyday adventures, with an emphasis on food, friends, arts and live music in Brighton and beyond.
---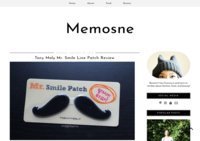 Memosne chronicles the journey of a woman trying to develop her personal palette and create her own style. The blogger is a global citizen who has lived in different parts of the world, including Northern California, Beijing, Taipei, and British Columbia.
Join her as she tries different makeup and beauty products, documents her OOTDs, and more. Besides building her personal style, she also loves to indulge her love for good food. Expect to find reviews of the dishes she's tried and her dining experience in different restaurants.
Posts, whether beauty- or food-related, come with clear photos. So, they're informative, visual, and easy on the eyes.
---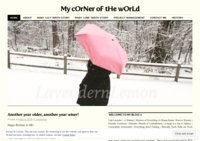 My Corner of the World is a slice-of-life blog by Lavender, a mom of two and a project manager who resides in India.
She offers snapshots of her life through no-holds-barred yet amusing accounts of family life with her kids Lime and Lily and husband Lemon, tender recollections of childhood, and more. If you don't speak Tamil or Hindi, do get Google Translate ready on the next tab to understand the occasional local phrases thrown in here and there.
---
A mommy blog celebrating love, relationships, family bonding, and life in general. Find positive and insightful reminders when the going gets tough, birthday bash photos and inspiration, travel accounts, and more.
---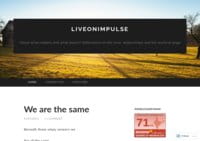 Live on Impulse is a collection of ramblings of a twenty-something woman trying to make sense of the world around her. She flip-flops between hating traditional views and embracing fundamental principles, wanting spontaneity and desiring comfort and warmth, and being hopeful and brooding.
Delve into her mind and heart through her free verse poetry as she grapples with the beauty and complications of life, love, and relationships. Other than poems, there are also short essays packed with insights on how things are and how things ought to be.
---
Julie Gosh is a life coach, trained and certified in several modalities. She is passionate about serving as a spiritual guide and counselor to others.
She believes that negative thoughts, difficult emotions, old patterns, and places we feel stuck are devoted guardians that show us the way home. Follow her as she plunges into a deep inquiry of old patterns and wounds and as she comes out of the dark place, learning or unlearning things.
Through her blog posts, become equipped with the right tools and understanding to face your own demons and be closer to your true nature in grounded strength.
---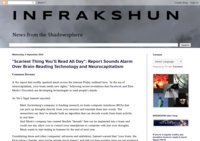 News, articles and commentary from the Shadowsphere: geopolitics, psychology, ponerology, society, culture and conspiracy
---
A blog for women by a woman who embraces her femininity and the traditional female values and interests passed on to her by her mother, but who also loves watching football and soccer and talking about business. From her personal musings and stories, get tips, information, and insights on raising a family, keeping a home, taking care of yourself, and more.
---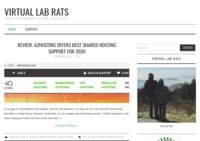 A miscellany of product and service reviews, food and restaurant critique, urban and nature exploration guides, homesteading articles, health features, tech updates, and more.
---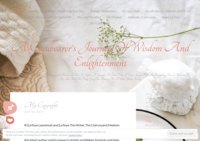 Born with a caul or veil and spiritual gifts. A clairvoyant's true-to-life experience and inspirational journey through life in general.
---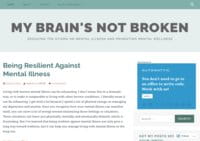 My Brain's Not Broken is a mental health blog by Nathan Smith about living with mental illness and promoting mental wellness. Nathan uses his experiences living with depression and anxiety to discuss strategies and techniques to find balance and wellness in live a mentally health life.
---
A UK-based blog about raising three house rabbits and one human baby.
---
The creative channel of someone who likens himself to a Renaissance man. With eloquence and a dash of irreverent humor, he writes on a myriad of subjects, including the math of God (the golden ratio), how not to be a soy boy, and pointers on how to sell anything.
---
100 E College Blvd, Niceville, FL 32578, USA
Useful site mainly for those with children but some of the ideas could be used for adults too. Has kid friendly list of activities (zoo, butterfly house, beach, story time, etc) to do in the local northwest FL area that could help give you an idea of things to seek out in your area. Also has birthday party ideas, kid restaurant deals, and easy recipes.
---