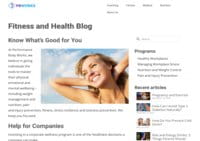 Everybody benefits from an active and healthy lifestyle. PB Works is here to help guide you towards achieving your true health potential. From exercise strategies to diet and medical tips, the blog is an easy and free source of useful information. All articles are written by expert researchers and/or health experts in the particular field. You can become a stronger, more resilient physical specimen by adding to your fitness knowledge.
---
Sue Kauffman's blog is about exercise, fitness, nutrition and everything you need to live a healthy lifestyle.
---
This blog provides news and reviews on popular smelling salts and supplements to help you achieve your fitness goals. Learn more about testosterone boosters or energy products.
---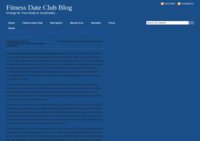 "Energy for Your Body & Soul(mate)"
A newly opened blog on Fitness Date Club will have articles about training tips, fitness activities, nutrition, wellness, and more. So whether your fitness passion is yoga, running, bodybuilding, cycling or some other exercise activity, you are more likely to find a workout partner or a life partner on this online dating site than just about anywhere else. If you are focused on living an active, healthy life, what better way is there than to have a significant other who feels the same way.
---
NinjaWarriorX documents my journey in becoming a Ninja Warrior. I will write down everything I learn during my training. You will see tips for improving grip strength, mobility, and balance and mastering certain obstacles amongst many others.
---
Rxdsleeves.com is a informational resource and product review blog about all things compression sleeves and wraps. Whether you want compression sleeves or wraps for recovery, squats, running, Olympic lifting, power-lifting or for all around general use, we can help you find whats best for you. Our goal is to provide you with quality reviews and information on compression sleeves so that you can make the most informed decision when buying online or in person. Other types of compression garments we review include but are not limited to: Compression shorts, Compression tights, compression wrist wraps, Compression elbow sleeves and Compression socks. Hope to see you there!
---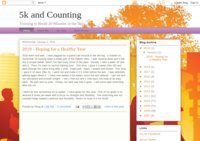 Stay inspired and motivated to run faster, stronger, and longer. This running blog shares experiences, race tips, training and running gear reviews to get you informed about the world of marathons and racing.
---
I've launched a site which gives information and advice to runners and triathletes to help them achieve their goals.
I provide tips and advice on training, nutrition, psychology, racing strategy and more. I do this through blogs and articles.
Another part of the website is telling about my journey to break a world record in May 2019 – to run more than 800 miles in 9 days.
The objective of this part is to inspire readers to take on their own challenges
I also provide recommendations on what kit will help them achieve their goals.
---
We are a new healthy lifestyle blog focusing on adults 40 and over. Join us as we share our own journey and others.
---
Biking, journey and travel blog by a 67-year-old adventurer.
---
A health and fitness blog sharing the latest nutrition tips and workouts to give you the body you've always wanted. NoExcuseGirl takes a common sense approach to a healthy lifestyle and believes that with motivation, dedication, and consistency, you can reach your fitness goals and achieve your desired results. Leave your excuses at the door and NoExcuseGirl will layout the plan that you need to give you a beautiful, healthy physique.
---
Blog dedicated to helping others achieve fitness. Let us build a fitted and better world.
---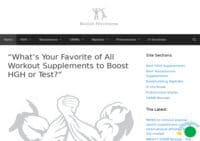 An informative blog on how to increase human growth hormone and testosterone levels the natural way with workout and bodybuilding supplements. Safe products for fitness and bodybuilding: peptides, boosters, sprays reviewed and compared.
---
Dirty Trail Shoes aims to inspire you to start running. Find equipment reviews, race reports, tips and analysis.
---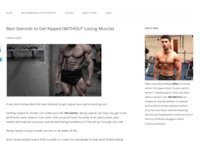 Find information you can use to build an impressive body from one of the best bodybuilding blogs. Discover natural bodybuilding supplements to help you get jacked and tips on how to regain your muscles.
---
A running related blog about my personal progress from couch potato to marathon runner. Here I will talk about my training, providing tips, motivation and advice for both new and experienced runners along the way.
---
Get ripped at home with Kurt Astarita!
---
Make lasting changes to your health and fitness with this personal training blog. The New Basis helps with weight loss, disease management, sport-specific or tournament preparation.
---
The Premier Website Guiding You In Developing Healthy Behaviors.
---
Chasses 'n Lattes is a blog that promotes a healthy mind and body through dance and fitness.
---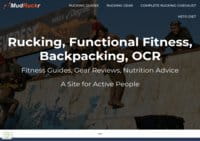 MudRuckr is a site about Functional Fitness. Functional Fitness is about preparing you for everyday life.
This is not a site about body building or being king of the gym. Instead we explore fitness as a lifestyle.
We promote participation in Obstacle Course Races and other endurance challenges.
At MudRuckr we are also fans of Functional Fitness and other workout programs that are geared toward total body workouts.
This site is for active people that want to get outside and enjoy a healthy life.
--- At The Workout Equipment, we provide you with the best workout equipment, supplements, diets, exercises, reviews, and more. Helping you get fit is our goal.
---