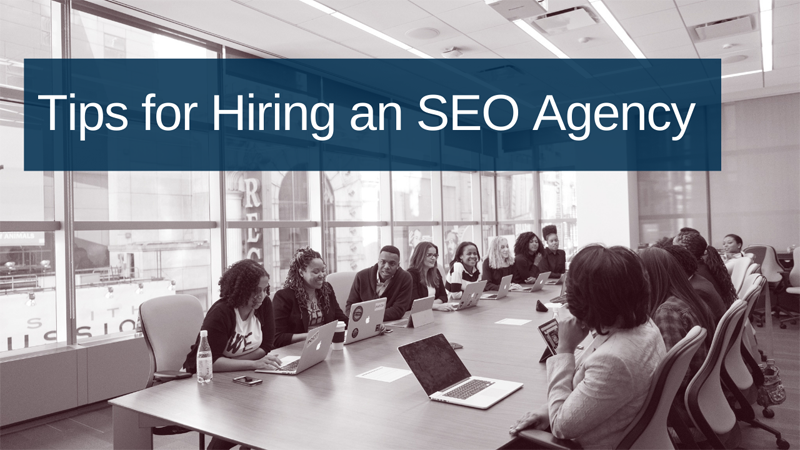 Hiring an SEO company is a task that you need to get right.
A good partner can improve your ranking, increase organic traffic, and generate more sales and leads for your business.
However, a shady provider that uses black hat tactics can get your site penalized and see your traffic drop off a cliff.
To help you make the right decision, we've compiled the most important factors to look for in SEO companies. Keep these points in mind when you're considering potential partners. 
6 Tips for Hiring an SEO Agency
1. SEO Strategies and Techniques
All good SEO agencies have a technical, on-page, and off-page search engine optimization process. Make sure you have a clear understanding of a potential provider's strategies to improve your search ranking. 
The most important area to ask about is off-page SEO. Backlinks are an essential search engine ranking factor, and your partner will work to improve your website's backlink profile. 
But not all backlinks are created equal. Some black hat link-building strategies can get your site penalized by search engines. 
You can find out more about backlinks and search penalties in Google's Webmaster Guidelines.
If an SEO company claims they will be able to get hundreds of new backlinks for your site within a few weeks, that's a red flag. These will be low-quality, spammy links that could damage your ranking. 
Above all, look for a partner that has a long-term link-building strategy built on content marketing and genuine blogger outreach. The focus should be on high-quality links, not hundreds of low-quality links. 
2. Reviews and Case Studies
One of the most effective ways to find successful SEO experts is to ask to see case studies or testimonials from clients that have been with the company for over 12 months.
An agency that uses risky tactics might get quick results, but these tactics don't work long-term. It takes time for Google to identify and penalize sites that break webmaster guidelines. That's why black hat firms have a high client turnover, and it's also how shady providers can stay in business.
Genuine customer reviews and case studies are a great way to judge the ability of an agency to get sustainable results for clients. Look for a company that's happy to showcase previous client results and give examples of long-term success.
3. Unrealistic Guarantees and Promises
Avoid companies that guarantee they can get your site ranking at the top of search engine results. Working with an SEO specialist can improve your ranking and increase organic traffic, but no reputable agency will guarantee a top ranking.
You may see some quick improvements if your site has technical errors that can easily be fixed, but it takes time for an SEO strategy to work. According to an Ahrefs study, nearly 60% of the pages ranking on the first page of Google are 3 years old or more.
Depending on your industry and competition, you can expect to see your ranking and traffic increase within 4 to 6 months. Look for a company that doesn't overpromise and avoids SEOs that offer unrealistic guarantees.
4. Reporting and Communication
Every agency will offer recommendations to improve your site's user experience and make it more appealing to search engines. They should provide a regular report that details any changes and impact of search performance. 
When you're considering an agency, ask to see an example report. You'll also want to know how often they will report to you and keep you informed of any changes. 
An SEO report should include:
What they have done in the past month, including any on-page optimization, content creation, new backlinks, keyword research, etc.
How many people visited your website, and where did the traffic come from. A breakdown of traffic sources can help you decide where to allocate your resources.
A boost in traffic is meaningless if it doesn't impact conversions. New leads and sales are the end goal and how you determine the ROI of your SEO campaigns.
You need to know how well you are competing for the most valuable keywords to your business. It's also important to keep an eye on the broader trends and improvements to your average search position. 
The link profile of your domain showing new links, anchor text, and growth of your link profile over time.
What does your SEO company recommend as a plan of action for the next month?
Most agencies offer monthly reports. However, if you want to see more frequent data, ask if they can create a custom reporting schedule.
5. KPIs and Success Metrics
Before you hire an SEO company, you should have clear expectations of what you want to achieve. According to a survey by The Manifest, most small businesses use the organic website traffic and keyword rankings to measure the success of a campaign.
But these can be vanity metrics. Data that looks good on an SEO report doesn't always help you achieve your business goals. For example, ranking in the top spot for "how to cook pancakes" won't help your jewelry e-commerce store make any more sales. 
Sales and conversion are how you calculate ROI. Your partner must understand your goals and what you want to achieve. They need to measure and improve the KPIs that matter to your business and digital marketing strategy. 
6. SEO Tools and Technology
Agencies use tools like Ahrefs and SEMRush to measure and analyze data and carry out tasks. These are handy tools, but they aren't cheap. 
Asking a potential partner about the tools they use can effectively determine how much they invest in getting results for their clients. They should detail the specific software and what they use it for.
If they show you an essential list of tools that any small business owner can access for free, you need to ask yourself why. A legitimate agency should be willing to invest in the software and technology it needs to get results for clients.
How Do I Choose a Company for SEO?
We've gone over the most important things to look for in an SEO agency. These factors will help you to separate the good from the bad. 
But it would be best if you had a partner that is right for your business. 
Here are a couple of questions to ask that you should keep in mind when making your decision.
Experience in Your Niche
Have they worked with a business like yours before?
In short, different types of businesses have different needs.
For example, a branch service business in several locations will require a solid local SEO strategy. Therefore, it needs to be visible in all areas it provides services. In contrast, an e-commerce business doesn't need to focus on local SEO as all of its sales are made through its website. 
Look for an SEO that can provide case studies from within your industry. At a minimum, they should have experience working with similar businesses and be willing to create a tailored strategy for your business.
Pricing
Generally, you get what you pay for when it comes to SEO services. It's never a good idea to go with a provider that offers super-low rates. You'll waste your money on non-existent SEO or black hat tactics that damage your ranking.
According to a study published in the Search Engine Journal, businesses that spend $500+ per month are 53.3% more likely to be "extremely satisfied" with their SEO company. If you opt for a budget service, don't expect premium results. 
How Much Does SEO Cost Per Month?
Most businesses spend between $500 and $2,000 per month, depending on the company's size and industry. For instance, SEO will generally cost more for a business that sells in a competitive international market than a small local market.
Is Hiring an SEO Specialist Worth It?
Yes. Hiring an agency can significantly improve your online visibility and help you establish a strong presence in search rankings. It's also highly cost-effective. According to a survey by Databox, SEO provides the best ROI of any marketing channel. 
Display advertising, paid social media, and paid search can quickly boost traffic. However, the conversions and sales dry up as soon as your budget runs out. SEO helps you drive consistent organic traffic to your website. After that, traffic grows exponentially as you improve your domain authority and search ranking. 
With a few periodical updates, an optimized piece of content can keep bringing new customers to your site long after it was initially published.
Conclusion
Search engine optimization is an integral part of a successful digital marketing strategy. When you have the right partner in place, you'll see your traffic grow and the number of leads and sales you generate through your website increase.
If you're thinking about hiring an agency, take your time and look for the factors we've covered in this guide.
In general, avoid any shady specialists offering guaranteed rankings, and find an SEO company that's right for your business.