Our actionable digital marketing tips help your law firm get more clients. With increasing competition, having the right online marketing strategies sets a law firm apart. We'll provide practical advice to grow your legal services through digital channels.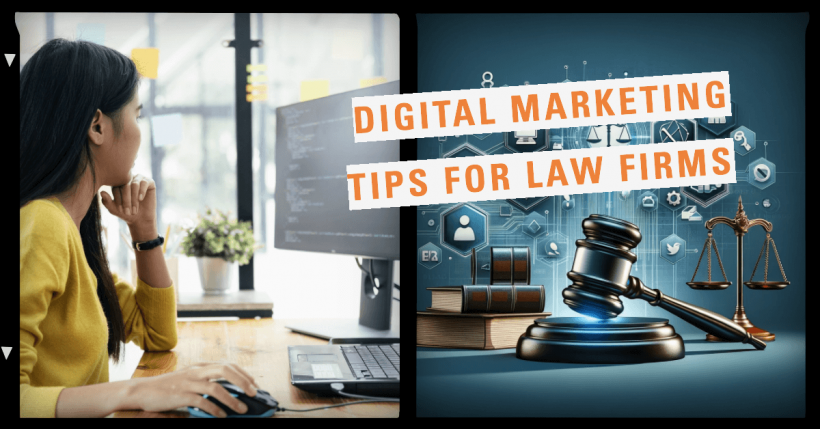 You will learn how to:
Optimize your law firm website for better SEO rankings
Create compelling legal content to attract prospective clients
Use email, social media, and ads to connect with more potential clients
Track key metrics to measure and improve marketing success
Why Digital Marketing Matters for Law Firms
With more people searching online, a solid digital presence sets lawyers apart. Most clients go online to research law firms. They prefer contacting firms with informative websites.
Yet, many law firms still rely on referrals to promote their services. With enough digital marketing, law firms can connect with a broader audience.
Implementing marketing strategies like SEO and through legal content allows law firms to:
Improve visibility and showcase legal services to prospects
Establish a reputation as legal thought leaders
Get more clients by targeting relevant online audiences
The tips below reveal how to adapt digital marketing for lawyers to grow their firms.
Optimize Your Law Firm Website
Your website is often the first touchpoint for potential clients. With nearly 97% of traffic from search engines, on-page SEO is vital for reaching people.
Follow these essential SEO tips for law firms:
Use Relevant Keywords Throughout Pages
Include commonly searched legal phrases and location names in:
✔ Page titles and headers
✔ Image names and captions
✔ Page content and descriptions
Getting this on-page SEO right means your website appears for more long-tail keyword searches.
Create Pages Optimized For Local SEO
Dedicated pages focusing on specific lawyer services and locations rank better locally. Beyond the homepage and standard pages like About Us, add pages highlighting:
Benefit: This helps people searching for lawyers near them discover your legal services.
Optimize Website Speed
Slow-loading websites negatively impact visitor experience and SEO rankings. To improve website speed:
Compress large images
Cut redirects
Buy better hosting
Faster websites enhance user experience while improving SEO visibility.
Update Content
Static, outdated website copy feels less relevant to search engines. Regularly add new long-form service and location-based content like:
✔ Blog articles on trending legal topics
✔ New case study examples
✔ Revised attorney biographies
✔ Fresh location-specific content
This shows engines your website offers the latest, most useful legal advice.
Create Legal Content to Attract Clients
Beyond technical SEO, your unique written content plays a huge role. It displays your expertise and trustworthiness.
Offering in-depth legal analysis through long-form guides showcases your credibility to potential clients.
Blog On Your Practice Areas
Publish posts discussing:
Updates to legislation in your practice areas
Breaking down complex legal issues into plain English
Actionable tips and legal implications of current events
Choose topics aligning with user intent based on searches for your services. Answer their questions to position your firm as a thought leader.
Create Practical Law Guides
Develop "How To" style guides to help people navigate common legal processes like:
What documents are needed to incorporate
Steps in consumer proposal proceedings
Options when injured in ridesharing accidents
List action steps or legal information someone would search for in such situations. Offer guides people immediately benefit from.
Repurpose Content
Take content like case studies or legal analysis and rework them into other formats like:
Infographics summarizing key data
Slide decks distilling research into presentations
Videos discussing the content
Repurposing expands your content's reach.
Promote Content Across Digital Channels
Share your content on your website, social media channels, and email newsletter lists. Insert links back to full pieces on your site.
Distribute content wider through blogs and legal news websites accepting contributor posts. The more visibility for your expertise, the better.
Key Metrics To Track Content Marketing Success:
Content pageviews and time on page
Inbound links and social shares
Contact form submissions
Content downloads
Continually produce new, high-quality content showcasing your law firm's specialized knowledge.
Leverage Email Marketing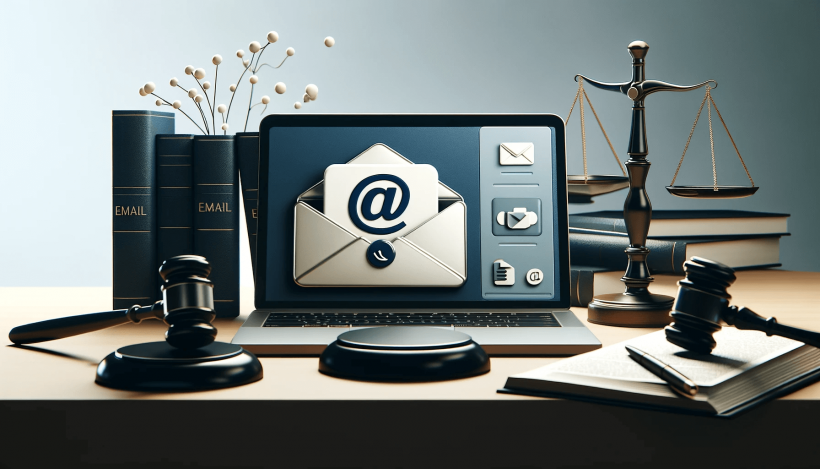 Email marketing sustains connections with website visitors interested in your services.
Collect email addresses through:
Contact forms
Content offers like guides or checklists
Consultation requests and inquiries
Build an email subscriber list to promote your expertise through:
Share Law Update Newsletters
Send regular emails like monthly newsletters containing:
Roundups of top legal developments
Tips to avoid legal issues
Law firm news and new hires
Information keeping readers updated on legal topics serves as helpful content people want to receive.
Promote Events and Offers
Email current and prospective clients about:
Webinars and seminars your attorneys host or appear in about law specialties
Discounts on initial consultations for specific legal services
Limited-time offers encourage signups. Announce events showcasing expertise.
Send New Blog Post Alerts
Whenever you publish new content like articles, link to them in emails.
Short descriptions help readers understand what the content offers without visiting your site.
Key Email Marketing Metrics:
Open rates
Click through rates
Contact and consultation form conversions
Referrals from email subscribers
Fine-tune email content and calls to action depending on what resonates best with subscribers.
Social Media Merketing for Law Firms
An overwhelming 90% of Americans use social media. Establishing an active presence on key platforms expands visibility for your legal services.
Post Legal Tips
Share short legal tips or explainers about:
Most common issues your law specialties assist with
Changes impacting clients about laws and regulations
Answers to the client's questions
Position your firm as accessible legal experts through bite-sized tips.
Comment On Trending News
Weigh in as lawyers on hot legal topics headlining the news like:
Data privacy breaches
Employment disputes
Class action lawsuits
Commentary showcasing expertise around trending issues raises credibility.
Run Paid Ad Campaigns
Create social media ads highlighting legal services targeting:
Specific locations your firm serves
Demographic and interest profile data for your ideal clients
Followers of law-related Pages and influencers
Paying to boost content expands how many prospective clients you reach.
Track Engagement
Analyze social media metrics like:
Follower growth
Content likes, shares, and clicks
Link click-throughs to your website
Ad conversions (form fills, etc)
Check areas for improvement to refine an effective social media strategy.
Paid Search & Display Ads
Organic content marketing expands visibility over time. Conversely, paid advertising puts your law firm in front of searching users immediately.
Google Ads
Target paid search ads to keywords clients use around:
Attorney names
Legal problems need solving
Law firm services
Appearing at the top of search engine results pages increases website traffic.
Display Advertising
Show ads across websites visited by your target demographics and interest profiles
Retarget past website visitors through ads across the web
Blanketing high-value users with display ads makes them more familiar with your firm when they need legal help.
Benefits of Paid Search & Display:
Drives immediate website traffic when starting digital marketing efforts
Allows testing messages and calls to action for improved conversions
Flexibility in budgeting daily costs and monitoring investment returns
Paid ads put your law firm's visibility in front of clients searching online for legal support.
Track Metrics Showing Marketing Success
Tracking critical digital marketing metrics reveals what strategies work and what needs change.
Website Traffic
Sessions
Pages/session
Bounce rate
Higher traffic that engages more shows content resonates.
Lead Generation
Contact form submissions
Consultation requests
Calls from site visits
Email list signups
More leads prove you attract and engage prospective clients.
Paid Ads
Click-through-rate
Cost per click vs. conversion
Return on ad spend
Are ads cost-effectively driving website traffic?
Conversions
New client acquisitions
Revenue from digital marketing leads
Ultimately – is online marketing increasing hires?
Regularly assessing metrics highlights what provides value. Double down on effective strategies while pivoting inactive ones.
Frequently Asked Questions
What budget is needed to start a law firm's digital marketing?
$250-500 monthly helps run Google Ads, social media ads, content promotion, and basic tools for smaller firms. Mid-sized practices around $2,500+ monthly provide more extensive reach.
Should I hire a digital marketing agency or handle it internally?
Hiring digital marketing experts familiar with the legal industry can jumpstart results. Handling internally builds in-house capabilities but pulls time from practicing law. Balance by starting with an agency and then training staff members who specialize over time.
Conclusion
Implementing a digital marketing strategy allows law firms to establish an online presence. That attracts clients through search, social media, paid ads, and content visibility.
Taking action on even just a few digital marketing tips here can propel your law firm forward with more clients. Feel free to reach out for any specific legal marketing questions as they arise for your unique firm needs.
Check out our Internet marketing guide for personal injury lawyers.