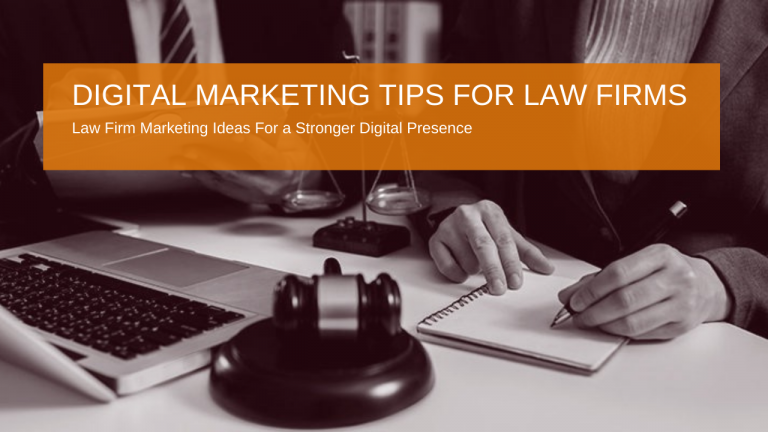 An effective online presence for law firms has become more critical today than ever. While networking events and recommendations are still an essential part of business, investing in digital marketing is the key to obtaining new clients, increasing revenue, and staying on-trend with consumer expectations.
This guide will help you stand out from your competitors and learn how to use Internet marketing strategies to build your business effectively.
Content Marketing
When your potential clients face a challenge, they're going online to find the answers they need. If you can position yourself as a reputable source, you'll attract more clients. However, to do this, you'll need to create valuable content. What makes excellent content so great?
Provides Value: Use your content to answer the questions your clients typically ask during a consultation. Use each of these questions as a blog topic, answer the question in detail, and link to relevant resources.
Offers Original Insight: If you copy and paste the same blog posts your competitors are doing, you're not providing any value to your clients. Instead, focus on creating content that has information others have not shared or takes a unique angle to a popular topic.
Grabs Your Attention: Are you going to click on an article that says "Tax Attorney" or "How to Navigate Tax Laws To Save Tons of Money?". You're naturally attracted to the second article, right? Articles that grab your attention by instantly showcasing the value for the reader.
Focus on Your Niche
One of the most important things you can do as a legal marketing professional is to determine your specific niche. However, this doesn't mean creating a logo or landing page and calling it a day. Your company needs to create a brand image and determine how you want to be perceived by the public.
Many law practitioners may all look or sound the same to consumers. However, you know that your law firm provides unique value or service that others cannot. And that's what needs to shine through your branding.
Ask yourself these two simple questions:
What specific area of law do you want to provide to your clients?
What makes your law firm better than others in the same field?
Create your branding image around your niche and highlight your unique value to stand out from your competitors.
Search Engine Optimization

Are all areas of your website catered to your client's needs?
When potential clients open your website, they want to find all the information to their questions quickly. Will potential customers be able to learn everything they need to know about your firm through your website?
Since most legal firms cover multiple areas of law, you'll want to make sure each service is covered on your website.
For example, divorce lawyers may also provide family law services. However, if there is no information on that service, how would potential clients find you in search results?
Target Local keywords
When optimizing each of your web pages, make sure to use specific keywords related to your niche.
For example, suppose you're a criminal defense lawyer. In that case, you'll want to include that keyword in your content, along with location keywords, so clients searching for your services can find them. This strategy will boost your SEO ranking and visibility within your target audience.
Here's how you can easily optimize your content:
Ensure your keyword is in your heading, first sentence of your post, and throughout your text to increase keyword density.
Keep your title short. The ideal blog post title length is 8 to 14 words or 60 characters.
Separate your page with different headings such as H1, H2, H3, numbered lists, and bullet points.
Use reputable links in your text to scholarly sources or high-valued websites to increase the value of your content.
Add a description to the images you post, preferably with your keyword included.
Prove You're an Expert
Clients turn to lawyers because they're qualified to handle issues faster and more efficiently. It's your job to prove that you're an expert in your field and convince clients to choose you over a competitor.
A great way to do this is to display your qualifications on your website. This might include the degrees your associates hold, along with any awards your firm has received.
Another way to demonstrate your abilities is to feature case studies of complex cases to show how your services made the difference to win the case.
Lastly, focus on customer feedback. Make sure to ask your past clients to leave an online review or write a testimonial for your website. People trust what other people have to say and look for reviews before committing to your company.
87% of buyers read online reviews before deciding to invest in services. Having multiple positive reviews on your website, Google Business, Yelp, or TripAdvisor can generate a ton of new business for your company.
Run a Google Adwords Campaign
Paid search, or PPC advertising, is an effective marketing tool to reach your target audience. When you optimize and plan a Google Adwords campaign, you can send more traffic to your website, resulting in more clients. When setting up your Google Adwords campaign, make sure to:
Find the right keywords for your specific niche.
Use localization strategy by focusing on sections of a city or even specific zip codes.
Run multiple advertisements with various copies to see what works best with your potential clients.
Monitor your conversions and adjust the strategy as needed if you're not getting the results you expected.
Adwords can be a great marketing tool to obtain more leads for your law firm. Using the above PPC suggestions can help you increase brand awareness and exposure on Google.
Incorporate Email Marketing
Incorporating e-mail marketing for law firms is easy to turn your potential clients into paying clients. Professional marketers have found a 760% increase in revenue from building e-mail lists and using e-mail campaigns. 
E-mail marketing is an inexpensive way to communicate with your clients and showcase your company directly. Through e-mail, your law firm can keep potential clients updated with your recent blog posts, case studies, or any information relevant to their specific situation.
It doesn't have to be a complicated process. You can repurpose content you've already created and deliver it in a newsletter format instead of always having to start from scratch.
Embrace Social Media Marketing
Suppose you don't have a strong presence on your social media platforms. Did you know that 61% of website visits in 2020 were on mobile devices? In that case, you could miss opportunities to connect with potential customers searching for your services. Here are some easy to build your social marketing strategy:
Set Goals: What is the intent of your social media marketing? Create actionable goals for your company to meet to ensure you're successful. Examples may include increasing your following, building community, or increasing revenue.
Choose your platforms: As a law firm, it's essential to only choose social media accounts on platforms relevant to your business. Examples include LinkedIn, Twitter, Instagram, Yelp, and Facebook.
Create Important Metrics: How will you measure your success? You can measure through clicks, reach, hashtag performance, engagement, or likes.
Engage On Your Platform: Creating an account won't bring in the clients you need. Instead, you need to allocate time to manage, monitor and post engaging content on your social media channels.
Check Your Progress: Social media strategy is an ongoing process. Continually check your progress and ensure you're meeting the goals you set o0ut to achieve. If something is not working, change the strategy and try again.
Create a Mobile-First Website
Mobile phone usage keeps increasing every single year, making it one of the most popular ways for customers to connect with the businesses they love.
Law firms are capitalizing on this trend by building websites with mobile-first technology. Mobile-first websites are built for mobile users while still adapting to Desktops, iPads, tablets, or other viewing devices. Their adaptable nature ensures that every customer has a high-quality user experience on your website, increasing sales and customer retention.
Use a Call To Action (CTA)
It's essential to not only keep your customer on your website for an extended period. Have them follow through on some action that gets them closer to becoming a paying customer.
Without a proper CTA prompting them to sign up for an e-mail list or set up a consultation, potential clients are not always going to be motivated to reach out to you.
The key to a successful CTA is to provide value to the customer. In exchange, you'll receive their time or personal information. Make sure to use language that is clear and direct, such as "Set Up Your Appointment Today" or "Talk to An Attorney Now."
Invest in Legal Directories
Legal directories are a reputable source of information for clients who require lawyer services.
Online legal directories provide backlinks, attract more online exposure to your law firm, and help to boost your overall online ranking. Listings in these directories are not hard to obtain. Getting listed in one of them can be a game-changer for law firms.