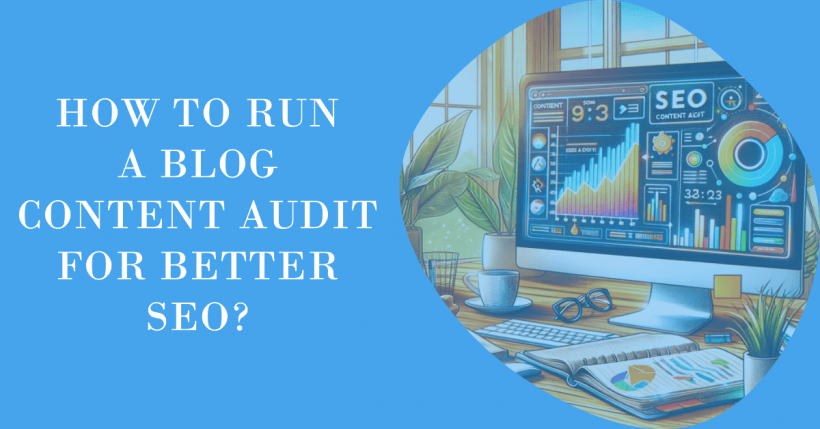 Regularly auditing your blog content is crucial for solid SEO and driving more organic traffic. However, many bloggers don't know where to start when it comes to auditing their content.
We'll walk you through everything you need to audit your blog content. You will learn how to find opportunities and take action to improve your blog's SEO and overall content strategy.
Introduction
Auditing your blog's content regularly is one of the most important things you can do to keep your blog successful long-term.
Without a content audit, it's easy for problems to pile up, from keyword cannibalization to broken links. Not only can this hurt your search engine rankings, but it also affects the user experience on your site.
That's why a comprehensive content audit is so valuable. It highlights what's working well and what needs improvement across your blog content. From blog posts to categories, tags, and pages, a content audit helps you benchmark your content against key SEO and engagement metrics.
You'll learn step-by-step how to audit your own blog content. We'll cover:
Why you need to audit your blog content and the benefits
The key elements to examine in a content audit
How to conduct an audit using free tools and templates
Tips to analyze results and take action on improvements
A solid content auditing process can boost your blog's SEO ranking, traffic, and subscriber retention over the long haul.
Content Auditing Key Takeaways
Auditing your blog content is essential for maintaining strong SEO and driving organic traffic.
A comprehensive audit examines both quantitative and qualitative factors for each content asset.
Set goals, collect data, check SEO, assess engagement, find content gaps, and analyze results.
Use free and paid tools to extract data and automate audits as much as possible.
Turn your audit findings into actions. Develop recommendations and plans for improving content.
Track changes in key metrics over time as you optimize based on
Why Audit Your Blog Content?
Before we get into the specifics of how to audit your blog content, let's look at why it matters:
Maintain Strong SEO
Auditing your content helps you identify problems and opportunities to improve your blog's SEO. This includes things like:
Optimizing target keywords and topics
Strengthening internal linking
Fixing technical SEO issues
Improving page speed
Regular content audits make it easier to maintain strong rankings by staying on top of any problems.
Increase Organic Traffic
By improving your SEO and content quality through auditing, you'll likely see increased organic traffic from search engines.
Poor-performing content can be updated or replaced with better content tailored to your audience. And doubling down on your best-performing posts can help drive more traffic to your site.
Identify Content Gaps
One of the top benefits of a content audit is discovering gaps in your blog's content. This helps you develop ideas for new blog posts and content that will attract and engage your target audience.
Look at the topics driving traffic and see if there are opportunities to expand on them with more in-depth content.
Improve User Experience
Beyond just traffic and conversions, auditing your blog content helps improve the user experience.
You can identify and fix issues like:
Broken links
Missing images
Slow page speed
Content that's too long or short
By creating the best possible UX, you'll increase pages per session and site engagement.
Future-Proof Your Content
No piece of content stays fresh and relevant forever. Your blog posts have a shelf-life before they start to decline in performance.
Auditing content regularly helps you identify outdated posts to refresh or replace. This keeps your blog's library stocked with high-quality, evergreen content.
Now that you know why a content audit is so important, let's consider how to tackle it for your blog.
How to Conduct a Comprehensive Blog Content Audit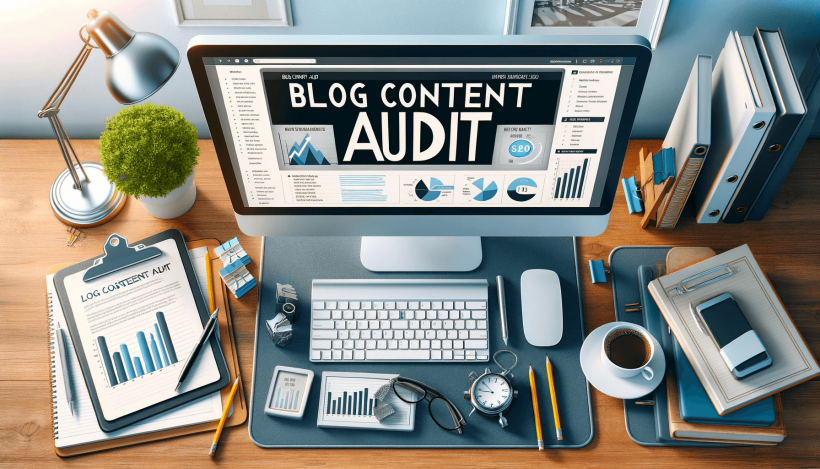 A blog content audit examines both quantitative and qualitative factors across your content.
Here are the key stages:
Set Goals and KPIs
First, determine your goals for the audit and the key metrics you want to track. These might include:
Organic traffic
Search ranking for target keywords
Engagement rates
Links generated
Page speed metrics
Set specific KPIs you want to benchmark content against. This gives you clear targets to aim for with your audit findings.
Make a Content Inventory
Next, make an extensive list of all the content you want to audit. This includes:
Blog posts
Categories and tags
Pages
Assets like images and downloads
Any other content on your site
The more in-depth you go, the better insights you'll get from your audit. But you can start small if needed.
Collect Data
Now comes the data collection phase. For each piece of content, gather essential information like:
Title and meta description
Publishing date
Word count
Target keywords and topic
Images and other media
Links to and from the content
Traffic and engagement (views, CTR, time on page, etc.)
Use your analytics platform, SEO tools, and even manual observation to compile data.
Check On-Page SEO
Analyze the on-page SEO for each content asset:
Make notes on any on-page optimization opportunities.
Assess Engagement and Traffic Value
Now look at how each piece of content is performing:
Pageviews and unique views: How much traffic does the content get? Trending up or down?
Bounce rate: Is the content engaging readers?
CRO metrics: Are visitors taking any desired actions on the page?
Backlinks: How many sites link to the content? Are links follow or nofollow?
Social metrics: Are readers sharing the content?
Search performance: What keywords does the content rank for? How are rankings trending?
Identify high- and low-performing content based on engagement and conversions.
Audit Content Against Goals
Next, benchmark your content against the goals and KPIs you outlined.
How does each piece of content measure up against your targets? Make a list of content that meets or exceeds goals as your benchmarks.
Find Content Gaps
Look for gaps where you could be targeting specific keywords or topics more.
Are competitors ranking for terms you aren't optimizing for? Look at related searches for your posts to find keyword opportunities.
Also, look for ways to expand on existing content by developing it into a larger content hub, series, or pillar.
Research Competitors
Analyze competitors' content strategies:
What topics are they targeting?
Do they have unique content you could create something similar for?
See where competitors are outperforming you to motivate your own content improvements.
Okay, you've collected all the data – now what? The analysis and reporting stage is key.
Analyzing Your Content Audit Results
With your audit complete, you'll have a spreadsheet of data points to analyze. Here are some tips:
Identify outliers. Note any metrics that stand out from the rest – good and bad. Sort content by specific KPIs, like traffic, links, etc., to surface outliers.
Look at historical trends. Is performance improving or declining over time? Month-to-month and year-over-year comparisons are helpful.
Summarize critical findings. Create a summary of key takeaways, including top-performing content, issues, and content gaps.
Make recommendations. Turn your findings into clear recommendations and next steps for improving content. Focus on opportunities with the most significant potential impact.
Create an action plan. Document the specific tasks and tactics you'll put in place based on the audit. Include owners and deadlines.
Share. Present the audit report and recommendations to stakeholders. Get their input on your proposed path forward.
Track changes over time. Track performance metrics and document how they change after you take action. This helps prove the value of your audit.
The most important thing is not just letting your audit data sit there! Use it to shape an action plan for better content and improved SEO.
Content Audit Tools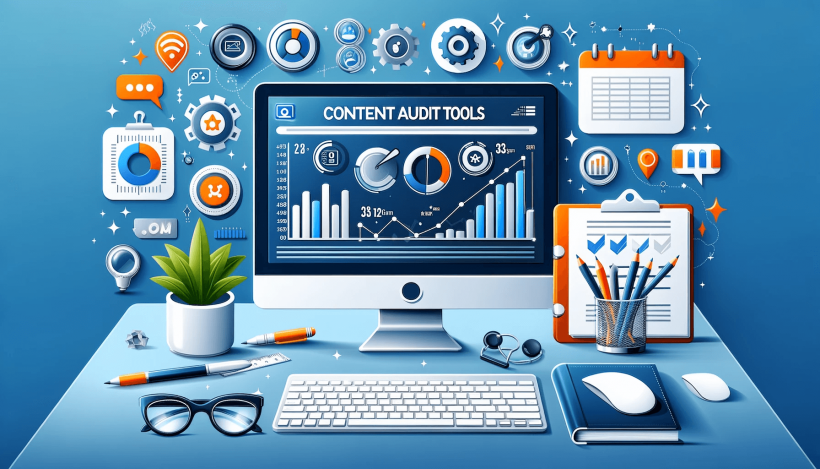 Auditing your blog content manually in spreadsheets is a huge effort. Using tools can automate parts of the process and make it easier.
Here are some of the best free and paid options:
Free Content Audit Tools
Google Analytics: For traffic stats, behavior metrics, top landing pages, and more.
Search Console: Data on search performance, clicks, and impressions.
Google PageSpeed Insights: Checks page speed and mobile optimization issues.
Keyword Planner: Find keyword ideas and search volume data.
Screaming Frog: Spider site to extract on-page factors and HTML data.
XML Sitemaps: View all indexed pages for auditing.
Google Lighthouse: Chrome extension that lets you test page experience metrics like speed, SEO, and accessibility.
Paid Tools
Ahrefs: Backlink analysis, organic traffic, rankings, and content keyword data.
SEMRush: Identify opportunities through competitor and keyword research. Backlink and traffic analysis.
SEO Site Checkup: Complete technical, on-page, and content audits. Custom reporting.
Moz Pro: Rank tracking, keyword research, link metrics, page optimization tools.
Ubersuggest: Keyword research and ideas for new content. Landing page analysis.
Surfer SEO or NeuronWriter: Identify on-page and technical SEO issues. Content keyword data.
Linkody: Backlink tracking and management. Competitor link analysis.
The best approach is using a mix of free and paid tools based on your budget and depth needs.
Let's recap the key steps:
Content Audit Checklist
Follow this checklist to audit your blog content like a pro:
Set goals for what you want to achieve
Make a content inventory of all assets
Collect data on keywords, links, traffic, engagement
Check on-page SEO, including optimization opportunities
Assess engagement and conversion metrics for each content asset
Audit against goals and find high/low performers
Identify content gaps and keyword/topic opportunities
Research competitors' content strategies for ideas
Analyze and summarize audit findings in a report
Make recommendations for improvements and next steps
Develop an action plan for changes to implement
Share audit results with stakeholders
Track changes over time as you optimize
Conclusion
Following a structured blog content audit process can boost your SEO while providing a better user experience.
Now, get out there and start auditing your blog content! Feel free to use the checklist and tips in this guide to audit your blog like a pro.