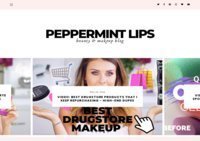 Peppermint Lips is a beauty and skincare blog that has been around since 2011. It is by Sylwia, whose love for everything beauty-related shows through her informative and honest blog entries. She has tutorials on how to apply makeup and also writes about the latest news in the industry. We love how she tests products from both high-end and drugstore beauty brands so we're sure you'll find something that suits your needs. If skincare is more your thing, don't fret. Sylwia also discusses skincare products, from cleansers to face masks and everything in between!
---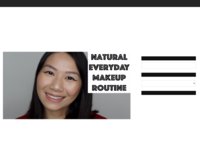 A visit to Beauty in My Mind will put beauty in your mind too! Sophia, the blog's author, is an engaging writer who shares her thoughts and experiences about beauty brands' releases in a fun and approachable way.
Her blog entries include easy-to-follow eye makeup tutorials for girls with small or monolid eyes. You'll also find how-to's on makeup looks that range from natural to glam using easy-to-find cosmetics. Lastly, she has honest reviews on crowd-favorite skincare products. We're sure you'll love Sophia and her blog!
---
Be A Bride Everyday is a beauty, makeup and fashion blog that was started in 2013. I decided to start this blog as a hobby so as to stay close to makeup and skin care happenings. In no time it took the shape of intense passion. Now, my blog caters to every other topic that exists in beauty world. Be it makeup, skin care, nail art, hair care, hair removal, fitness, health diet, you name it and we have it on the blog.
Contact me for more information but till then 'Stay Happy, Stay Pretty', take care !
---
A Canadian lifestyle & beauty blog. Product reviews, Giveaways, Random ramblings, Plus size fashion, Skincare & everything in between!
---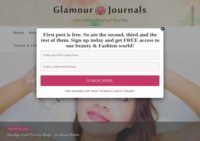 If you want to learn how to do makeup to enhance your natural beauty and look more fashionable, then Glamour Journals is just the blog for you. Whatever look you want to achieve, whether with just eye makeup or full beauty glam, there is a tutorial here that suits your needs. The reviews and makeup hacks are realistic and doable — so much that you will want to try them out for yourself. There are also tips on how to stay fashionable and style the latest clothing items.
---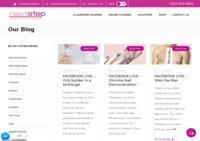 If you're a professional nail technician or a makeup artist, then Next Step Beauty is the perfect resource for you! Aside from step-by-step video tutorials on how to achieve different makeup looks or the perfect manicure, Next Step also offers tips and advice on which products you need to have in your kit. Looking for more than the average makeup tutorial? Sign up for one of the online or classroom courses that Next Step Beauty has to offer.
---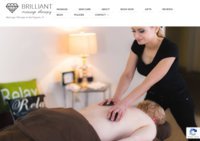 The Brilliant Massage Therapy website is by Jolita Brilliant. She is a nationally licensed and insured massage practitioner. Part of her website is a skincare blog where she dishes out information and advice on the latest facial, beauty, and skincare treatments. Her blogs remain impartial and honest even though she offers many of these services herself. You will find a lot of beauty tips and facts here. She tells you about the importance of incorporating sunscreen in your routine, what to expect from chemical peels, common skin issues, and much more.
---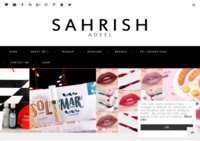 Are you in search of the latest beauty tips and reviews on the newest beauty brands in the market? You're in luck! Sahrish Adeel has all that and more. She's an Asian beauty vlogger turned blogger who discovered her love for writing and taking photos after moving to Malaysia. Her blog is filled with personal experiences about trying makeup and skincare products — reading through them feels like chatting with a friend. Her reviews and natural beauty tips are relatable and easy-to-do.
---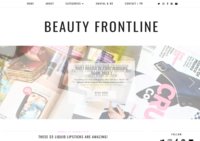 Makeup and Beauty blog, Product Reviews, Looks and tutorials, Skincare
---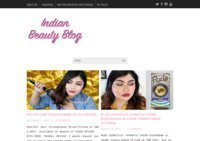 We just love blogs that make life a bit easier for beautiful women all over the world, don't you? The CrazyPopLock is a treasure trove of beauty tips and tricks, reviews, and how-to's to make it easier to keep up with makeup and fashion trends. Here you will find handy reviews of beauty brands that will help you make better buying decisions and increase your chance of finding products that work well for you.
---
A place for all women to gather together to share their love of beauty. There are regular beauty-themed giveaways to enter, beauty product reviews & recommendations, & beauty tips, tricks, & trends!
---
Makeup and Beauty, Fashion makeup tutorials, Health, product reviews, Makeup, beauty, Skincare, Haircare, bath, body. etc.
---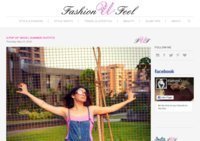 "Do everything in Style or don't do it at all." I love to discover new things and be in the know.
---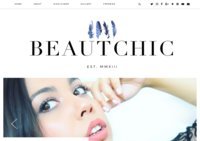 Beautchic is a blog by fashion-loving beauty and makeup geek Helena from the UK. She writes about her favorite fashion, beauty, and skincare finds — churning out fresh content every week. Her style is impeccable and she follows current fashion trends effortlessly. She also shows you how to do makeup to go with your outfit. After reading through this blog, you'll have so many new things you'll want to buy and try yourself. Helena has so much to offer her Beautchic readers with her blogs.
---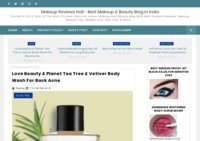 Behind the blog Makeup Reviews Hall is Prerna — she's passionate about makeup and beauty. Because of this, she started her own blog to share her thoughts and experience on beauty and makeup with the world.
Despite its name, Makeup Reviews Hall doesn't just focus on makeup products. You will also find many reviews on proven skincare products to keep your skin smooth and clear. If you're on the lookout for hair care and styling products, you'll find them here too. There are also beauty tips and recipes made out of skincare ingredients you can find in your own home.
---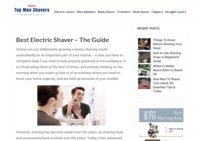 There aren't many blogs out there that offer grooming and beauty tips for men — it's a good thing there's Top Men Shavers. Here, men will find different ways to groom their facial hair and keep it looking great. You might be thinking, "How hard can grooming a beard or mustache be?" The thing is, facial hair isn't all the same. Top Men Shavers has advice for all men out there to keep their 'stache and beard looking great! Whether you want to make your beard look fashionable or just want to groom and keep it clean, there's something for you right here.
---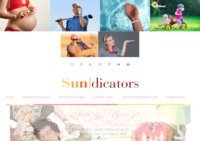 Sundicators was started by Pretty Pale, Inc. to raise awareness about the importance of UV protection in preventing Skin Cancer. The blog started out selling bracelets that alert the wearer when it's time to reapply sunscreen to avoid sun damage. Now, the website also includes a skincare blog that helps teach the public about the importance of sun protection. There are entries on which ingredients to avoid in skincare products to keep your skin from becoming more sensitive to sun damage. There are even features on fashionable wardrobe picks that also protect you from the sun.
Sun protection is super important for your overall health. If you want guidance on this topic, the Sundicators blog is a great resource!
---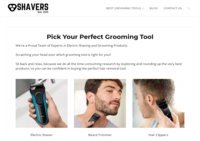 While the blog name Electric Shavers UK doesn't sound like it has much to offer when it comes to beauty tips for men, this couldn't be further from the truth! Barry, the blog's founder, started the blog to review different hair removal products in the market. He saw a need for it when he got tired of the painful cuts and scratches that he acquired from shaving with regular disposable razors. Over the years, the blog developed a unique personality and Sharon, Barry's partner, came on board to help with reviewing products made for women.
Many people incorporate hair removal into their skincare routine. If that's you, then visit Electric Shavers UK and find a review on your next grooming gadget.
---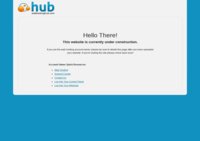 Any makeup and beauty junkie will love Ang Savvy. Whether it's hair, skin, nails, or makeup that you're into, it's here. This blog is by Alyssa Melanie, a makeup geek who is a fan of beauty and skincare blogs herself. She found many of the reviews online lacking, so she started to make her own. Her candor shines through her words and reading through her blog is a breath of fresh air. She has reviews on the newest releases from beauty brands, skincare and beauty tips and recipes, and even a place to browse the latest makeup deals.
---
Behind the blog Fluttering Lashes is Anna, a makeup geek, fashionista, and professional writer from London. Her entries are well-organized and categorized and we're sure you'll find browsing and reading through them a joy. She writes about a multitude of topics, including makeup ideas, ways to keep up with the latest fashion trends, or beauty tips and tricks. Whether you're interested in skincare, makeup, the latest in fashion — whatever floats your boat — we're sure Anna's blog has something for you. Flutter on over to Fluttering Lashes and see for yourself!
---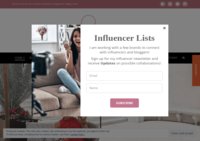 Forever Fearless is an informative and well-written blog in a fashion magazine format. It was started by Miry, who loves beauty, fashion and making others look and feel good. Her positive writing helps give her entries a fun, friendly vibe even as she dishes out the latest about beauty, style, and more. She also shares tips on how to find the best makeup looks that will suit you well! You will also find reviews on new beauty products you might be raring to try.
---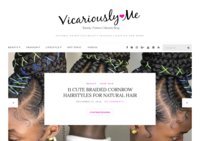 Vicariously Me formerly Glamour143 is my blog all about beauty, fashion and life. I focus on hair with Natural hairstyles tips and trick; Makeup where I offer makeup tutorials through my Youtube channel; nails with nail designs, care tips and tricks and so much more!
---
Our aim is to keep you (and ourselves) up to date on all matters related to hair loss, including the latest news and medical updates as well as providing help and hair care tips for those suffering or concerned about hair loss. Along the way we will also try to debunk some of the many myths surrounding hair loss.
---
Curated by Life is a fun, modern style and fashion blog by Dash, a Czech girl in the UK. She's a fashion geek, so it's no surprise that her blog is filled with wardrobe and style inspiration. Apart from that, she also shares her insights on salon and spa services that you may want to try. If you're a fan of the natural look, you'll find a kindred soul in Dash, who often sports a bold pop of color on the lips and keeps everything else looking natural.
---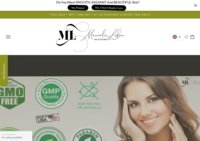 ML Delicate Beauty offers the best natural anti aging face care products. Vitamin C Serum, Stretch Mark Removal Cream & Retinol Moisturizer. Shop our line of organic skin care products.
---
If you have been looking to buy Doterra essential oils or download the newest Doterra product catalog you have come to the right place.
---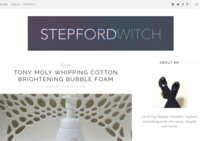 Stepford Witch is an informative beauty and skincare blog by a girl from Manila, Philippines who also calls herself the Stepford Witch. She has a lot of posts about cosmetics and skincare products that she has tried. This blog is filled with helpful beauty tips that you can follow to help you get clearer, smoother skin. Every month or so, Stepford Witch posts her empties. We love this practice as it's practical and keeps products from going to waste! Also, if you're a K-beauty fan, you'll love this blog as it features a lot of Asian beauty products and skincare ingredients. All her reviews are comprehensive too. Score!
---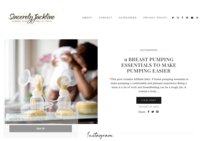 Sincerely Jackline is full of useful information about motherhood, travel, lifestyle, and DIYs. You can get advice on choosing a makeup artist, face mapping, and a makeup tutorial about rocking a neutral eye and bold lip. She will inspire you to step up your skincare game with a mask that uses natural skincare ingredients. Whether you are looking for affordable cosmetics that keep you looking fabulous or need some general tips to achieve the perfect contour and highlight, this blog has you covered.
---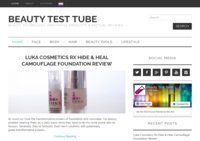 Beauty Test Tube prides itself on its scientific approach to beauty. Behind the blog are two beautiful women — Eva and Katrien. Both of them are committed to reviewing and analyzing different beauty and skincare products and sharing the results of their research with the world. Their blogs are informative and educational because they take extra care in studying beauty and skincare ingredients that go into the products they try. Learn why you should, or shouldn't, try out that hot new item. Bring out your nerdy side, makeup geek!
---
Don't let the name fool you, you'll find something for you here even if you're not a beauty professional. The Pro Makeup Blog is by a fully qualified makeup artist, Emma. In her blog, Emma shares the creative makeup looks she creates on herself and her clients. She also provides insights into the products that she's tried both in her personal and professional kit. Emma also blogs about plus size fashion, and her perspective on style is refreshingly authentic.
---