Get in touch with Headshot London for corporate photography needs. Photographer specializations include PR and editorials, photo retouching, and event photography.
---
Online journal of one of UK's most celebrated photographers, Mark Seymour. See award winning photos as well as documentary style wedding photography and stories.
---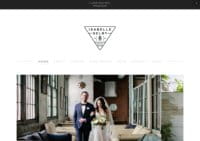 ---
Nikolay Mirchev is a London based professional photographer providing high end, creative photography services on the filed of Commercial, Portrait, Street, Travel, Events and Property photography. With 10 years of experience Nikolay has helped many businesses, organisations and people achieve their goals through the medium of photography.
---
Helping companies look approachable and professional with contemporary corporate photography.
---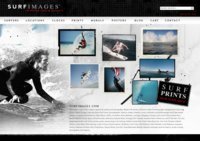 Surf Images is the largest source of surfing stock photography. Get surf prints, royalty free surfing stock photos, beach footage, sea and surfing media, ocean imagery, and sea lifestyle content.
---
Portfolio and service website of James Gifford-Mead, a corporate photographer based in London. He specializes in professional portraits for events, editorial, and business purposes.
---
Anthony Calleja is an Oahu photographer based in Honolulu, Hawaii.
He specializes in family photography on Oahu. Anthony offers fun, memorable, affordable photography services. Choose one of Oahu's beautiful Oahu Seascapes as a backdrop. All of his photo services include an SD Card. This is straight out of the camera. Given at the end of the photo session. Perfect for sharing with family and friends via Social Media. Without any delay. No waiting! All of his Customers receive a Copyright for reprints.
The photographer strives to provide a high level of customer service. Fun memorable photo session experience.
He has 30+ years of portrait photography experience. An A+ Rating with the Better Business Bureau. Anthony has photographed many happy families over the years.
---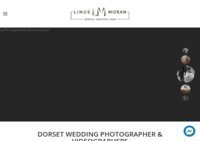 Linus Moran is a wedding photographer in Dorset. Featuring the works of a multi-awarded photography team, and the company portfolio which includes portraits and video coverage from wedding venues throughout the UK.
---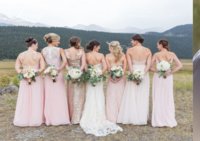 Irving Photography is the website of Mathew and Ariel Irving - wedding photographers from Denver. The duo offers artistic photojournalism combined with magazine-inspired shots of romance and candid moments.
---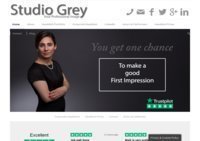 Professional Headshots, Headshot Photography, Corporate Headshots. Professional Headshots: high quality headshot photography reflects business values. Professional Corporate Headshots: make a great first impression!
---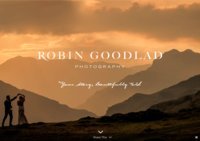 Dorset wedding photographer specializing in documentary wedding photography, reportage photography and wedding photojournalism. Robin Goodlad also offers lifestyle shoots, food pictorials, and landscape photo services.
---
Commissioned professional photographer works in the background, capturing natural images in subtlety and covering weddings throughout the UK.
---
SDE Weddings® provides videography, cinematography & photo booth rental services in the Greater Toronto Area and beyond. Established in 2011 and having served over 1200+ weddings & events, we can help you relive the best moments from your special day so that you can cherish it for the time to come. Check out our Toronto wedding photography portfolio at https://sdeweddings.com/
---
Photographer and short filmmaker Joakim Lloyd Raboff's populaar blog and portfolio.
---
Authentic photography about life and moments captured by Matt and Tish, photographers for all occasions. Whether it's a milestone or a new adventure, Matt and Tish makes it more special.
---
International award winning wedding photographer based in Gloucestershire. Also covering Cotswolds and surrounding areas as well as across the UK. My style of documentary wedding photography is natural, relaxed, fun and creative.
---
---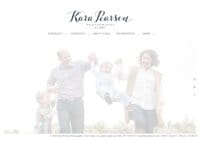 ---
George DeLoache is a professional photographer from Los Angeles, CA specializing in business and corporate headshots, artist and musician portraits, and personal brand images.
---
Josh Wong Photography is a premiere celebrity event, wedding photography and fashion photography studio based in New York City, San Francisco and destinations abroad.
---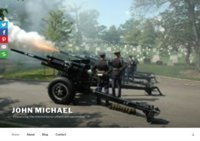 Professional photographer and historian John Michael presents a unique collection of images honoring the heraldry and history of the US military.
---
Photo blog of Shane McDonald that highlights travel photography. Award winning blog from Ireland with a vast gallery that includes landscapes, architecture, and food photography.
---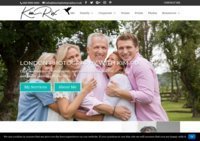 London based, top rated photographer offering photography services for weddings, family portraits, heirlooms. keepsakes, events, and corporate purposes.
---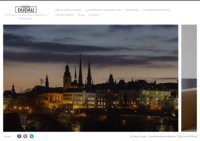 Photographer Vio Dudau, providing professional photo services to private and corporate entities in and around Luxembourg.
---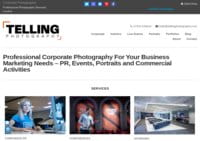 Highly Experienced Friendly Professional Freelance Photographer Business Marketing
---
Professional Maternity, Newborn, baby and Family Photographer based in Milton Keynes
---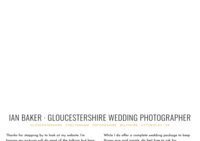 Timeless wedding portraiture from Ian Baker Photography. Professional photographer offering wedding packages, family gathering photos, and photojournalism in Gloucestershire and nearby counties.
---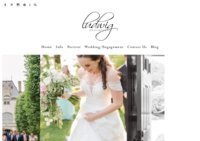 Award winning photographer from Rhode Island offers year-round services for engagements, weddings, family portraits, newborn mementos, home studio sessions, and destination pictorials.
---
Wedding photographer, event planning, and video services for custom beach weddings in Hawaii. Get stylized wedding packages, planning tips, and reservations for various beach venues.
---
Cardiff Wedding Photographer South Wales specialising in fine art wedding photography.
---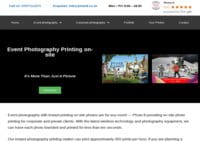 Event photography service with an instant print on-site facility. Our instant photography printing station can print approximately 350 prints per hour. If you are planning a significant event, Photo 8 can set up as many printing stations as need along with professional photographers. Also, we can provide individual password protected online gallery and social media sharing kiosk for your guests and customers.
---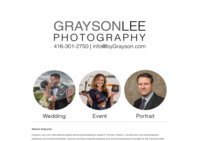 We are a professional photography and design service based in Toronto, Ontario, Canada. We are destination photographers for event, studio, and wedding photography. We specialize in travel and location assignment photography, commercial photography and studio portrait photography for individual, group, family, and baby portraits. We also offer website design and search engine optimization services (SEO). Our studio is located in Toronto.
---
Leading aerial photographer in Texas, expertly capturing aerial images and videos using professional drones. Visit the website for custom aerials, real estate photography, construction progress, drone mapping and more.
---
We are London based Event Photographers, offering bespoke event and party photography services for all occasions, from birthday parties to conference events.
Aparat Images photographs all types of events and parties, across the whole of London and the South East. We adopt a documentary style in our event photography, which means that we take unposed and natural photos, showing real moments.
Whether you are looking for a birthday party photographer, or an event photographer for your large business conference with photo booths and media-walls, we are happy to discuss your requirements in detail and provide a single clear quote.
---
Professional child photographer Melissa T provides portrait services in central Florida and throughout North Orlando. This NAPCP member focuses on newborn, maternity, and family photography.
---
Glasgow based wedding photographer with over 12 years of extensive experience provides high resolution and full copyright, photographic coverage for wedding venues throughout Scotland.
---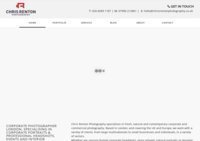 Corporate Photographer London, specialising in headshots & portraits, event photography & interiors.
---
Teskey Mediaworks is a digital creative studio that creates engaging media and product experiences across digital platforms. We produce amazing visuals utilizing visual integration of photography, video, and aerial imagery. We specialize in the architectural sector and in small to medium sized businesses.
---
Wedding photographer Andrea McDaniel offers clean styled portraits highlighted by natural effects. Book online for weddings, family vacations. school events, and other special occasions.
---
Hawaii-based photographer offers services for portrait, real estate, architecture, event, aerial, underwater, wedding, commercial, and product photography. Other specializations include video production, web and graphic design.
---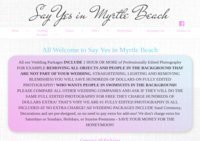 Myrtle Beach Weddings and Wedding Packages http://www.sayyesinmyrtlebeach.com/wedding-gallery/
---
We are a hip and vibrant photography company in Irvine, CA, with years of experience behind us. We know how to come in and rock your wedding photos, making sure that you, and everyone at your wedding, look as good as possible. We offer all kinds of photography options, including single camera, multi camera, color photography, black and white photography, and even videography packages. We assure you that we can, and will, do the best job possible at capturing your special day. If you are planning out your wedding, engagement or anniversary right now, let us be a part of that magic.
---
Art, life, gallery, and poetry of Michael Croghan, a professional photographer from Ireland. Read stories about the images, ramblings, guides, and events.
---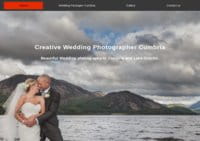 Andon is a wedding photographer based in Penrith.
---
Photo Booth Hire or Photo Booth Rental
---
Ivan Chan is a professional photographer based in Hong Kong. We offer photography at Event and Banquet, Corporate Image, Product and Food, Interior, Pet, Couple and Portrait photography.
---