---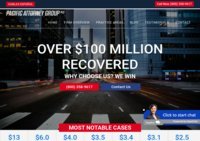 Pacific Attorney Group is a law firm based in Los Angeles, California. We have a perfect track record in handling work accident claims caused by the employers' negligence.
Pacific Attorney Group's areas of practice include vehicular accidents, medical malpractice, toxic exposure, defective products and drugs and more.
---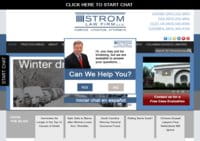 COLUMBIA SC PERSONAL INJURY LAWYER AND CRIMINAL DEFENSE ATTORNEYS
---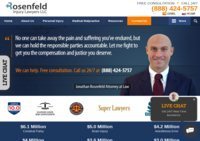 Rosenfeld Injury Lawyers LLC is a Chicago-based, personal injury law firm.
---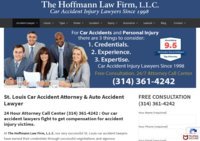 St. Louis, MO Car Accident & Personal Injury Lawyer. If you suffered a severe injury or family fatality in an accident, we can help you recover financially.
---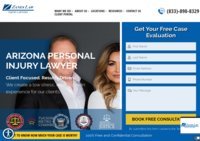 Zanes Law is an Arizona-based law firm that was founded in 2003 by Doug Zanes.
---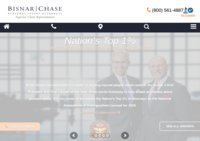 Bisnar Chase Personal Injury Attorneys represent injured plaintiffs in California. We have recovered hundreds of millions for car accident, auto defect & dangerous product clients.
---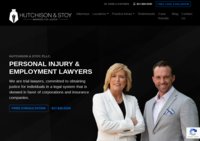 Hutchison & Stoy, PLLC is a personal injury and employment law firm serving the Dallas-Fort Worth metroplex in the state of Texas.
---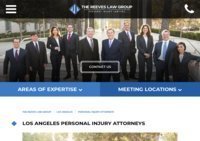 Recognized by Newsweek Magazine as one of the "10 Best Personal Injury Attorneys" in the US, The Reeves Law Group is an award-winning Los Angeles personal injury law firm specializing in accident and injury cases only. Our law firm has successfully handled injury and accident cases from lawsuits to settlements for over 30 years and have helped thousands of clients achieve satisfactory results for their accident claims and get the compensation they deserve.
---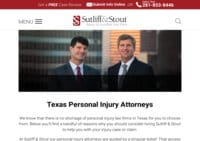 We know that there is no shortage of personal injury law firms in Texas for you to choose from. Below you'll find a handful of reasons why you should consider hiring Sutliff & Stout to help you with your injury case or claim.At Sutliff & Stout, our personal injury attorneys are guided by a singular belief: That access to competent legal representation is a fundamental right. If you or a loved has been seriously injured, we want to help.
---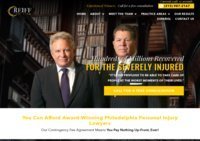 Reiff Law Firm handles a wide variety of claims and lawsuits, which include injuries from assault, aviation accidents, products and premises liabilities, wrongful deaths and survival actions, and more.
---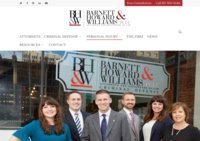 ---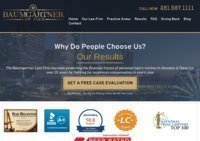 The Baumgartner Law Firm has been committed to protecting the rights of personal injury victims for the past 35 years. Founded in 1985, we focus on cases that have resulted in serious injury or loss of a family member.
---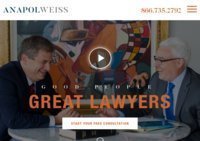 Anapol Weiss is a Philadelphia personal injury law firm located in the heart of Center City. Our commitment to giving every victim a voice is at the heart of all we do. We are dedicated to obtaining justice for those who have been injured or wronged, speaking out for them, and getting their voices heard.
One Logan Square 130 N. 18th St. Ste. 1600
Philadelphia, PA 19103
---
Pace Law is a top rated personal injury law firm serving the people in Toronto and GTA regions to help get them justice and safeguard their rights. We help our clients all personal injury cases such as car accident, slip and fall, dog bites, battery charge and disability claims. With more than 35 years of experience, Pace Law gives customers solid and educated direction on where the case stands and stays by you till the end while you focus on your health. Get in touch with one of your lawyers today before time runs as most cases are time sensitive these days! For more information, please visit our website at https://pacelawfirm.com/
---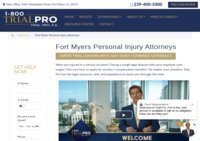 Our personal injury attorneys go out of their way to make sure that accident cases are processed fast and properly so that our clients are ensured a positive path to recovery. Our Ft. Myers car accident attorneys have effectively represented accident victims and passengers in pretty much every imaginable vehicle accident scene. From head-on accidents , rear-end accidents, motor bike wrecks, drunk driving collisions, hit and runs, trucking collisions, bicycle traffic collisions, incidents with rider-share vehicles, perhaps even uninsured and under-insured motor vehicle collision cases.
Trial Pro has seen and dealt with all forms of auto accidents claims. Our Ft. Myers auto accident attorneys have 100+ years of collective experience and have obtained millions of dollars in settlements and verdicts for auto accident clients.
Trial Pro, P.A. Ft. Myers Personal Injury Attorneys
9341 Marketplace Rd, Fort Myers, FL, 33912 USA
(239) 400-5000
Hours of Operation: 24/7
help@trialpro.com
https://www.trialpro.com/fort-myers/
---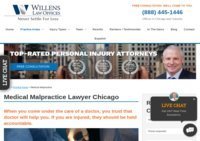 Willens Law Offices is a law firm based in Chicago, Illinois.
---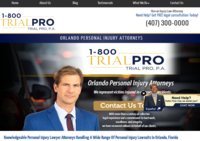 Trial Pro P.A. is pleased to provide excellent service and value long-term relationships with our clients across the State of Florida, including our Central Florida office located at 250 N Orange Ave 14th floor, Orlando, FL 32801 Our fully committed trial and personal injury attorneys deal with a variety of legal cases, from Slip and Fall Injuries to car accident lawsuits. Contact us Today (407) 300-0000
---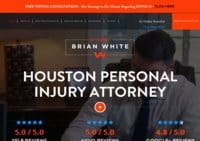 Attorney Brian White & Associates, P.C. is a top personal injury law firm helping injury victims in Houston, TX. With over 45 years of combined experience, we have handled all personal injury matters including car accidents, truck accidents, motorcycle wrecks, slip and fall injuries, and more.
---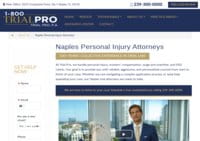 Trial Pro, P.A. is honored to provide exceptional service and value long-term relationships with our clients all over the State of Fla, including our Naples office. Our committed trial and personal injury lawyers manage a variety of legal issues, from employment legal disputes to accident insurance claims. Our team can use our knowledge and legal skills to assist you not only achieve a favorable outcome, but relieve the legal burden from your shoulders simultaneously. Our whole team comprehends how overwhelming and difficult judicial proceeding might be, and that is just why our team is ready for our clients through each and every phase of the suit.
1019 Crosspointe Dr Suite 1
Naples, FL, 34110 USA
(239) 300-0000
Hours of Operation: 24/7
​help@trialpro.com
---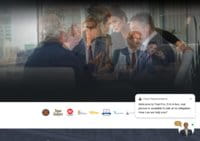 Are you looking for an Injury Law Firm near you?
If you are hurt, we understand you may not be capable to visit our offices. If you're unable to come to us, our experts can come to you!
Trial Pro, P.A. works with Floridians in a variety of personal injury judicial matters. Our practice areas include all types of injuries; motor vehicle collisions, motorcycle accidents, wrongful death claims, slip-and-fall accidents, semi-truck collisions, construction injuries and workers comp accidents. With offices in Orlando, Tampa, Melbourne, Naples and Ft. Myers Trial Pro, P.A. provides strategic guidance and counsel to clients in areas such as Holden Heights, Mount Plymouth, Hunters Creek, Drew Park, Port Tampa, Rattlesnake and throughout Florida. Contact our law firm for a complimentary and confidential assessment of your case.
Soon after a serious auto collision, wreck, or other injury-causing circumstances, injured people and their loved ones are in many cases confronted with significant expenses and an unpredictable foreseeable future. In the middle of this time, the lawyers and staff at Trial Pro make the effort to provide effective legal support and representation that advocates for the very best possible benefits on each client's behalf. Our expert Tampa injury lawyer team has a past record of successfully pressing our defendants into settling a large number of our claims for optimum compensation, without a trial.
Need to File Injury Claim after an Accident? Talk with our Expert Tampa, FL Injury Accident Attorneys Call Trial Pro Without delay for your free initial assessment - 800-874-2577
Trial Pro is proud to advocate for clients all over the State of Fla, including our office in Orlando. Our fully committed trial and accident lawyers manage a range of judicial cases, from work disputes to traffic collision suits. We can utilize our expertise and legal skills to assist you not only attain a favorable outcome, but alleviate the legal stress from your shoulders too. Our whole firm is aware of how strenuous and puzzling a lawsuit can be, and that is just why our firm is here for you through every single stage of the legal process.
Our Firms Knows that it is hard to pursue an injury or an auto accident claim without the know-how provided by an experienced and competent legal professional. The right lawyer can help you identify exactly how the documentation of your insurance claim supports your eligibility to pursue compensation. Considering to unravel this by yourself can be really frustrating given the already serious ramifications you are coping with in the wake of a collision. Our Law Firm knows how to assemble this information and fight for you.
What Are the Most Common Forms of Personal Injury Lawsuits?
Car Accidents
Whether your loved one was the injured party of a collision triggered by a drunk driver, an over-worked truck driver, or a reckless biker, our Tampa wrongful death attorneys can help.
At the law office of Trial Pro, P.A., we represent clients who have been hurt in any type of motor vehicle collision.
Medical Malpractice
The negligence of health care providers, nurse practitioners, medical centers, and other health-related professionals can, and regularly do, cause significant personal injuries. There are various varieties of medical malpractice, including misdiagnosis, poor treatment method, surgical errors, medication mistakes, pharmacy errors, labor injury (errors made during the delivery of a child), and failure to diagnose many forms of cancer or other serious health problems. Medical malpractice cases are challenging and demand the expertise of a medical malpractice lawyer. If you have been injured or lost a loved at the hands of a healthcare specialist, it crucial to retain an expert attorney who can promptly analyze the possible malpractice and, if necessary, aggressively seek legal action to compensate you for your injuries and losses.
Wrongful Death
As its name signifies, the phrase "wrongful death" describes a kind of suit that may be brought when someone else has been killed due to somebody else's carelessness. A lot of wrongful death claims develop out of automotive and truck wrecks, nursing home neglect, medical malpractice, construction accidents, airplane collisions, or the use of a unhealthy or dangerous products or services. A wrongful death suit allows for the recovery of damages that are unique and different from those attainable when somebody suffers non-fatal injuries.
Workplace Accidents
When someone is injured or killed while doing the job for their employer, they generally are not allowed to bring a personal injury lawsuit against their workplace. On the other hand, the injured worker must set in motion a claim under the Florida Workers' Compensation Act, which requires employers to provide various benefits to their injured or hurt staff members. These consist of medical treatment, "temporary total disability" (i.e., salaries), and a lump-sum settlement, typically known as "permanent partial disability," to compensate the injured employee for his/her personal injuries. Workers' compensation law is different from one state to another and has various potential barriers and pitfalls. A knowledgeable Workers' Compensation Attorney at Law in Tampa will assist you through the process and ensure your legal rights are secured.
Premises Liability
"Premises liability" refers to injuries brought on by a dangerous or bad condition on another person's land. These kinds of accidents can occur nearly in any place, from industrial buildings which includes mall, fast-food places, gasoline stations, commercial centers and retail stores, to a next-door neighbor's residential property or a public or private pool. A vast array of faulty or dangerous conditions can give rise to a "premises liability" claim, varying from falling down a stairs as a result of a missing handrail, to slipping over an obstacle or tripping on a spill in a walkway or corridor, to getting bitten by a canine, among several various other. It is vital to record the unsafe or defective condition as after the injury as possible. A personal injury lawyer in Tampa will help you do this and guard your rights throughout the legal process.
Products Liability
Harmful and faulty products can lead to major injury in the home, in public locations, and at work. Improper cautions and operation manuals can also result in injuries. Good examples of harmful products include dangerous drugs, food, consumer products or services, and children's' toys; faulty vehicle parts and clinical devices; and toxic substances and chemicals. Responsible parties can be individuals, businesses, or government bodies who retailed, designed, produced, or advertised a unsafe or faulty product. If you have been injured by an unsafe product, it is essential to reach out to a knowledgeable attorney at law to evaluate the unsafe item, recognize the responsible parties, and assure that you receive maximum compensation for your products liability injuries.
Additional Types Of Injury Disputes
Additional varieties of accident lawsuits consist of retirement facility abuse or neglect; recreational vehicle injuries like drone personal injuries, airplane accidents and marine accidents like jet skis accidents; exotic pets bites; and the regular dog attacks; brain, birth, burn and spinal cord personal injuries; other catastrophic accidents and injuries; food poisoning; asbestos exposure and mesothelioma; legal malpractice.
Our mission is to make it possible for our clients to relax and prioritize recovery, understanding that the professionals at Trial Pro has the experience and resources to properly deal with all the judicial details associated with their lawsuit. Our team keep our clients updated on the status of their suit throughout each step of case proceedings.
As a company, Trial Pro, P.A. is client-centered. Our firm take great honor in being a trusted option for victims of personal injury across Fla and perform to maintain our track record of success. We take a hands-on stance on each and every of our clients' cases and leave no stone unturned in our pursuit of justice on their behalf.
To consult with a Tampa injury legal professional - Contact us at (800) 874-2577 for a no cost assessment regarding your Tampa accident dispute.
We Don't Get Paid Until You Get Paid
At Trial Pro, our accident attorneys operate on a contingency fee basis. This means our experts cover the expenses of investigating, constructing, negotiating and litigating your insurance claim. We do not charge you anything unless we recover compensation on your behalf. If we don't win your claim, you will pay us nothing.
Our Tampa injury attorneys also provide no charge evaluations to assess the specifics of your claim and establish if you have a lawsuit. Set Up a Free Consultation
If you or somebody else you love has been injured due to someone else's negligence or carelessness, you need a good lawyer by your side who is knowledgeable with the statutes and laws in Florida.
Our Tampa injury legal professionals are skilled in injury lawsuits and have been recognized by our peers for our accomplishments. Several of our attorneys have been mentioned as Super Lawyers and distinguished litigators for their accomplishments in behalf of our clients.
We have recovered desirable verdicts and settlements that were instrumental in assisting our clients bounce back from their personal injuries or the loss of a loved one. Let us help you recover the max amount of compensation you deserve for your personal injuries.
---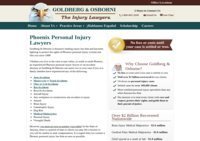 Goldberg & Osborne is a dedicated plaintiff's personal injury law firm with 21 offices throughout the state of Arizona. Our Phoenix personal injury lawyer team is located across six offices within Phoenix city limits. An additional four offices are within the Phoenix metro area. Contact us for a free case evaluation.
Goldberg & Osborne
4423 E Thomas Rd #3
Phoenix, AZ 85018
(602) 808-6200
---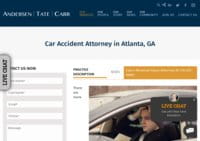 For over 30 years, Andersen, Tate & Carr has set the standard for legal excellence in greater Atlanta. Through our collaborative approach, we are able to provide full-service representation to businesses and individuals alike. We are committed to the community we serve. We are committed to you.
---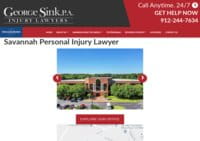 If you suffered injuries in an accident caused by someone else, you have the right to pursue legal action and collect a settlement for your damages. Our team at George Sink, P.A. Injury Lawyers have helped clients pursue legal action and collect damages for their injuries for more than 40 years. You may collect damages like medical bills, lost income, pain and suffering, and more.
---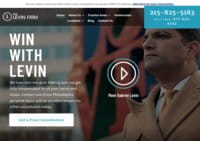 Philadelphia Personal Injury LawyersAt The Levin Firm, we take fighting for accident victims seriously. We are passionate about our jobs and helping people get back on their feet. When you call for a free consultation, you will speak directly with an experienced attorney. That attorney will handle your case the entire time and will be available to you throughout the process.We want to get to know you, and we want you to know your lawyer. When you call in with a question, your lawyer gets on the phone. It is this kind of personal service that will make your experience at The Levin Firm exceptional, and it is what separates us from the rest.
---
Each injury client is assigned a team of Chicago personal injury attorneys that will focus its time on that specific case. On our staff, we also have a physician who holds a law degree, and he can accurately examine your injuries to determine the number of damages to seek for your case.
---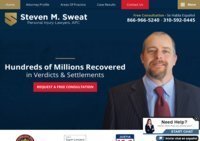 Los Angeles personal injury attorneys helping victims of auto accidents and other events resulting in bodily injury or harm as the result of negligence.
---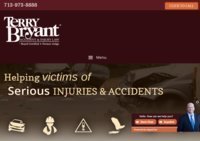 ---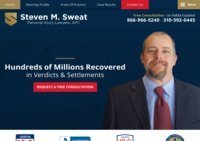 Steven M. Sweat has received numerous awards and accolades over the past two decades. These include Thomson Reuters News Service and Los Angeles Magazine's Super Lawyer, National Trial Lawyers Top 100, The Litigator Awards, Best Attorneys of America and Ethical Lawyers of America.
---
Timothy J. Ryan is an experienced personal injury attorney serving California injury victims since 1981.
---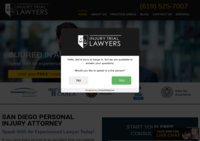 San Diego personal injury lawyer Richard Morse III and his team have over 22 years experience helping those injured in an accident. We handle all accidents including car accidents, motorcycle accidents, dog bites, pedestrian accidents, wrongful death claims, and more. Call for a free consultation.
---
Ian Silverthorne the premier personal injury lawyer in Orange County, CA. Silverthorne Attorneys posts regular blog articles on car accidents, dog bites, wrongful death and pedestrian accident law.
---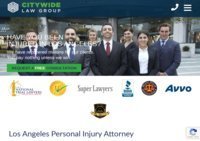 Citywide Law Group is a personal injury law firm serving all of Los Angeles, CA. We handle all personal injury matters including car accidents, motorcycle accidents, dog bites, pedestrian accidents, wrongful death claims, and more. Call today for a free consultation.
---
San Diego personal injury lawyer Richard Morse III and his team have 21 years of combined experience helping people injured due to someone else's negligence. Call Injury Trial Lawyers, APC today to find out how we can help you. We offer a free consultation and get paid nothing unless you win.
https://getinjuryanswers.com
"Injury Trial Lawyers, APC
1230 Columbia Street Suite 560
San Diego, CA 92101
(619) 525-7007"
---
Bakersfield personal injury attorneys Sherwin Arzani, Oliver Naimi, and their team have over 20 years helping those injured due to someone else's negligence. We handle all accidents including car accident, bicycle accidents, dog bites, motorcycle accidents, pedestrian accidents, and wrongful death claims. Call for a free consultation.
---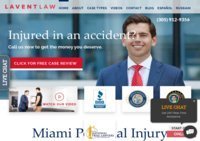 Boris Lavent is a Miami personal injury attorney with a proven track record of fighting for his client to make sure they get the money the deserve after an accident. Call Boris today if you've been injured due to someone else's negligence. We offer a free consultation. Call (305) 440-0450 today!
https://www.laventlaw.com
Lavent Law
17295 NE 19th Ave
North Miami Beach, FL 33162
---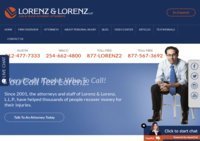 Lorenz & Lorenz, LLP is leading Texas personal injury law firm with offices throughout the state. We handle all personal injury matters including car accidents, dog bites, motorcycle accidents, bicycle accidents, wrongful death claims, and more. We have collected millions of dollars for our clients. If you have been injured in an accident, call us today for a free consultation. We are available 24/7 to take your call.
---
Mirman, Markovits & Landau, PC is a top New York City personal injury firm with over 200 years of experience. Our attorneys have recovered over $1 billion in awards and settlements for their clients. We only practice personal injury and have experience with all sorts of personal injuries. Some cases that we handle include car accidents, construction accidents, pedestrian accidents, train accidents, slip and fall injuries, and more. We are conveniently located in Tribeca, but handle cases in all five boroughs and Nassau, Suffolk, and Westchester counties. Contact us today for a free consultation.
---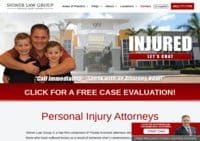 ---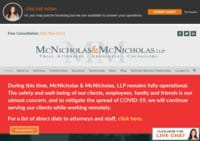 Personal injury lawyers in Los Angeles representing victims of auto accidents, defective product and more throughout Southern California.
---
Miami personal injury attorney providing the latest in personal injury litigation through educational, resourceful and informational content.
---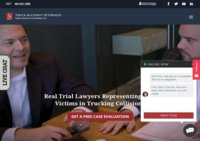 Fried Rogers Goldberg, LLC has over 75 years of combined experience handling truck accidents.
---
The Fernandez Firm is a leading personal injury law firm with over $90 million in jury verdicts and negotiated settlements in Florida.
---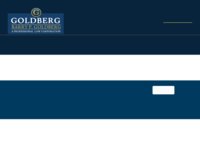 Barry P. Goldberg grew up in the Woodland Hills/Tarzana area and attended the University of California at Los Angeles, obtaining the degree of Bachelor of Arts, with a major in Political Science. He received his Juris Doctor degree from Loyola Law School Los Angeles in 1984 and was licensed to practice in California that same year. Mr. Goldberg was admitted to practice in all the courts in California, including all federal district courts and the Ninth Circuit Court of Appeals. Mr. Goldberg has successfully handled numerous trials, hundreds of arbitrations and mediations, and argued matters before the California Court of Appeal and the Ninth Circuit Court of Appeals.Mr. Goldberg gets regular calls from other practicing attorneys on areas of his particular expertise—Uninsured Motorist Arbitrations and Underinsured Motorist Arbitrations. Mr. Goldberg is a recognized authority on Uninsured Motorist and Underinsured Motorist Law in California. He is considered the Los Angeles Uninsured Motorist Law Attorney expert.
After 30 years of consistent practice, Mr. Goldberg has garnered many awards, including a SuperLawyer designation, AVVO 10 rated Superb, AVVO Client's Choice Award, AVVO Top Contributor, a 10 Best Award, and nomination as a "Trusted Advisor Award" by the San Fernando Valley Business Journal. Additionally, Mr. Goldberg was elected to serve as on the Board of Trustees of the San Fernando Valley Bar Association. Barry is now the Executive Secretary of the San Fernando Valley Bar Association.
---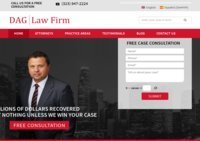 The Law Office of Daniel A. Gibalevich is known for their compassionate service and aggressive representation of victims of vehicular accidents, premises liabilities, injury claims and compensation. Our firm was founded in 2001 and has successfully won millions of dollars in claims for our clients.
---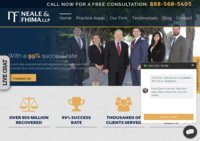 Neal & Fhima, LLP have 40 years of combined experience and have handled thousands of cases in California.
Our offices are located in Dana Point, San Diego, Los Angeles, and San Francisco.
Our aggressive legal representation has resulted in over $50 million in settlements.
---
At The Dixon Firm, P.C., we understand this impact and have made it our life's work to tilt the scale back in favor of those wrongly injured by others. We are steadfast in our commitment to results, and that commitment does not end if your case does not settle. At our hearts, we are trial lawyers. So if the negligent party does not do right by our clients, we have the ability to present the case to a jury and let the citizens bring justice.
---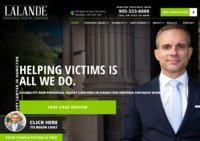 Lalande Personal Injury Lawyers is dedicated exclusively to representing victims of injuries and accidents and have secured millions of dollars by way of settlement, jury verdict, bench trials and arbitration awards for their clients. We have been representing injured victims in the Hamilton areas for the past 15 years.
---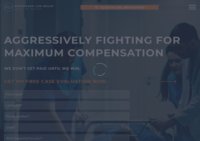 Rosengard Law Group is a leading personal injury law firm with offices in New Jersey. We FIGHT to protect the rights of the injured. We will aggressively pursue your case to WIN maximum compensation. New Jersey car accident lawyer
---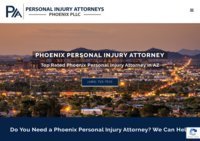 Personal Injury Attorneys PLLC represents victims of injuries in the Phoenix, Scottsdale, Mesa and Glendale, Arizona areas. Our firm offers legal representation for victims of vehicle accidents, wrongful death, slip and fall, dog bites, brain and spinal cord injuries and more.
---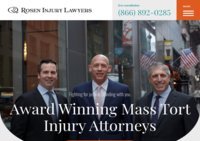 Rosen Injury Lawyers is devoted to helping victims who have been injured through no fault of their own. Whether you or your loved one has been harmed due to a dangerous pharmaceutical or defective medical device, we are ready to get you the justice you deserve.
---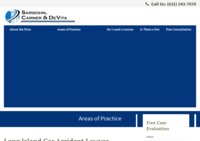 ---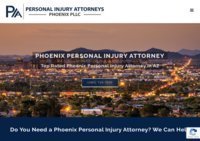 Personal Injury Attorneys PLLC are proud to represent clients in the Phoenix, Scottsdale and Tempe areas with their personal injury related needs. When it comes to the wide spectrum of personal injury lawsuits and the complications that can arise when faced with such challenges, call on attorney Ben Wright to assist you with your claim and be on your way to health, justice and security. We offer a free injury consultation.
---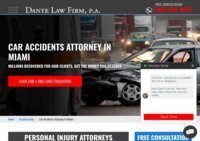 Dante Law Firm is a leading personal injury law firm dedicated to protecting injured victims and families who have lost their loved ones as a result of someone else's negligence. We do not represent insurance companies, doctors or hospitals. Our law firm handles a wide range of personal injury accidents and wrongful death cases.
---
The Embry Law Firm is an experienced firm handling Personal Injury, Adoptions, Artificial Reproductive Technology and Mediations throughout the state of Georgia. We provide dedication and close attention to our client's matters, to ensure that our client's needs are fully addressed. Using our wealth of experience, our firm can guide you through your matter in the manner that best protects your interests.
---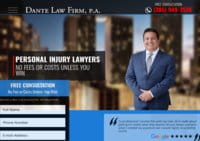 Dante Law Firm is a leading personal injury law firm dedicated to protecting injured victims and families who have lost their loved ones as a result of someone else's negligence. We do not represent insurance companies, doctors or hospitals. Our law firm handles a wide range of personal injury accidents and wrongful death cases.
---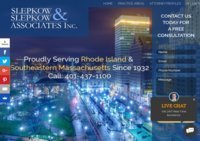 Slepkow, Slepkow & Associates, Inc., established in 1932, is among the most respected law firms in Rhode Island. Our experienced lawyers provide legal representation for personal injury cases which include premises liability, wrongful death, slip and fall, workplace accidents and vehicle collisions.
---
If you have become a victim of negligent driving in Clearwater, the team at Catania and Catania is standing by to take your case, defend your rights, and help you pursue financial compensation for your damages.
---
Plevin & Gallucci has experienced Ohio attorneys who deal with cases involving medical malpractice, product liability, workers' compensation, nursing home abuse, disability benefits, and personal injury cases.
Plevin & Gallucci has offices located in Cleveland, Columbus, and Waverly.
---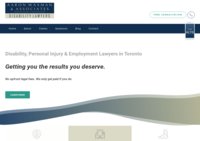 ---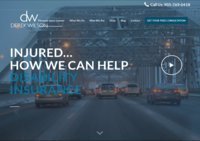 Derek Wilson Law is a personal injury law firm in Hamilton. Derek has practiced on both sides of personal injury law which is why he is focused on helping those who have been injured or denied an insurance claim.
We're not the biggest firm out there because we don't want to be. We understand when you're going through a hard time, it's important to be surrounded by friends, family and people who have your best interests at heart. That's tough to find in a large law firm where you are just another number.
At Derek Wilson Personal Injury Law, we're honest, we care about our clients, we know their names, and we fight for them.
Contact us today to get a FREE CONSULTATION and let's see how we can help you heal your hurt.
---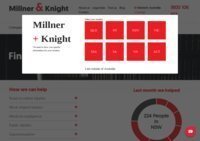 Australian Accident Helpline specialises in all types of personal injury compensation, we believe that people who have been injured in an accident should have free, and easy access to legal advice
Our service is 100% No Win, No Fee, so anyone who makes a claim with us will never be left out of pocket when using our services. We'll let you know straight away whether you're able to make a claim with us. Our guarantee means that if for any reason your case is lost, you won't have to pay a penny.
---
Vogel LLP is a boutique law firm in Calgary, Alberta serving cases relating to Personal Injury such as bone fractures, brain injuries, car accidents, wrongful deaths and more.
---
If you seek legal representation or would like more information about my legal services in Cook County, contact my office today to set up your free initial consultation. Please call 312-236-7282
---
---
LA Jewish Lawyer is a network of top Attorneys in Los Angeles California. As you well know, sometimes life has its unpleasant moments, and in many cases the drama and tragedy could have been prevented, but for the negligent or even intentional acts of another person.
LA Jewish Lawyer offers you access to the Best Lawyers in Los Angeles, to ensure that your rights are being exercised and to get you compensation when it is deserved. You need to be well-represented, and our lawyers are tenacious and aggressive when it comes to using the law to help you.For access to that knowledge, experience and the best lawyer service, simply call (855) 977-1212 for a FREE Consultation Lawyer and one of our network's LA Jewish Attorneys in Los Angeles will tell you right away whether you have a good legal case.
But that's not all, our lawyers also work with a wide variety of litigation matters, so if you think you have a case, and need skill and experience on your side, just call us. LA Jewish Lawyer is here to help you. Our network directory of lawyers is ready for your calls and emails. Pick up the phone and or send us an email and we will do our best to "kosher" things out.
Accident Injury Attorney Los Angeles
Personal Injury Lawyer Los Angeles
Slip and Fall Lawyers Los Angeles
Employment Lawyer in Los Angeles
Workers Compensation Lawyer
Criminal Defense Attorney in Los Angeles
Family Law Attorney Los Angeles
DUI Attorney in Los Angeles
Collections Lawyer in Los Angeles
Enforcement of Judgments Attorney
Child Custody Lawyer Los Angeles
Tax Attorney in Los Angeles
---
Established in 2010, the Patrick Toscano Law Firm specializes in personal injury cases in San Antonio, Texas. Whether you've been hurt in a car accident, a construction accident or because of medical malpractice, you may be entitled to reimbursement for medical bills or lost wages and lost future earnings if you cannot go back to work after your accident.
---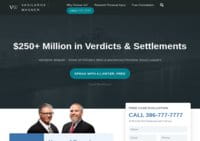 Vasilaros Wagner, Daytona Beach injury attorneys, have been fighting for the rights of personal injury victims for more than 40 years. Whether you have been involved in an auto accident, a slip/fall, or lost a loved one, our law firm has the experience, knowledge, and commitment to help you recover the compensation you deserve.
---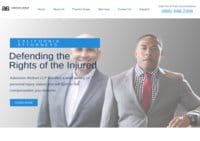 Adamson Ahdoot LLP combines the personalized attention you receive from a small firm with the knowledge and expertise of a large firm, to secure you the best outcome possible. At Adamson Ahdoot LLP, our attorneys are highly skilled in numerous areas of law. We are capable of handling all aspects of civil litigation, from the inception of the case through trial.
---
Julie Butcher has been providing personalized service and representation since 2003. With over 2 decades of experience, she has successfully helped victims win cases across Kentucky.
---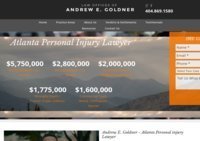 The law Offices of Andrew E. Goldner is committed to handling serious injury and wrongful death cases caused by tractor-trailer and auto collisions, daycare negligence and child injury, and premises assault.
---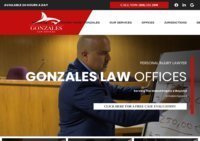 Personal Injury Lawyer in San Bernardino County.
---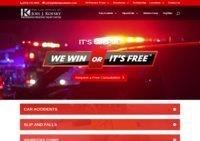 In Philadelphia, over the past twenty years, the attorneys at the Law Offices of Joel J. Kofsky have assisted individuals who have been hurt in all kinds of accidents. Our attorneys have worked relentlessly to resolve these injured victims claims and help them receive the compensation they deserve.
Over the years, our experienced Philadelphia accident lawyers have successfully collected millions of dollars for our clients, and in several cases won six figure settlements for our clients. Our firm has never represented an insurance company or a large corporation, because our attorneys work exclusively on behalf of accident victims to help them with their claims. We are committed to working alongside individuals and to help them with their personal injury claims and to ensure that they receive enough financial compensation to cover their medical bills, property damage, and other expenses.
---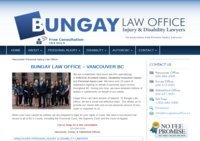 Bungay Law Office is a Vancouver-based law firm that has been providing personal injury legal assistance for almost 2 decades. We specialize in motor vehicle accidents and slip and fall injuries. Our small and dedicated team guarantees a personal approach to lead you through the settlement procedures.
---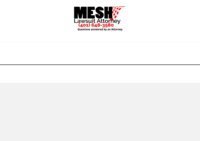 We are reviewing potential cases of defective hernia mesh, made of non-absorbable polypropylene that may have caused injuries, including:
Ethicon Physiomesh™
Atrium C-QUR
Composix® Kugel® mesh patches (manufactured by C.R. Bard subsidiary Davol)
All C.R. Bard mesh patches made of Marlex polypropylene
---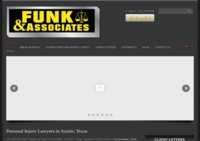 The personal injury lawyers at Funk & Associates, in Austin, Texas, represent injured clients in Car Accidents, Truck Accidents, Motorcycle Accidents and other Personal Injury Claims. Speak with an Attorney before you accept a settlement.
---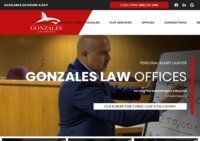 Personal Injury Lawyers in San Bernardino County
---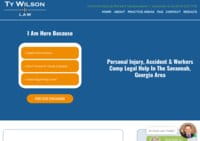 At Ty Wilson Law, we are dedicated to educating Savannah, Georgia residents on best practices when dealing with personal injury claims and workers' compensation claims.
---
Located in Middle Georgia, Nelson & Smith attorneys at law serve the cities of Macon, Dublin, Hawkinsville, Tifton, Cordelle and Warner Robbins: Car and big truck accidents, workers compensation and more.
---
Attorney Patrick Mead is a Massachusetts (MA) personal injury lawyer. We sue for our clients who have been injured: injuries suffered at work, injuries on the job, car accidents, motorcycle accidents, wrongful death, surgical errors, teen car accident lawyer, medical malpractice attorney for mass.
---
Pascoe Law Firm helps personal injury victims who were injured in a car accident, truck accident, 18 wheeler accidents, or motorcycle accidents.
---
Personal injury lawyers serving Wheaton, Aurora, Naperville, Glen Ellyn, Elmhurst, Downers Grove, and Chicago. Contact us today for your free case review.
---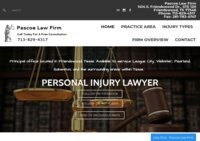 Pascoe Law Firm helps injury victims and their families who have been injured in car and truck accidents.
---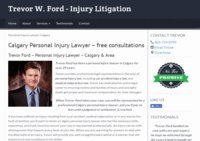 ---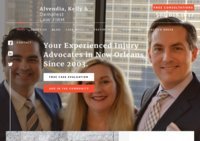 AKD Law, Alvendia, Kelly, & Demarest, has succeeded in recovering tens of millions of dollars for their clients in landmark individual personal injury and class action cases. AKD Law consistently provides personalized, compassionate service to their clients while aggressively pursuing just compensation for damages.
---
Reviews of the Best Local Attorneys
---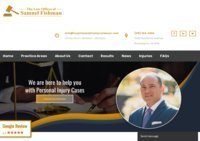 ---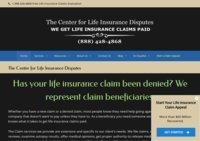 The Center for Life Insurance Disputes provides assistance and representation for people who have denied or delayed insurance claims. The company specializes in refunds and returns from life insurance disputes.
---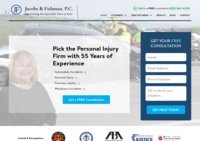 At Jacobs & Fishman, P.C., our attorneys have more than 80 years of combined experience in personal injury law in the Philadelphia and western suburbs, including Conshohocken.
---
Los Angeles Accident Law Center provides news, resources, and information for anyone who has been injured in an accident due to someone else's negligence in Los Angeles. We update the site on a regular basis.
---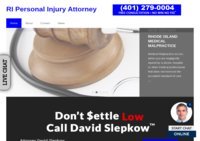 David Slepkow offers information on personal injury claims which include insured and uninsured vehicle accidents, wrongful death, work injuries, medical malpractice, assault, disability, and similar cases.
---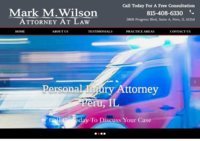 Mark Wilson has been providing decades of professional legal counsel to the Peru IL area in the practice of Personal Injury.
---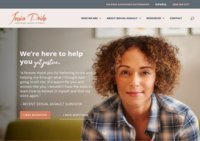 The Pride Law Firm are premiere sexual assault attorneys helping survivors everywhere get the justice they deserve. Contact us today.
---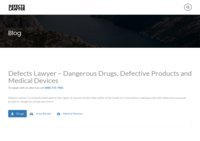 Rhode Island personal injury attorney provides legal assistance for victims of automobile, bike, and pedestrian accidents.
---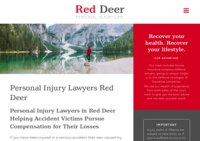 ---
Apollo Legal Funding can help contingency fee law firms leverage their case portfolio through advances on potential case fees.
---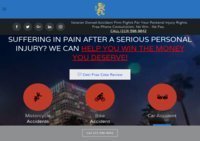 Serious injury attorney Los Angeles County for motorcycle accidents, wrongful death, trucking accidents burn injuries and more! Get help from a master of disaster for all catastrophes.
---