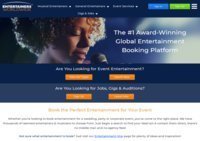 The World's Largest Entertainment Directory. Wedding, Party & Corporate Entertainment Hire made easy - deal directly with Bands, DJs, Comedians, Magicians, Singers, Musicians & more!
---
---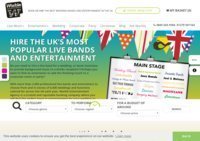 To book one of the UK's best wedding bands or entertainers look no further than Warble. With years of experience at hiring bands for parties and functions your experience will be stress-free and fun!
---
---
An established UK based website featuring independent artists and musicians from all over the world, posts music reviews, upcoming talents, news, and interviews.
---
---
DJ Records buys and sells old vinyl records, such as LPs, 45s, 78s, and 12" singles. Preferred music styles include soul, jazz, R&B, rock, blues, disco, hiphop, gospel, reggae, classical, and latin.
---
---
We represent a range of live bands available to hire for weddings, functions and corporate events. From jazz, Rock 'n' Roll and Swing to Indie, Pop and Rock, there's something for everyone. If you're looking to hire a band for your event please get in touch for professional advice.
---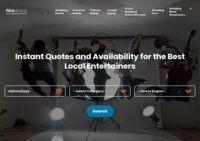 One of the UK's largest entertainment agencies with offices in Scotland and across England. We source the very best in live local entertainment.
---
---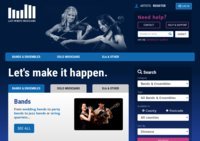 Discover fabulous live music for any type of event at Last Minute Musicians. The quick and easy place to find live bands, solo musicians, DJs, entertainers and much more for weddings, parties & events anywhere in the UK. Check out our website to start your live entertainment search now!
---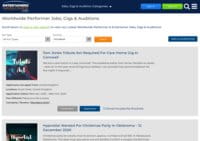 Following the huge growth of our entertainment booking platform Entertainers Worldwide is pleased to launch this bespoke service that offers the latest auditions, jobs and opportunities for entertainers and help them find more work.
We post the latest notices for singing auditions and jobs for singers and feature lots of listings for musicians wanted to get them more bookings.
---
Royalty free music library featuring hundreds of high quality production tracks in several musical styles: symphony music, world music, piano solo, Christmas carols, Ambient, electronica..
All the music is composed and produced by the composer Hicham Chahidi. The tracks can be downloaded in high resolution and in full length to be tested in the context of the project before any purchase. The use of this royalty free music library is free for non commercial projects.
---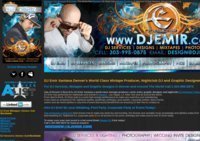 Mixtapes that move you. Hip Hop mixtapes and reggae mixtapes for those that want their mixtapes hot. Masterfully mixed by one of the worlds top nightclub and mixtape DJs.
---
Learn How to Write Songs provides songwriters a variety of resources to help write songs. There are several online tools to help spark creativity and guide them through the process of writing songs.
---
The largest database of beats per minutes in the world. Access to millions of songs tempo.
---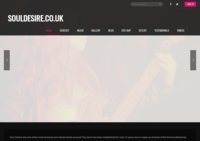 Soul Desire are an amazing 8 piece band with 2 lead vocalists and full horn section. They play classic soul hits from the 60s and 70s. Suitable for any occasion weddings, parties, corporate events. Guaranteed to make you event a huge success!
---
Funly.com is a new entertainment booking solution to replace traditional entertainment agencies:There are NO commission nor any booking fees to pay. All entertainers will have instant and direct contact with clients as there are NO intermediaries
Entertainers who sign-in on Funly.com will have all control on their page and will be able to upload their own material: videos, pictures and audio files
Funly.com is a solution completely google optimized in order for all potential clients to be able to find you easily.
No more reason to wait so come join us now on funly.com to start the experience
---
Nora Tol is a music blogger who blogs about the best of pop and smooth r&b music. She loves music and music creation (duh!), but also writes about her cravings for good food, how she created her numerous creations and her travels. All this is sponsored by her work as an internet professional.
---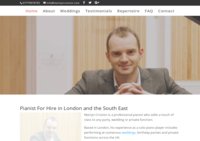 Martyn Croston is a professional jazz pianist available for hire at weddings and parties in London and the south east. Book Martyn for your event today
---
---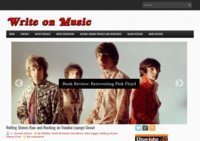 Artist Interviews & Music Criticism
---
---
The Acoustic Version
---
Guitarist site offering the best in guitar lessons, podcasts, music articles and more.
---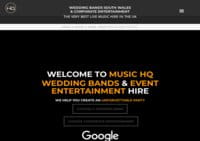 Planning your wedding entertainment should be a process that you enjoy and choosing your wedding band is where the fun really starts.
Here at Music HQ, we make it easy for you to hire the very best wedding bands in South Wales and the South West.
Good live music can take your wedding party to the next level and we guarantee it's what people will remember more than anything!
---
Matchbox Music are a UK Entertainment Agency specialising in musicians for hire. Whether you are looking for a Party Band, Classical Musicians, Jazz band or Soloists, we have them all. Browse our extensive collection of artists and if you can't find what you are looking for get in touch with a member of staff who will be happy to help.
Matchbox Music also run as series of blogs tailored towards weddings and self help advice for aspiring musicians.
---
Punk website of musician Canadian musician Lauren Spike, featuring rocker guides, show venues, concert reviews, tour dates, downloadable music, merchandise, art, and fashion.
---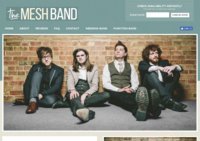 ---
A music production company designed to help rappers and singers. Our main
goal to provide upcoming rappers with high-quality rap instrumentals.
---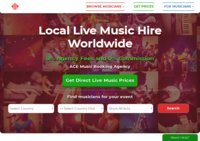 Book live music entertainment with 0% commission and 0% agency fees. Providing bands, singers and musicians for hire both locally and worldwide (Covers, originals and famous music acts to hire for events, parties, weddings, festivals, hotels, cruise ships and more...) Visit our website and get direct quotes from suitable music acts for your event!
---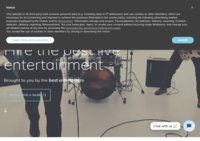 Run by professional musicians, we provide top-class party bands, corporate entertainment and live wedding bands for all sorts of events.
---
---
---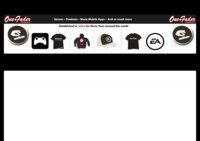 ---
---
---