---
---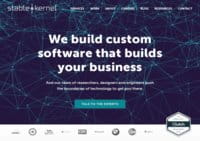 Stable Kernel is a custom software and technology firm that builds data-driven product ecosystems for Fortune 500s. As your entrusted partner, we help to solve your business challenges with scalable software proven by our history of successful outcomes for leading global brands.
---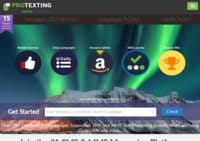 ProTexting originated from within a team of SMS messaging experts since 2000. Our team has been in the text messaging and Mobile Marketing business for almost two decades, serving over 9000 brands via our SMS & MMS messaging platform. Over 200 Countries, All Languages Supported, SMS and MMS Text Marketing, Emojis, Short and Long Codes, API and more.
We offer to you superior customer service, instant access to Short Code number & tools, Comprehensive analytics to analyze campaigns performance and boost your revenue and constantly adding new features to keep your customers loyal and grow your business! ProTexting empowers businesses to offer SMS and MMS marketing engagement campaigns to their clients.
Get started for less than $50 and AMAZING Customer Support!Text JOIN 82257 to Try ProTexting Now! https://www.protexting.com
FOLLOW US FOR MARKETING NEWS & TIPS:
Twitter: https://twitter.com/ProTexting
Facebook: https://www.facebook.com/protexting/
LinkedIn: https://www.linkedin.com/company/protexting/
Instagram: https://www.instagram.com/protexting/
Visit our blog for ideas and trends on SMS mobile marketing: https://blog.protexting.com/
---
MindK is a web and mobile app development company building reliable solutions for businesses and startups. Find out how we can help with your project.
---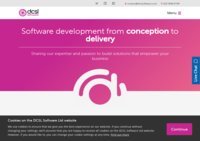 DCSL is UK-based software consultancy creating powerful solutions for companies large and small. Our services include all aspects of software development, web development, bespoke applications, CRM systems, data migration, application support and hosting.
---
Process and productivity management software for creative, publishing, and prepress. Software includes financial productivity management, project and workflow management, collaborative proof approval management, and document file storage management.
---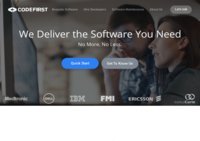 CodeFirst is a UK based software development company offering customized application and database development services.
---
---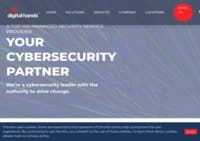 ---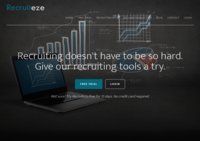 Recruiteze is a simple, modern and responsive Recruitment Software for Small Businesses. This software is made specially for Startups and Small Businesses in mind. FREE for one user. Paid plans at $9.95 per user. No hassle downgrade to FREE Plan. Excellent Customer Service.
---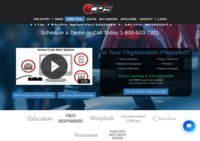 The next generation of panic button software. Safety technology software made simple for any size business.
CRS Notify sends user typed or preconfigured high or low-level alerts to designated workstations, emails, texts, voice calls, and e911.
Save time when it matters most by discreetly notifying peers, managers, and first responders instantly!
---
Discover how Salon Iris can transform your salon management & grow your business. Reduce no shows and supercharge your customer service.
---
Chemscape develops products and services across the chemical safety landscape. Chemscape's msdsBinders is an online MSDS Management System with mobile capabilities keeping your MSDSs up-to-date and compliant. Search your chemical inventory and simplify regulatory reporting from one centralized location. msdsBinders premium (CHAMP) tool provides individual chemical hazard and risk assessments that suggest product substitutions and controls to reduce workplace health risks.
---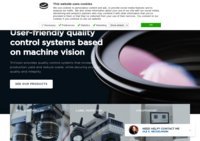 TriVision has the past 17 years specialized it self in developing state of the art machine vision solutions for the manufacturing industry.
Our products help you gather essential production intelligence over the entire production.
The data our systems provides you effective insight on which processes you should optimize, and thereby minimize waste.
---
ILobby's visitor management system will not just enhance your front desk security and efficiency, it will also allow your reception to focus on other things while the visitors signs in. Besides signing in visitors, Ilobby can help you with ID scanning, making visitor batches, and can also deny entry to blacklisted visitors. You can also retrieve visitor data and export for further analysis. Read more about the Ilobby by visiting https://ilobby.com/
---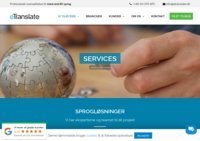 eTranslate offers professional translations and language solutions to businesses, individuals and organizations. Our network only houses the most skilled translators, all of whom have years of professional experience with translations, thus ensuring the highest quality in our deliveries to our customers.
eTranslate has 28 years of experience in the translation-field and we our main goal is to deliver high-quality translations at favorable market prices.
Every project is taken care of with responsibility, and we always aim for the best result for our clients, in order to establish a long-term relationship.
---
Cloud-based Software which works on reducing Appointment cancellation and no-shows, automating daily operations, improves Client retention and helps to get more new clients.
Cost-effective Email and SMS marketing, Online booking widget with Payment integrated, Client Feedback Manager, API to Accounting Software such as XERO and Quickbooks and for Email to MailChimp. Insightful Reports and Performance Analytics to grow business.
The software also has Detailed Client, Staff Management, Product Inward and Stock management to make the whole process profitable.
The Software is available @ 20% of the Standard Market Price. Take a look
---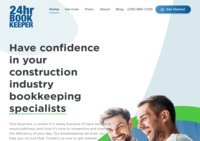 A bright and clean, beautifully designed, website for an online bookkeeper. The site has many clear and obvious calls to actions. There are trust factors included on the first page, such as testimonials. The colors are welcoming and pleasing to the eye.
---
---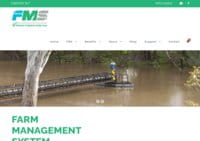 FMS is a sensor based automated irrigation system that provides real-time visibility into the operating status of motors, pumps, valves, flow rate and other parameters of your irrigation system. The intelligent automated irrigation system empowers farmers to monitor and control different aspects of the irrigation system from the convenience of a smartphone or laptop.
---
Penguin.Tech is a technology firm that builds solutions complimenting the core P&C Insurance Software of Duck Creek Technologies. With over 40 years of combined Duck Creek experience, our latest tools showcase a new generation of digital solutions for insurance clients.
Penguin.Tech implements digital transformations with API Kayak. API Kayak will transform your project with an agile approach to implementation and a cloud-based microservices infrastructure. The intuitively developed regression suite will enable early and regular releases, ensuring efficient workflows. This integrated process incorporates Penguin.Tech UI and your Duck Creek installation and allows for future API work using ACORD-based messaging.
---