---
---
Jumble helps businesses to quickly secure their 75 billion daily emails by providing integrated 1 click end-to-end encryption #SecurityMatters #EmailEncryption
---
---
MALWARELIST.net – Your Information Security Source.
All what you need to know about malware & how to protect your computer and web site.
---
Information security professional by day and husband, father, and full-time volunteer at night, Christopher J. Marcinko writes about his work and views on different subjects on christoperj|[.com].
If you share his interest in Cloud security, Firewalls, threat research, virus response tools, and the like, head out to his blog that has over 100 entries on the subject. On top of all this, you'll also find a list of virus response tools.
When Christopher takes a break from work, he likes to ruminate about political and social issues and to take pictures of nature, fireworks, and places he's been to.
---
---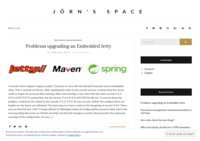 Private thoughts about FinTec, cyber security, programming and startups.
---
Cybersecurity blog
---